The Philosophy Now Award for Contributions in the Fight Against Stupidity
As part of our twentieth anniversary celebrations Philosophy Now created a new annual award for Contributions in the Fight Against Stupidity. Nominees can be philosophers, authors, scientists, journalists, playwrights or anyone else who has made an outstanding recent contribution to promoting knowledge, reason or public debate about issues that matter.
Philosophy Now editor Rick Lewis described the purpose of the Award in greater depth in his editorial, 'Against Stupidity', and in an article in The Telegraph, 'The world's biggest problem is stupidity'.
Simon Blackburn and Noam Chomsky — Lecture and Award Event
We are delighted to announce that the winner of this year's Award is Noam Chomsky. The Award will be presented on Tuesday 27th January 2015 at 8:30pm in Conway Hall, 25 Red Lion Square, London WC1R 4LR, and Professor Chomsky will be present via a video link from MIT (technology permitting).
Noam Chomsky is a world-renowned linguist and philosopher. He was chosen for the Award because of his contributions to critical thinking, and in particular for his work with Edward S. Herman on the 'Propaganda Model', a detailed analysis of structural biases and filters that shape news reporting in the mass media worldwide. His many books include "Syntactic Structures", "Manufacturing Consent" (with Edward Herman) and "Media Control".
Philosophy For All's annual George Ross Memorial Lecture will take place just before the award, at 6:30pm. The Lecturer this year will be one of Britain's best-known contemporary philosophers, Professor Simon Blackburn. The title will be "Faith, Hope and Charity for Humanists".
The combined event is free of charge and all Philosophy Now readers and members of Philosophy For All are very welcome. You don't need a ticket, though in the event of overcrowding latecomers may have to be turned away.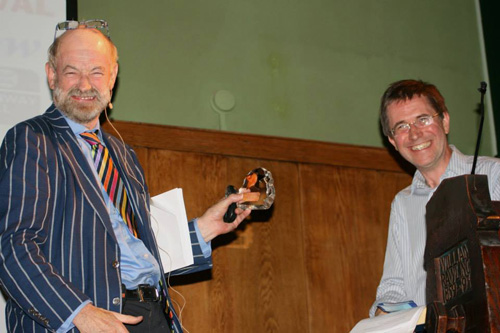 Raymond Tallis receives the 2013 Award from Rick Lewis
Previous winners of the Award have been:
2014: Prof. Noam Chomsky (linguist, philosopher, scientist and logician)
2013: Prof. Raymond Tallis (doctor, philosopher, author and poet)
2012: Dr. Ben Goldacre (doctor, scientist and author of the book/newspaper column Bad Science)
2011: Dr. Mary Midgley (philosopher and author)
The prize is always a book token and a trophy. The Award is usually presented at Conway Hall in London, and whenever possible is followed by an acceptance speech by the winner.
Please send your nominations for the next award with supporting arguments to rick.lewis@philosophynow.org.