The Philosophy Now Award for Contributions in the Fight Against Stupidity
As part of our twentieth anniversary celebrations in 2011 Philosophy Now magazine created a new annual award for Contributions in the Fight Against Stupidity. Nominees can be philosophers, authors, scientists, journalists, playwrights or anyone else who has made an outstanding recent contribution to promoting knowledge, reason or public debate about issues that matter.
Philosophy Now editor Rick Lewis described the purpose of the Award in greater depth in his editorial, 'Against Stupidity', and in an article in The Telegraph, 'The world's biggest problem is stupidity'.
Announcement (21 October 2016): The winner of the 2016 Award is Peter Singer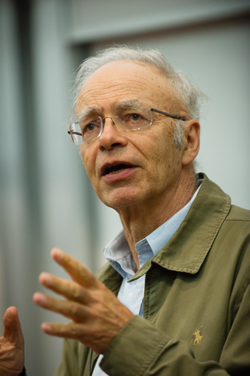 We are delighted to announce that the winner of the 2016 Award for Contributions in the Fight Against Stupidity is the philosopher Peter Singer.
Peter Singer is an Australian moral philosopher who is now Ira W. DeCamp Professor of Bioethics at Princeton University. He is famous for his controversial and sometimes alarming views on a wide range of ethical questions. His book Animal Liberation was a major landmark in the development of the animal rights movement, and other books of his have encouraged many thousands of people to become vegetarian.
We take no collective position on Peter Singer's particular arguments and views. He was nominated for this year's Against Stupidity Award for two specific reasons. Firstly, for embodying the idea of a practical philosopher who doesn't only analyze ethical problems but who also strives to apply a reasoned ethical stance to the difficult decisions that face us all in our lives.
Secondly, for the way in which Peter Singer has set out to argue for altruism, and to try to establish our duties towards one another. His books and arguments have set out to disturb the comfortable complacency with which many of us habitually ignore the desperate needs of others, and that certainly counts as fighting stupidity. The Award is particularly for this work as it relates to the Effective Altruism movement, an attempt to use research and comparative analysis to organize the charitable efforts of people in the directions in which it will do the most good.
Presentation of the Award
The Award evening this year is on Monday 31 October 2016 at Conway Hall, 25 Red Lion Square, London WC1R 4LR.
The evening is free of charge and all Philosophy Now readers and members of the public are very welcome. You don't need a ticket, though in the event of overcrowding latecomers may have to be turned away.
The event will be a joint one with Philosophy For All and will include their annual George Ross Memorial Lecture. The programme is as follows:
7pm: George Ross Memorial Lecture 2016 given by Professor Mary Margaret McCabe on 'Virtue, Ageing and Failing'
8pm: Discussion on Islamophobia, Antisemitism and Xenophobia with panelists John Heyderman, John Holroyd and Anja Steinbauer
9pm: Philosophy Now Award For Contributions in the Fight Against Stupidity 2016: to Peter Singer 'Ethics beyond Prejudice – Effective Altruism' Awarded by Rick Lewis with video response by Peter Singer
Please help us plan the event by indicating your intention to come on this page here: https://grml2016.eventbrite.co.uk
Previous Winners of the Award
2015: Cressida Cowell (author of children's books including the How to Train Your Dragon series)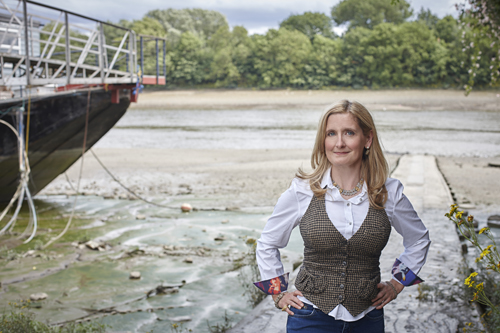 We are delighted to announce that the 2015 Award for Contributions in the Fight Against Stupidity will be presented to Cressida Cowell, the author of the How To Train Your Dragon series of children's books. She will be the first children's author to receive the Award.
After considering several very strong nominees for this year's award, the panel decided that nothing combats stupidity in the world more effectively than encouraging children to think. Children are great thinkers and their intellectual abilities are all too often underestimated. In a cultural environment in which children's natural curiosity and critical spirit are easily dulled and slowly replaced by couch-potato conformity, Cowell's How to Train Your Dragon books stand out not only for their humour, excitement, and startlingly vivid descriptive language, but also, more surprisingly, for their profound meditations on complex political, historical, emotional and moral themes. They incite children to reason and to question, and inspire their imagination and inquisitiveness. For this reason the panel decided to award the 2015 Against Stupidity Award to Cressida Cowell.
Responding to news that she will be presented with the Award, Cressida Cowell said: "I am incredibly honoured to receive this award, and be in such illustrious company of past winners. As parents will know, even quite young children are able to understand complex concepts, and I make a conscious effort never to write down to them."
2014: Prof. Noam Chomsky (linguist, philosopher, scientist and logician)
We are delighted to announce that the winner of this year's Award is Noam Chomsky. The Award will be presented on Tuesday 27th January 2015 at 8:30pm in Conway Hall, 25 Red Lion Square, London WC1R 4LR, and Professor Chomsky will be present via a video link from MIT (technology permitting).
Noam Chomsky is a world-renowned linguist and philosopher. He was chosen for the Award because of his contributions to critical thinking, and in particular for his work with Edward S. Herman on the 'Propaganda Model', a detailed analysis of structural biases and filters that shape news reporting in the mass media worldwide. His many books include "Syntactic Structures", "Manufacturing Consent" (with Edward Herman) and "Media Control".
2013: Prof. Raymond Tallis (doctor, philosopher, author and poet)

We are happy to announce that the winner of the 2013 Philosophy Now Award for Contributions in the Fight Against Stupidity is Professor Raymond Tallis. After receiving the Award, Raymond Tallis will be giving a lecture called "Has Physics Killed Philosophy?".
2012: Dr. Ben Goldacre (doctor, scientist and author of the book/newspaper column Bad Science)
Many thanks to everyone for all the nominations you sent in for Philosophy Now's 2012 Award for Contributions in the Fight Against Stupidity. We are very happy to announce that this year's winner is Dr. Ben Goldacre. The award will be mainly for his book, blog and long-running newspaper column on Bad Science. The Award will be presented on November 13th at Conway Hall in central London, and Ben Goldacre will then give a short acceptance talk.
2011: Dr. Mary Midgley (philosopher and author)
Mary Midgley is the first recipient of the Award.
The prize is always a book token and a trophy. The Award is usually presented at Conway Hall in London, and whenever possible is followed by an acceptance speech by the winner.
Please send your nominations for the next award with supporting arguments to rick.lewis@philosophynow.org.