Subscribe
With a subscription to Philosophy Now you can save up to 30% off the newsstand price, have your copies delivered to your door and enjoy unrestricted access to our online content.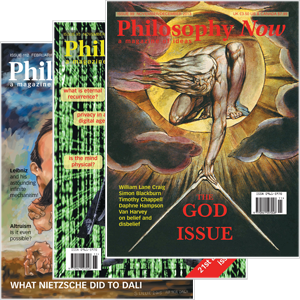 Buy a Philosophy Now subscription
Institutional customers
If buying for a library or college please visit our page for Institutions.
Annual subscription rates (6 issues)
| Location | Individuals | Institutions |
| --- | --- | --- |
| United Kingdom | £ 18.00 | £ 31.00 |
| United States | $ 35.00 | $ 55.00 |
| Canada | Can$ 39.00 | Can$ 90.00 |
| Australia | Aus$ 50.00 | Aus$ 90.00 |
| New Zealand | NZ$ 49.00 | NZ$ 97.00 |
| Europe | € 25.00 | € 49.00 |
| Rest of the World | £ 23.00 | £ 49.00 |
How to buy a single copy of Philosophy Now
To buy a single copy, please send a cheque for £ 4.25 (if you live in the UK), $ 11.00 (if you live in the USA) or £ 7.50 / $ 11.00 if you live anywhere else to the address below:
Philosophy Now
43a Jerningham Road
London
SE14 5NQ
United Kingdom
For enquiries about buying subscriptions or back issues, please email: subscriptions@philosophynow.org
How to subscribe (outside the United States)
Please send your order with a cheque made payable to "Philosophy Now" to:
Philosophy Now
43a Jerningham Road
London
SE14 5NQ
United Kingdom
How to subscribe in the United States
If you live in the United States, you can subscribe via the Philosophy Documentation Center in Virginia by calling them toll free on 800-444-2419 or emailing them at order@pdcnet.org.
Subscriptions for libraries
Libraries can buy institutional Print or IP access subscriptions via our Shop for Institutions. Alternatively subscriptions can be purchased via all the main subscription agencies, including Swets and EBSCO. If your library is in the USA you can also susbcribe via the Philosophy Documentation Center.
Other exciting ways to buy Philosophy Now
In the United Kingdom, Philosophy Now is sold from several hundred newsagents around the country, including many branches of WHSmith. Numerous city-centre bookshops and university bookshops also stock it, particularly branches of Blackwell's and Waterstones.
In the Irish Republic, Philosophy Now is available from newsagents in some areas, including Dublin. Some branches of Eason's stock it.
In the USA and Canada, Philosophy Now is widely available from news-stands, bookstores and magazine stores. Many Barnes & Nobles carry it. In Canada you can often find it in your local Chapters store. In case of difficulty, call Disticor Magazine Distributors on 905-619-6565. They can tell you your nearest stockist.
In Australia, Philosophy Now is now available from newsagents in all major cities. If you can't find it near you, ask us and we'll try to find your nearest stockist.