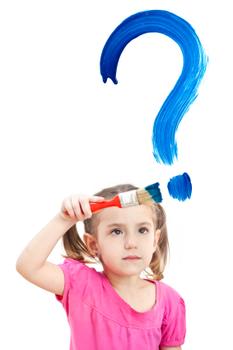 Philosophy Now Festival 2020
In association with the Conway Hall Ethical Society
The Philosophy Now Festival 2020 took place on 18 January. This page will remain available for reference.
---
Every two years, Philosophy Now magazine holds a carnival of ideas in central London.
The Philosophy Now Festival consists of a full day of philosophical lectures, round table debates, workshops, activities and philosophical games for the entire family. It includes more than thirty individual events, put on by more than a dozen philosophy organisations from the London area.
Tickets can be purchased on Eventbrite or at the door on the day.
The next Philosophy Now Festival will be held on Saturday 18th January 2020, from 10am to 10pm. The cost of entrance will be just £1 for the entire day.
Festival Programme
You can download the complete Festival Programme.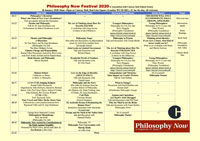 Venue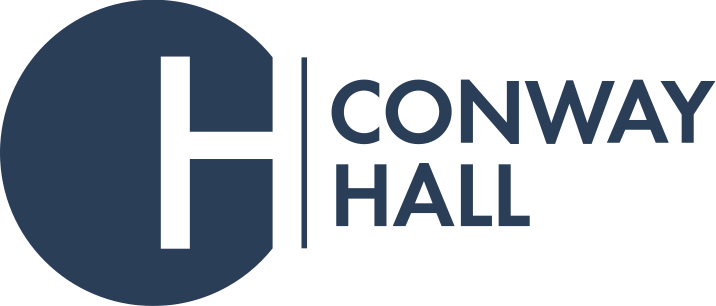 The Philosophy Now Festival is held in Conway Hall, 25 Red Lion Square, London, WC1R 4RL.
The nearest tube station is Holborn (Central and Piccadilly lines). The doors will open at 10am.
We would like to thank our hosts, Conway Hall.
Festival Events
11am and 2pm
Youngest Philosophers
Organised by the Philosophy Foundation.
Philosophy for 4-8 year olds and for 9-13 year olds.
Pete Worley and Steve Hoggins use stories to discuss ideas with children. An event filled with fun and thought.
Spaces are limited, so please book at https://tinyurl.com/yx6txq4k.
11am
Hamlet and Philosophy
Performance by Marcel Steinbauer-Lewis, talk and discussion with him and Anja Steinbauer.
Join us for an exploration of Hamlet as philosophy. Can Hamlet help us think philosophically in a way that even philosophy can't?
11am
The Art of Thinking about How We Describe Racism
A workshop with Greg Scorzo, organised by Culture on the Offensive.
In this session, we will discuss two contrasting conceptions of racism: systemic racism, and psychological racism. Psychological racism is when an assumption about a person's character is motivated not by the person, but by the racial demographic they belong to. Systemic racism is when the structural inequalities in society function as though there is psychological racism, even when there might not be. It is normally thought that the two conceptions of racism can co-exist alongside each other, but it might be the case that they cancel each other out.
12pm
Theatre and Philosophy
Organised by Philosophy For All.
A Round Table Discussion with philosopher Dr Tom Stern (author of Philosophy and Theatre), director Guy Retallack and Dr Anja Steinbauer.
Should philosophers go to the theatre? Is it true that "all the world's a stage"? What happens at a performance? Can theatre make philosophical points? Come and join us for a lively discussion of the philosophy of theatre.
12-2pm
Thinking about Identity: If you were a house, what kind of house would you be?
Art workshop with artist Helen Scalway and philosopher Martin Scalway.
Drop in anytime between 12pm and 2pm to challenge your creativity. Think about who you are by imagining what kind of house you would be. Would you have a deep basement, would your house have many windows, might it even be a tree house?
1pm
John Locke on Limited Government
Talk and discussion with Richard Baron.
The idea of limited government has a long history. The English philosopher John Locke (1632-1704) is a central figure. His thought had a great influence on the Constitution of the United States, and it will be relevant to the Commission on the British Constitution that the Government announced in December. Find out what Locke said, and debate whether his ideas were the right ones.
1pm
The Art of Thinking about Straight Sex
A workshop with Greg Scorzo, organised by Culture on the Offensive.
With #metoo and a surge of historical sex offence allegations, will men's flirting, banter and expressions of desire now be repressed? If so, is this a good thing?
Is the unwanted male expression of sexual desire inherently threatening because men are different to women? Or is it because men are giving privileges to women in society? In the name of gender equality, are we actually moving backwards, adopting something like a "sex is disgusting and men are beasts" attitude, reviving the sexual ethics of the pre-1960s? Or are women finally standing up for themselves, rising up against a culture that allows powerful men to treat women as disposable sex objects?
2pm
Wonderful World of Numbers
Talk by Dr Filiz Peach.
We are surrounded by mathematical patterns in nature. Maths is sometimes described as the underlying language of the universe. But where do numbers come from? Are they the product of the human mind? Or are they all around us just to be discovered?
2pm
Blade Runner and Philosophy
Are you human? How do you know? Martin Muchall (contributor to Blade Runner 2049 and Philosophy) discusses the philosophy of the Blade Runner films, with particular emphasis on the recent Blade Runner 2049.
3pm
Love's Islands: Morality at the shores of love, love at the edges of morality
ADULTS ONLY
What is love, and what is its relationship with ethics? This interactive session led by philosopher Gerald Jones will explore these most pressing of human experiences, to try to understand whether all really is fair in love.
3pm
Balloon Debate
Four philosophers are trapped in a sinking hot air balloon: Confucius, Hume, Marx and Nietzsche. Who will be thrown overboard, who will survive and be the last one to remain in the balloon? You, the audience decide!
Madeleine Parr as Hume
Tim Beardmore-Grey as Nietzsche
John Holroyd as Marx
Anja Steinbauer as Confucius
3pm
Schopenhauer and Nietzsche: Their Impact on Creative Writers.
These two 19th century German thinkers are landmarks not only in modern European philosophy but also as influences on modern European literature. This talk by Tom Rubens will indicate the range of their literary impact, and also the reasons why that impact was the kind it was. It will also suggest why their influence is likely to be lasting.
4pm
Philosophy and the News
Lecturers from the London School of Philosophy explore philosophical issues in the news.
Dr Shahrar Ali on "Living A Lie"
Mark Fielding on "Expression: human and other"
Jane O'Grady topic TBA
Dr Anja Steinbauer on "What do you think you're doing when you vote?"
4-5.30pm
Judging Religion: A Round Table Discussion
Organised by John Holroyd, chaired by Richard Baron, with Grace Davie, Selina O'Grady, John Holroyd, Martin Muchall.
5.30-7pm
Time Travel and Other Myths About Time
Scientist and philosopher Prof. Raymond Tallis will talk about Time Travel and Other Myths About Time.
6pm
Do androids dream of dominating the human race?
Is Artificial Intelligence a threat or an opportunity to us, humans? Are robots our servants, our friends or our possible doom? What do androids have to say on the topic so far? Join an interactive discussion chaired by practical philosopher Alexandra Konoplyanik.
7pm
George Ross Memorial Lecture (PFA): Philosophical Misanthropy
Prof. Ian James Kidd (University of Nottingham)
Participating Organisations
Cardinal, Hayward, Jones
Conway Hall Ethical Society
Culture on the Offensive
French Institute Café Philo
Ian James Kidd
Kingston Philosophy Café
London Effective Altruism
London School of Philosophy
Philosophy For All
Philosophy Now
Richard Baron
Rupert Read
Sevenoaks School
The Philosophy Foundation
University of the 3rd Age (U3A)
Wimbledon Philosophy Group
Festival Volunteers Needed!
Dear Philosophers!
Philosophy Now is looking for volunteers for the Philosophy Now Festival on 18 January 2020 to help out for a couple of hours on the day in return for a free one-year subscription to Philosophy Now magazine and (obviously) free entry to the festival.
Basically, there are 2 main areas for volunteer activity:
1. We need people to help speakers and visitors navigate from A to B, i.e. in and out of rooms, to the right locations, point them to the loos, get speakers into the right rooms at the right times, help shift a few chairs, accept the £1 payment at the door, that kind of thing. We also need people to restock the refreshments tables in the Brockway Room and Main Hall, i.e. provide water, put biccies on plates (refreshments are free but voluntary contributions go to Crisis), during the last hour of the festival it would be pouring wine rather than water though.
2. Film events. If you have a reasonable camera, we'd be very grateful if you could film events, so that we can put them online afterwards.
These are the time slots: 10am-12pm, 12pm-2pm, 2pm-4pm, 4pm-6pm, 6pm-8pm, 8pm-10pm.
If you would like to volunteer, please email anja@philosophynow.org with your preferred time slot and activity. Thank you!
Past Festivals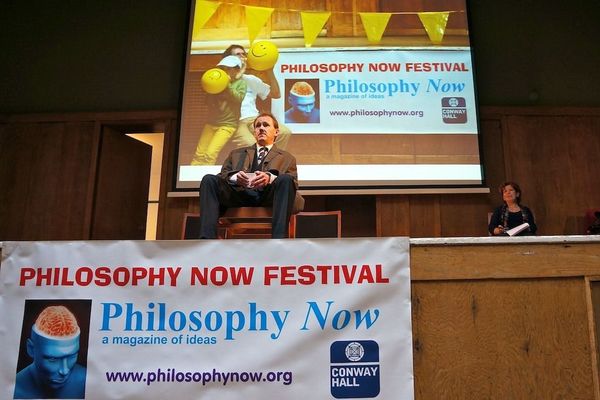 Festival pages and programmes from earlier years: 2018, 2015, 2013, 2011.
You can watch some of the highlights on our videos page or YouTube channel.