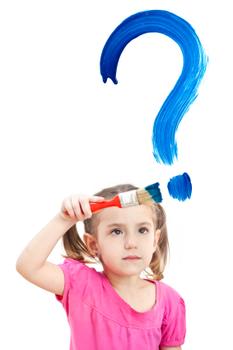 Philosophy Now Festival 2018
In association with the Conway Hall Ethical Society
The Philosophy Now Festival 2018 took place on 20 January. This page will remain available for reference.
---
The fourth Philosophy Now Festival will take place all day on 20 January 2018.
As in previous years, the Festival will include talks, debates, workshops, and philosophical games for the whole family. There is no need to book for the Festival or for most of the individual events within it. However, you do need to book in order to attend one of the children's philosophy workshops, as spaces are limited. Please make your booking on Eventbrite.
Festival Programme
You can download the complete Festival Programme.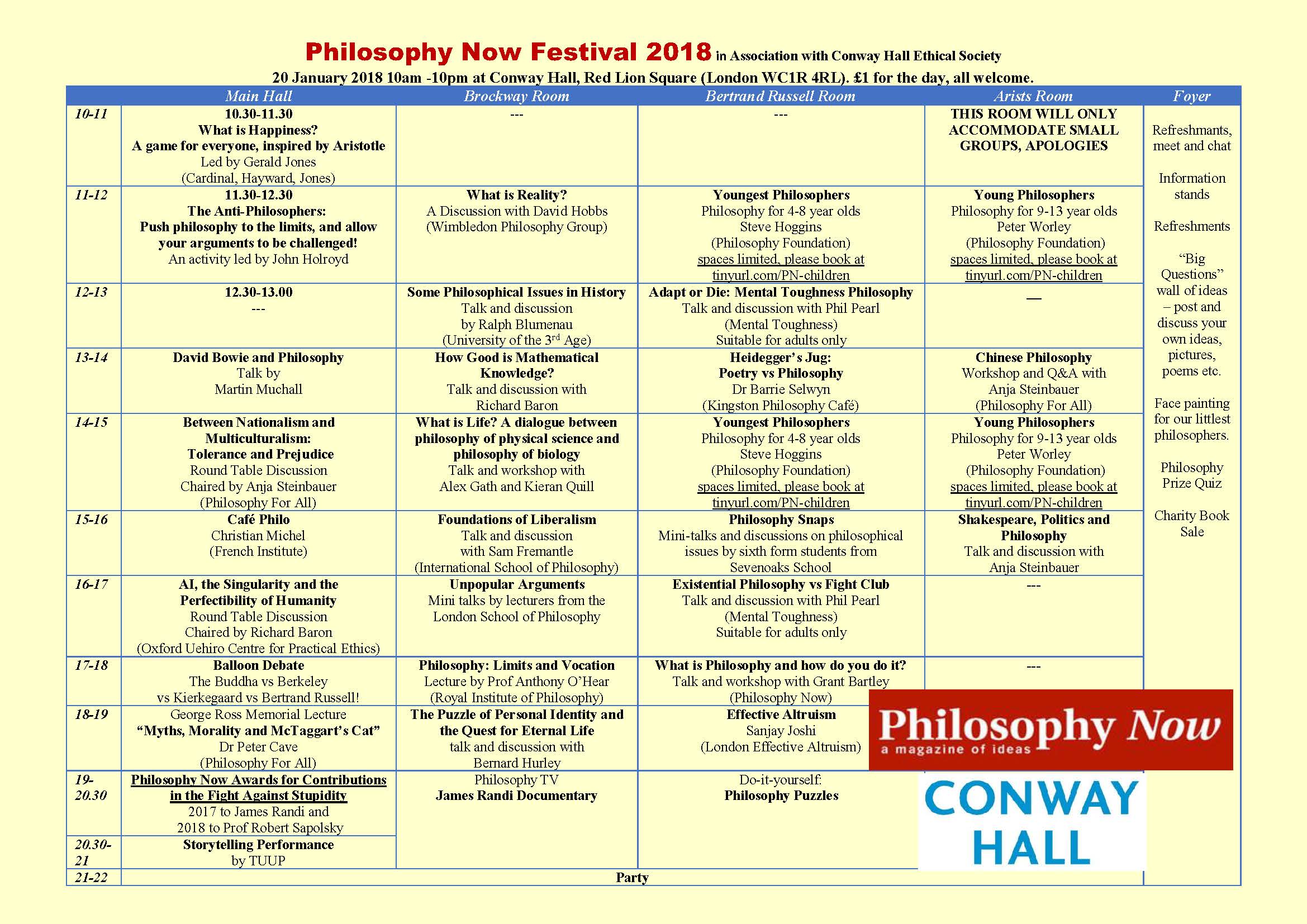 Venue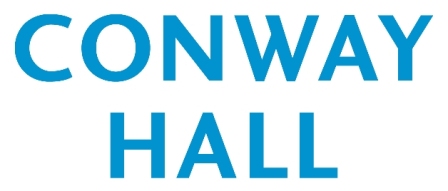 The Philosophy Now Festival will be held in Conway Hall, 25 Red Lion Square, London, WC1R 4RL.
The nearest tube station is Holborn (Central and Piccadilly lines). The doors will open at 10am.
We would like to thank our hosts, Conway Hall.
Festival Highlights
Philosophy workshops for children and teenagers, run by the Philosophy Foundation
The annual Philosophy Now Award for Contributions in the Fight Against Stupidity: award ceremony and lecture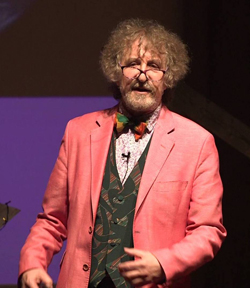 The 2018 George Ross Memorial Lecture (Philosophy For All): This year's lecture will be given by Dr Peter Cave on "Myths, Morality and McTaggart's Cat"
The Great Balloon Debate (chaired by Filiz Peach, organised by Philosophy For All), which offers you the chance to vote on which famous historical philosopher should be thrown out of a balloon first to stop it crashing. This year the Balloon Debate will feature:
• Martin Muchall as The Buddha (c. 563-483 BCE)
• Richard Baron as Bishop Berkeley (1685-1753)
• John Holroyd as Søren Kierkegaard (1813-1855)
• Anja Steinbauer as Bertrand Russell (1872-1970)
Panel discussion: "Between Nationalism and Multiculturalism":
• Arnold Zuboff
• John Holroyd
• Rick Lewis
• Anja Steinbauer
Unpopular Arguments – mini talks by lecturers from the London School of Philosophy:
• Dr Shahrar Ali on Lies
• Dr Mark Fielding on Evolution and the Noosphere
• Dr Sam Fremantle on Utilitarianism
• Dr Anja Steinbauer on Sentimentality
The Anti-Philosophers – push philosophy to the limits and allow your arguments to be challenged:
• Anja Steinbauer – Karl Marx
• Martin Muchall – the Buddha
• Barry Selwyn – Friedrich Nietzsche
• John Heyderman – Martin Buber
• Keith Barrett – Sigmund Freud
Test your mental toughness with Phil Pearl, who will be back with two workshops on "Existential Philosophy versus Fight Club" (12-1pm), and "Machiavelli: The Philosophy of Power" (4-5pm)
A double talk by Kieran Quill and Alex Gath on "What is Life? A dialogue between philosophy of physical science and philosophy of biology"
Richard Baron will give a talk on "How Good is Mathematical Knowledge?"
Café Philo session chaired by Christian Michel
David Hobbs and the Wimbledon Philosophy Group will lead an interactive discussion on "What is Reality?"
Round Table discussion on "Artificial Intelligence, the Singularity, and the Future"
Talk by Bernard Hurley on "The Puzzle of Personal Identity and the Quest for Eternal Life"
Participating Organisations
Cardinal, Hayward, Jones
Conway Hall Ethical Society
French Institute Café Philo
International School of Philosophy
Kingston Philosophy Café
London Effective Altruism
London School of Philosophy
Mental Toughness Life Consultancy
Oxford Uehiro Centre for Practical Ethics
Philosophy For All
Philosophy Now
Richard Baron
Royal Institute of Philosophy
Sevenoaks School Philosophy
The Philosophy Foundation
University of the 3rd Age (U3A)
Wimbledon Philosophy Group