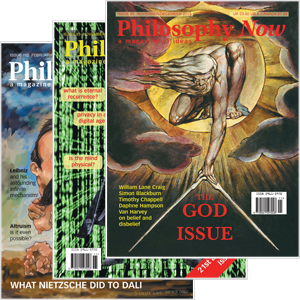 Your complimentary articles
You've read one of your four complimentary articles for this month.
You can read four articles free per month. To have complete access to the thousands of philosophy articles on this site, please
News
News: February/March 2023
Hegel discovery rocks Munich • Tech advances help avoid animal testing • Final frontier for ethics — News reports by Anja Steinbauer
More Hegel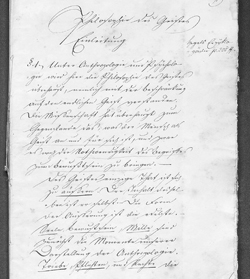 Notes on Hegel made by his student Carové
Many know Georg Wilhelm Friedrich Hegel (1770-1831) for his hefty books such as the Phenomenology of Spirit and The Science of Logic. However, substantial parts of his philosophy are only known to us through his students' records of his lectures. These are especially valuable in giving us an insight into the process of Hegel's philosophising. Recently, Hegel biographer Professor Klaus Vieweg of Friedrich-Schiller-University in Jena made a spectacular find while rummaging through the Munich and Freising diocese library: five boxes of tightly handwritten notes and papers, ignored for almost two hundred years. The roughly 4,000 pages are records of Hegel lectures by one of the philosopher's early students at Heidelberg University, Friedrich Wilhelm Carové (1789-1852). Carové, a leading writer, publicist and politician, had gifted his notes to professor of philosophy and medical doctor Karl Joseph Hieronymus Windischmann (1775-1839). Windischmann's son, a professor of theology, inherited them, and eventually left them to the library. The handwritten documents comprise almost all parts of Hegel's philosophy, including the long sought record of a lecture on aesthetics that Hegel gave in Heidelberg, about which no other notes exist. A large scale research project is now underway led by Professors Vieweg and Christian Illies (of Bamberg University), involving international experts on Hegel, to analyse and eventually publish the manuscripts.
Animal Testing No Longer Needed
For the first time in more than 80 years, a change in US legislation makes it possible for new medication to be tested using modern human-based methods rather than animal testing. At the end of December 2022, Joe Biden signed a new permission into law for the Food and Drug Administration to allow medication onto the market without requiring data from animal testing. Until then, pharmaceutical companies had been under an obligation to test the safety and efficacy of pharmaceutical products in several test series on at least two kinds of animals before they could go on to clinical trials on volunteers or patients. Thanks to the new law, modern methods directly relevant to humans can now replace these procedures, for example mini-organs ('organoids'), multiorgan chips and computer based procedures. Many such methods have already proven more precise and reliable than animal testing. One example is a current study that demonstrates the toxicity of substances which causes damage to the liver using human liver-chips, previously animal testing had wrongly led to the conclusion that these substances were harmless.
Bruno Latour
The French philosopher and sociologist Bruno Latour has died at the age of 75. Latour, who was a professor at the École Nationale Supérieure des Mines in Paris, has been widely regarded as one of the greatest intellectuals of contemporary France. Latour was interested in certainty and the mechanisms through which the sciences arrive at truth and objectivity. He referred to himself as an 'empirical' philosopher on account of field studies he conducted in law courts and in laboratories. In 1979 he published Laboratory Life in collaboration with the British sociologist Steve Woolgar, which Latour analysed how rhetorical strategies and technical artefacts contribute to the 'construction of scientific facts'. In the so-called Science Wars of the 1990s, Latour consequently came under fire from Alan Sokal and others for his theories. Together with other sociologists such as Michel Callon and John Law he initiated the Actor-Network Theory, which represents society as a network composed of multiple elements. Latour also developed a new way of looking at society and the environment and is considered an avant garde thinker of the ecological movement. French President Emmanuel Macron commended Latour, who won many academic awards and honours, for his humanism and pluralism, and added: "His reflections, his writings, will continue to inspire us with new relationships to the world."
Space Ethicist Appointed
In the USA, Cal Poly Professor of Philosophy and director of the Ethics and Emerging Sciences Group, Patrick Lin, has been appointed to the National Space Council's Users Advisory Group. "I'm honoured to be the first ethicist on the U.S. National Space Council's Users Advisory Group," said Lin, who had recently been awarded a grant by the U.S. National Science Foundation to study technical and policy issues in outer space cybersecurity. He added: "What I hope to bring to this important group is a new perspective, guided by my ethics experience in outer space affairs, artificial intelligence, robotics, cybersecurity, bioengineering, security and defence systems, and other relevant technology domains."
Diotima Prize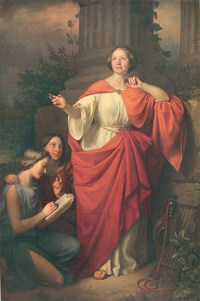 Diotima, painting by Józef Simmler, 1855
A brand new award and workshop for playwrights has just opened in Australia. The Diotima Prize positions itself at ''the intersection of philosophy, drama, and the female voice', challenging writers to answer the question "Why is philosophy so male-dominated?'' The three winners will each receive $5,000 and have their one-act play performed as a staged reading. (Financial support is being provided by the Australian Research Council). The submission window closes on the 26th April, but entrants must first take part in a workshop in March called 'Wise Women: Philosophy, Drama and the Female Voice' which will ''reflect on the relationship between gender and the life of the mind.''
The Diotima Prize is the brainchild of Dr Dawn LaValle Norman, a senior research fellow at the Australian Catholic University. Her research project 'The Female Voice in Ancient Philosophical Dialogues' explored the historical roots of women's marginalisation in philosophical conversations from ancient Greece to the modern day.
The Diotima Prize is named after Diotima of Mantinea, who was mentioned in Plato's dialogue Symposium as Socrates' tutor, and the originator of the concept now known as Platonic love. Some scholars believe her to have been an actual historical figure, though this is uncertain. Find out more at: thediotimaprize.com.