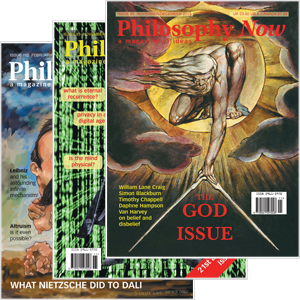 Your complimentary articles
You've read one of your four complimentary articles for this month.
You can read four articles free per month. To have complete access to the thousands of philosophy articles on this site, please
News
News: June/July 2023
Big Brother learns to read your mind • Philosophy teachers resolve to associate • Scottish ethicists back euthanasia bill — News reports by Anja Steinbauer
A Penny for Your Thoughts
Neural activity can be monitored using functional magnetic resonance imaging (fMRI). However, until recently, the images representing internal experiences could not be translated into words. Now a study reveals that fMRI imaging can be made to work with artificial intelligence language models that have a predictive function. According to a report in Nature, scientists introduced "a non-invasive decoder that reconstructs continuous language from cortical semantic representations recorded using functional magnetic resonance imaging. Given novel brain recordings, this decoder generates intelligible word sequences that recover the meaning of perceived speech, imagined speech and even silent videos, demonstrating that a single decoder can be applied to a range of tasks." Jerry Tang, lead author of the study and a computational neuroscientist at the University of Texas at Austin explains: "There's a lot more information in brain data than we initially thought." The decoder involved in the hybrid technology could fairly accurately reproduce stories that a test person listened to or imagined telling in the scanner. The decoder could also guess, though only roughly, the story behind a short film that someone watched in the scanner. This breakthrough has great potential to help those unable to speak or otherwise communicate such as stroke patients or those affected by amyotrophic lateral sclerosis. However, there are also concerns about privacy: "This can't work yet to do really nefarious things," Tang reassures us, "but we don't want to let it get to that point before we maybe have policies in place that would prevent that."
Human DNA Literally Everywhere
The study of Environmental DNA (eDNA) is a rapidly developing field of research, bringing many benefits for pathogen surveillance, biodiversity monitoring, endangered and invasive species detection, and population genetics. However, scientists have now demonstrated that deep-sequencing-based eDNA approaches capture genomic information from humans. In fact, they have found human DNA virtually everywhere the environmental probes were taken. The scientists refer to this as 'human genetic bycatch'. Samples taken from water both near to and remote from inhabited areas; samples taken from beaches as well as from the air in inhabited as well as vacant rooms; all contain human DNA that can clearly identify individuals. This means that eDNA presents a host of ethical concerns. For example, eDNA technology could be used for surveillance or for tracking members of particular groups of people, such as people with a specific ancestral background or with particular medical conditions or disabilities. Anna Lewis, a Harvard researcher who studies the ethical, legal, and social implications of genetics research is worried: "This gives a powerful new tool to authorities. There's internationally plenty of reason, I think, to be concerned."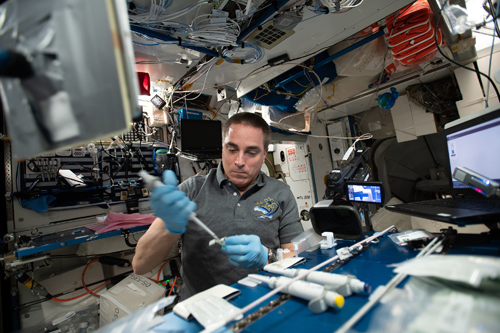 Astronaut Chris Cassidy testing microbial DNA samples on the International Space Station in 2020. It now turns out that human DNA can be found – and analysed – pretty much everywhere on Earth (and no doubt on the ISS too).
Assisted Dying in Scotland
The Philosophers' Consortium on Assisted Dying in Scotland (PCADS), which includes moral philosophy professors from Edinburgh, Glasgow and St Andrews universities, has given its support to a proposed new law. A Liberal Democrat Member of the Scottish Parliament, Liam McArthur, has put forward a bill to allow terminally ill adults to request assistance to end their own lives. This option would be for patients over the age of 16 with a prognosis of no longer than six months to live. They would have to be of competent mind and able to administer and ingest the necessary drugs themselves. In each case two independent doctors would ensure the patient met the criteria before giving the go-ahead. The Philosophers' Consortium on Assisted Dying in Scotland expressed the view that the bill would give terminally ill people more control over their lives. Joseph Millum, of St Andrews University, said the proposals have "strong safeguards" to protect against misuse. However, a joint statement from leaders of the Church of Scotland, the Catholic Church and the Scottish Association of Mosques said the Bill "inevitably undermines the dignity of the human person" and that "common humanity" would be lost.
Business Ethics
Britain's main business lobby group the CBI was forced to suspend operations after The Guardian newspaper reported on multiple allegations by former staff, including sexual harassment and rape. According to Ian Peters, director of the Institute of Business Ethics, this is a sign of wider problems: "A worrying number of FTSE 250 organisations, which are among the country's biggest businesses, are without a publicly available code of ethics," and this means that whistleblowers are not safe speaking up about misconduct. Introducing and maintaining an acceptable moral culture is facilitated, Peters said, when "firms take the trouble to get the right ethical framework in place and to keep checking that it's working."
UN Speech on Death Penalty
Volker Türk, the UN High Commissioner for Human Rights, has given a strongly-argued speech urging governments everywhere to abolish the death penalty. He pointed out that "For many years, the United Nations has opposed the death penalty in all circumstances," and called it "an atavistic relic from the past that should be shed in the 21st century." Empirical evidence has demonstrated that "the death penalty has little or no effect on deterring or reducing crime." He concluded that: "… until every nation abolishes the death penalty, the road to defending human dignity will never be fully complete. The General Assembly made history in December last year when a record 125 nations voted in favour of a resolution calling for a global moratorium on the use of the death penalty with a view towards its ultimate abolition. That is a landmark, and sign of genuine advance."
Thinking About Teaching Philosophy
In the UK, an Association of Philosophy Teachers has just been launched. Its organisers say it will serve as a "subject association for philosophy teachers working in primary and secondary schools, colleges, prisons and a whole range of community settings." Their inaugural conference is scheduled for Monday 26th June 2023 and will be held at King Edward's School, Edgbaston. The keynote speaker will be Prof. Angie Hobbs. The fledgling organisation has a page on the website of the British Philosophical Association. If you are in that line of work and would like to find out more about the APT or their upcoming gathering, then everything you need is at this address: bpa.ac.uk/association-of-philosophy-teachers.