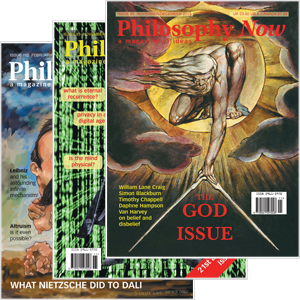 Your complimentary articles
You've read one of your four complimentary articles for this month.
You can read four articles free per month. To have complete access to the thousands of philosophy articles on this site, please
The Library of Living Philosophers
Georg Hendrik von Wright
by Yujin Nagasawa
Georg Henrik von Wright, born in Helsinki, Finland in 1916, is arguably the best known Scandinavian philosopher. As one of the most prominent living philosophers in the analytic tradition, von Wright has built his reputation mainly in two different areas.
Firstly, he is known as an outstanding editor of Ludwig Wittgenstein's writings. Von Wright first met Wittgenstein in 1939 when he went to Cambridge to meet C.D. Broad. He attended Wittgenstein's lectures there, which brought about a complete change in his life. Believing von Wright philosophically gifted, Wittgenstein personally invited him to succeed him in his own Cambridge philosophy chair. Von Wright wrote to Wittgenstein expressing his hesitations about the position, but, surprisingly, Wittgenstein replied that he had not expected that von Wright would really apply for the chair. When von Wright finally made up his mind to apply for the job, Wittgenstein sent him a warning:
"Cambridge is a dangerous place.…The passage in your letter which makes me feel particularly uneasy is the one about your feeling enthusiasm at the thought of teaching at Cambridge. It seems to me: if you go to Cambridge you must go as a SOBER man."
In his last years, Wittgenstein wanted to spend his time with von Wright. One indication of their friendship is the fact that Wittgenstein's last, and perhaps most famous, photographs were taken in von Wright's garden. It is said that a year before his death Wittgenstein said to Norman Malcolm, Wittgenstein's other great pupil, "I like to stay with the von Wrights", but continued, "The two children are noisy and I need quiet".
Wittgenstein trusted von Wright and asked him, together with G.E.M. Anscombe and Rush Rhees, to edit his unpublished works. After Wittgenstein died, von Wright began to work intensively to complete a number of Wittgenstein's manuscripts. His systematically and elegantly edited books are regarded as excellent sources for researchers of Wittgenstein's works.
Secondly, von Wright is known as a pioneer of deontic logic. When he was in Cambridge he became interested in the different varieties of modal logic, and in 1951 he published a monumental paper entitled 'Deontic Logic' in Mind. It is coincidental that deontic logic was born and Wittgenstein died in the same year.
Deontic logic, named by von Wright himself, deals with permissibility and obligatoriness. In addition to the operators in standard propositional logic, deontic logic consists of two unique operators O and P. They correspond to 'It ought to be that' and 'It is permissible that', respectively. For example, "It ought to be that I pay him ten pounds" is symbolised as OA, and this is logically equivalent to -P-A, "It is not permissible that I do not pay him ten pounds". Von Wright's ideas on modalities greatly influenced logic in the twentieth century and stimulated such areas as tense logic and action theory.
Not only did von Wright contribute in those two areas, but he has also published eloquent critiques of culture, science and technology which are notable for their remarkable clarity. In 1961, von Wright was elected a member of the Academy of Finland and thus officially honoured as one of his country's greatest minds.
© Yujin Nagasawa 2001
'The Philosophy of Georg Hendrik von Wright', in the Library of Living Philosophers Series, edited by Lewis Hahn and Paul Schlipp, was published by Open Court Press in 1989.
Reference Ludwig Wittgenstein: The Duty of Genius, by Ray Monk. pub. Jonathan Cape, 1990.
Yujin Nagasawa is a PhD student in the Research School of Social Sciences at the Australian National University, specializing in the philosophy of mind and cognitive science.