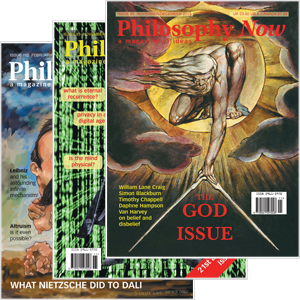 Your complimentary articles
You've read one of your four complimentary articles for this month.
You can read four articles free per month. To have complete access to the thousands of philosophy articles on this site, please
News
News: September/October 2006
Philosopher Freed • 'George Bush Is An Existentialist' Shock • Student Research Not Involving Beer • Eco-Selfishness A Modern Sin — News reports by Sue Roberts in London and John Ruddy in New York
Free Thinking
Noted philosopher Ramin Jahanbegloo was released on bail from the notorious Evin Prison in Iran on 30th August after being held without charge for four months. He was arrested at Tehran airport in April. At the time it was suggested that he was being investigated for spying against the Iranian government. In July a Tehran newspaper claimed that Ramin had made a videoed confession in which he stated that he had been "in touch with individuals in Canada regarding an Iranian 'velvet revolution'" (ie a non-violent overthrow of the government). This raised fears among his friends that he had been tortured into making a confession.
A Canadian citizen but Iranian by birth, the 46-year old philosopher is well-known for promoting a 'dialogue of civilisations'. Many famous intellectuals, including Jürgen Habermas and Richard Rorty, have visited Iran at his invitation to address large audiences on subjects such as 'post-ideological thinking' and 'democracy and non-foundationalism'. Shortly after his arrest a letter seeking support was sent out on his behalf and resulted in a petition to Iranian President Ahmadinejad by 420 thinkers calling for Ramin's release. Signatories included Habermas, Umberto Eco, Noam Chomsky and Timothy Garton Ash. Many international organisations such as Amnesty International and Human Rights Watch also called for his release. Diplomatic efforts by the Canadian government were rebuffed; it appears that Iran is the one place on earth where Canada is regarded as a malevolent international puppet-master. Fellow Iranian intellectuals continued to campaign for his release, staging protests in Tehran itself.
Students Start Research Centre
PhD students at the University of Sussex have set up a research centre which is to be run entirely by the students themselves. The Sussex Centre for the Individual and Society (SCIS), while based on campus, is managed without any involvement from university administrators or tenured academics. While this gives extra freedom to members to undertake innovative research projects, it also means SCIS will have to be be self-funded. A campaign to secure funding from private and institutional donors is underway. The aim of the centre will be to study "the individual and society in breadth and depth and from a variety of angles." The centre's advisory board includes several world-renowned academics.
Jilly Cooper – Pah!
Though not generally known as a student of philosophy, President George W Bush apparently made short work of an English translation of The Stranger by Albert Camus while on a 10-day vacation at his Texas ranch recently. This wasn't his first brush with the French existentialist; Bush quoted him in a speech in February 2005 in Brussels, when he praised the US-Europe alliance and encouraged other nations to help Washington to spread democracy in the world: "We know there are many obstacles, and we know the road is long. Albert Camus said that 'freedom is a long-distance race.' We're in that race for the duration."
Stem Cell Update
In August the journal Nature reported that U.S. scientists have now found a way to extract and cultivate stem cells from embryos without damaging the embryos. Stem cells offer many possibilities for medical research and new therapies, but on 19th July the famous existentialist George W Bush vetoed federal funding for research on embryonic stem cells on the grounds that such research resulted in the destruction of the embryo. This new technique may bypass that ethical objection.
Tweens To Decide on Morality
In Britain, a significant shift in the way young people are taught to differentiate between right and wrong has been outlined in proposed changes to the national curriculum for schools. Instead of the requirement for teachers to determine what is right or wrong for pupils, schools will have to ensure only that children between 11-14 years have "secure values and beliefs" and are "committed to human rights". The proposals were made by Ken Boston of the Qualifications & Curriculum Authority in response to a request from ministers to give schools greater flexibility in the way they teach this age group. The proposal caused disquiet among parent groups, but may result in more classroom discussions of ethics.
Bishop Berates Eco-Sinners
Christians are being urged by the Church of England to consider their moral obligation to care for the environment. The Bishop of London, the Rt Reverend Richard Chartres, is reported as saying "Making selfish choices such as flying on holiday or buying a car are a symptom of sin." Speaking as chairman of the bishops' panel on the environment he added, "Sin is not just a restricted list of moral mistakes. It is living a life turned in on itself where people ignore the consequences of their actions." The Church is publishing a booklet on environmental issues, Treasures on Earth, to be distributed throughout every diocese – on foot perhaps?
Dewi Phillips Dies
Professor D.Z. Phillips died suddenly in Swansea in July, aged 72. Phillips published extensively on philosophy of religion, ethics and Wittgenstein, and edited the journal Philosophical Investigations. Originally a minister, his fruitful academic career was mainly spent at the University of Wales, Swansea. After retiring at the age of 67 he continued to invest much time and effort in the Swansea philosophy department, and worked hard to ensure that a graduate programme would be maintained despite this year's closure of the department. He was both Danforth Professor of the Philosophy of Religion at Claremont Graduate University and Rush Rhees Research Professor at Swansea.