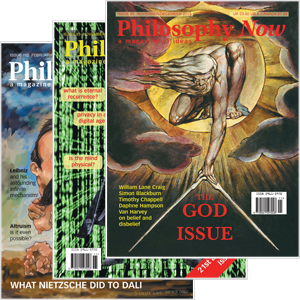 Your complimentary articles
You've read one of your four complimentary articles for this month.
You can read four articles free per month. To have complete access to the thousands of philosophy articles on this site, please
Crossword
Crossword
Our thirty-fourth feast of fine philosophical facts fitted together thoughtfully by Deiradiotes.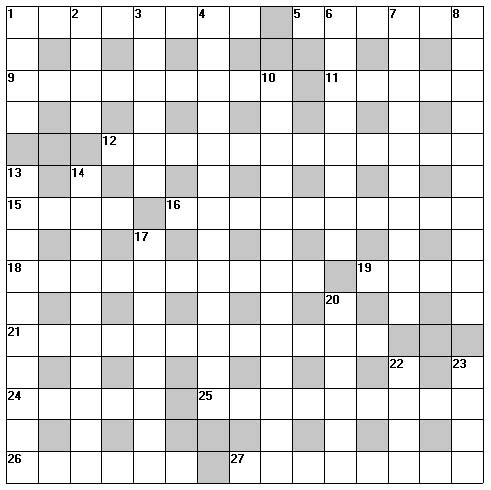 Across
1 Princes spit scornfully in filthy places? On the contrary! (8)
5 Premises of Jerusalem mastermind. (6)
9 Maybe IRA chap is hypocritical? (9)
11 Father wrote about Marius the 25. (6)
12 Now, I once worked up an apprehension of a future evil. (12)
15 Trotsky comes back for Christmas! (4)
16 New chair's here – for Marcion perhaps. (10)
18 Drug transformed dopy Hamlet. (10)
19 Prolific author is coming! (4)
21 Philosopher from Ur hopes he can set out. (12)
24 Dwelling of Leipzig loony! (5)
25 French priest in bad pain following ecstasy is probably not this kind of philosopher. (9)
26 Mark airborne beetle. (6)
27 In Entebbe he mothered a beast! (8)
Down
1 Vestment of Colombia and Peru. (4)
2 Playwright's small wood. (4)
3 Place where monks go to dry out. (6)
4 Going beyond excess? (13)
6 The conclusion of a medieval text is clear. (8)
7 German (with Italian land) and daughter used to run France. (10)
8 Cancelling an engagement can be irritating. (10)
10 This is the best life according to Aristotle and an inhabitant of 3? (13)
13 Yoko masters study of names when the queen is in charge. (10)
14 Place famous for its treaty unhappily awaits help. (10)
17 Tumour initially leaves your muscles paralysed: headaches or melancholia afterwards. (8)
20 French nobleman seen in Scottish river? Work it out! (6)
22 Emperor of Antonine Rome? Yes and no. (4)
23 Tutanhkamen's cross! (4)
---
Crossword Solution