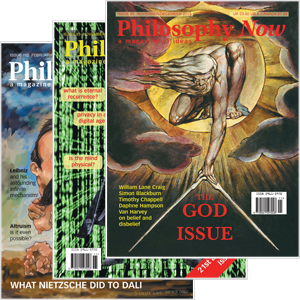 Your complimentary articles
You've read one of your four complimentary articles for this month.
You can read four articles free per month. To have complete access to the thousands of philosophy articles on this site, please
News
News: Autumn 1994
Yeshayahu Leibowitz
The Israeli philosopher Yeshayahu Leibowitz died on 18th August, aged 91. Leibowitz was an authority on the great mediaeval philosopher Maimonides, but wrote books on many subjects including religion and science. He was a wellknown and controversial figure in Israel thanks to his trenchant opposition to the Israeli occupation of the West Bank. Although devout, he outspokenly supported the separation of religion from the state.
Stamp on a Fascist
The neo-fascist Minister for Posts and Telecommunications in the new Italian coalition government has announced that a postage stamp will be issued to commemorate the 50th anniversary of the death of Giuseppe Gentile. Gentile was one of the most original Italian philosophers of this century, famous for his work on the nature of thought and reality. Unfortunately he became heavily involved with the twitchy-right-arm brigade, was Minister of Education under Mussolini and consequently was assassinated by partisans in 1944. The campaign to rehabilitate him has apparently crossed party boundaries, however, with a number of left-wing thinkers calling for the importance of Gentile's philosophical works to be more widely recognised.
Papalback?
The Pope has signed a contract with publishers to produce a collection of essays which will be called Crossing the Threshold of Hope. He is still writing it at the moment, longhand, in Polish. The book is due be launched in November simultaneously in more than 20 languages and is expected to top the bestseller lists everywhere, except possibly Iran. All royalties will go to charity.
Teenage Rampage
The publication currently topping the bestseller lists (at least on the Continent) is a history of philosophy written for teenagers. Sophie's World, by Norwegian author Jostein Gaarder, is a story about a girl called Sophie who receives a series of letters from a relative telling her all about the history of philosophy, but the plot has a bizarre twist enabling Gaarder to make some points about reality and idealism. The book has sold 850,000 copies in Germany and is also topping the charts in Denmark and Switzerland. An understandably excited Gaarder told the papers "Philosophy is the rock'n'roll of the 1990s!" The English version of the book will be published by George Weidenfeld & Nicolson early next year.
Bulldozer Tactics
Our last issue contained an interview with antiroad protestors living on a patch of open ground in Leytonstone, in the path of the M11 motorway extension. After Philosophy Now had gone to press we learnt that the protestors had been thrown off the site by a bunch of heavies employed by the M11 construction companies. We are told that no warrant, possession order or other authorisation was shown and that several protestors were injured during the eviction.
Ape Rights
The UN is to be presented with a plan to give Great Apes an internationally-recognised bill of rights. Parallelling the UN Declaration on Human Rights (1948), the new document would declare that Great Apes have the right to life, and give them protection from torture and from deprivation of individual liberty. The Declaration would apply to gorillas, chimpanzees and orang-utangs.
The proposal comes from the philosopher and long-time animal rights campaigner Peter Singer, of Monash University, Melbourne. He said "The great apes need respect. This recognises them as non-human persons who are not property, but individuals in their own right."
Church News
In July the Rev. Anthony Freeman was dismissed from his post as a Church of England clergyman by the Bishop of Chichester. He was sacked because he no longer believed in an external, objective God, and had said so in a book entitled God In Us (see review, p.39). Many members of his congregation stood up for him and it was claimed that his views were actually quite common among theologians. Traditionalists within the Church greeted this news without obvious enthusiasm and retorted that, whatever Freeman's merits, you simply can't be a parish priest if you don't believe in God.