News
News: March/April 2014
Hand lets amputees feel • Philosophy dept in sexism row • Putin's favourite thinkers • Philosopher becomes party leader — News reports by Sue Roberts
Artificial hand lets amputee feel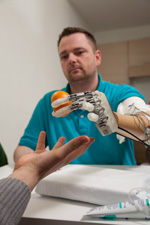 ©
LifeHand2 project
A central philosophical puzzle is how sensory inputs caused by the physical world lead to sensations in the mind. Therefore philosophers may be interested in a recent advance in prosthetics, which for the first time allows users of an artificial hand to feel the texture and shape of objects.
…
This article is available to subscribers only.
If you are a subscriber please Log In to your account.
To buy or renew a subscription please visit the Shop.
If you are a subscriber you can contact us to create an account.