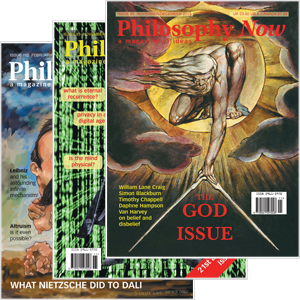 Your complimentary articles
You've read one of your four complimentary articles for this month.
You can read four articles free per month. To have complete access to the thousands of philosophy articles on this site, please
News
News: December 2015 / January 2016
Cressida Cowell wins Philosophy Now Award • Study claims religious children "less altruistic" • Can Ought Not Imply Can? — News reports by Anja Steinbauer
René Girard
René Girard, French philosopher and cultural anthropologist, died age 91 on 4 November 2015 on the campus of Stanford University, where he was Emeritus Professor of French Language, Literature & Civilization. Girard was a highly-honoured thinker whose works such as Violence and the Sacred and his final book Battling to the End: Politics, War and Apocalypse sparked widespread discussion in popular, intellectual and political arenas. He will be particularly remembered for his research into the causes of human conflict, as well as his theory of 'mimetic desire' concerning the role of imitation in human behaviour. Several heads of state have paid their respects, including French President François Hollande, who called Girard as "a free man and humanist whose work will leave its mark on intellectual history."
Ought Does Not Imply Can
Waterloo University philosophers John Turri and Wesley Buckwalter have used the techniques of the social sciences to examine the connection between being morally obligated to do something and having the ability to do it. (See the journal PLOS One, Aug. 2015). Traditionally ethicists have tended to argue that 'ought implies can', but this study involving eight thought experiments suggests that most people are more morally demanding, expecting others to do the impossible.
"In one experiment, participants considered a case where two swimmers are drowning," explains Buckwalter. "Because the drowning swimmers are so far apart, the lifeguard on duty can save one or the other but not both of them. Despite acknowledging that the lifeguard is literally unable to save both swimmers, the overwhelming majority of participants judged that the lifeguard was still obligated to do so."
The study also pointed to important differences between the way people judge physical and psychological inabilities: "People are less willing to believe that an agent is unable to drive a car due to clinical depression than due to physical injury," said Turri. "Moreover, people are more willing to blame agents suffering from psychological inabilities. This asymmetry may reflect the assumption that people can just get over mental inabilities, such as clinical depression, in ways that they cannot just get over, say, a broken leg." The research team are now investigating why people are more likely to blame and stigmatise those with mental inabilities.
Atheism, Religion & Morality
A new study strongly indicates a negative correlation between religious belief and altruistic behaviour. "Overall, our findings … contradict the common sense and popular assumption that children from religious households are more altruistic and kind towards others," concluded the authors of 'The Negative Association Between Religiousness and Children's Altruism Across the World', published in Current Biology at the beginning of November. Academics from seven universities across the world conducted the study of 1,200 children aged between 5 and 12, in the US, Canada, China, Jordan, Turkey and South Africa from different belief backgrounds. Almost 24% were Christian, 43% Muslim, and 27.6% non-religious. The numbers of Jewish, Buddhist, Hindu, and other children were too small to be statistically cogent.
The children were asked to choose stickers and then told there weren't enough for all children in their school, to see if they would share. Also their responses to film clips of children pushing and knocking one another were noted. The authors claim the results "robustly demonstrate that children from households identifying as either of the two major world religions (Christianity and Islam) were less altruistic than children from non-religious households." Older children, i.e. those with a longer exposure to religion, "exhibit[ed] the greatest negative relations."
---
Philosophy Now Award Won by Cressida Cowell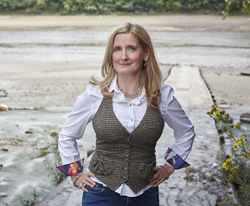 Cressida Cowell
We are delighted to announce that the winner of the 2015 Philosophy Now Award for Contributions in the Fight Against Stupidity is Cressida Cowell. She will be the first children's author to receive the Award, which honours individuals who have made an outstanding contribution to combating poor reasoning, unexamined assumptions and entrenched habits of thought. The 2014 Award went to Noam Chomsky.
In the view of the judges, nothing combats stupidity in the world more effectively than encouraging children to think. Children are great thinkers and their intellectual abilities are all too often underestimated. In a cultural environment in which children's natural curiosity and critical spirit are easily dulled and slowly replaced by couch-potato conformity, Cowell's How to Train Your Dragon books stand out not only for their humour, excitement, and startlingly vivid descriptive language, but also, more surprisingly, for their profound meditations on complex political, historical, emotional and moral themes. They incite children to reason and to question, and inspire their imagination and inquisitiveness.
Cressida Cowell, who grew up in London and on a small, uninhabited island off the west coast of Scotland, has written and illustrated twelve books in the popular How to Train Your Dragon series which has sold over 7 million copies worldwide and has also been made into a series of films. (howtotrainyourdragonbooks.com)