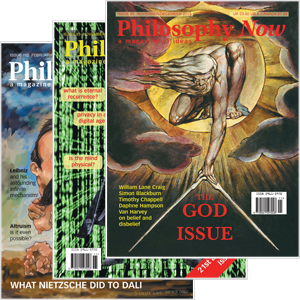 Your complimentary articles
You've read one of your four complimentary articles for this month.
You can read four articles free per month. To have complete access to the thousands of philosophy articles on this site, please
News
News: April/May 2017
Tom Regan, who made case for animal rights, dead at 78 • App developer says Everything is Philosophy • Bright kids "no more moral" — News reports by Anja Steinbauer
Tom Regan Dies
The prominent American moral philosopher Tom Regan died on 17 February, aged 78. He taught for thirty years at North Carolina State University and was an expert on the philosophy of G.E. Moore, but he is best known for his contributions to applied ethics, notably his book The Case for Animal Rights (1983). Regan argued that animals can be rights holders because an animal is a 'subject-of-a-life'. Consequently, Regan, himself a vegan, strongly advocated abandoning all form of animal exploitation. In a speech he once said: "We are not merely trying to change a few old habits about what people eat and wear. Billions of people will embrace animal rights only if billions of people change in a deeper, more fundamental, a more revolutionary way… They must embrace and, in their lives, they must express a new understanding of what it means to be a human being."
The Right to Die
On 2 March the German Federal Court decided that terminally ill individuals will now be entitled to lethal medication. The argument it accepted is that the general right of personality entails the right to self-determination. This means that persons are entitled make salient decisions about their future. This includes the decision over the time and manner of one's own death. Patients will from now on – under exceptional and well-defined circumstances – be given the opportunity to decide in favour of a pain free death and to commit suicide.
United Nations Ethics Warning
The new Secretary-General of the United Nations António Guterres has ambitious plans for the UN: He wants nothing less than its reform with the aim of combatting the increasing weariness of politics among people. His idea is to facilitate a digital discourse between governments and citizens, with real effects on political decisions. However, he warns that digital technologies along with AI and genetics involve serious ethical risks and that governments are woefully behind with respect to developing appropriate norms.
The View From Everywhere?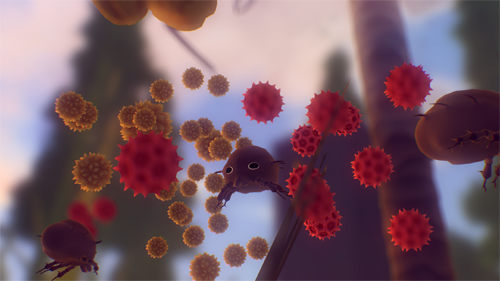 Screenshot from Everything
"In Everything, every single thing is a playable character," writes artist and game designer David O'Reilly in an announcement post on PlayStation Blog for his new game Everything. "If you can see it, you can be it." He thinks of the game as a work of philosophy. "Everything lets you be anything you want," O'Reilly writes. "Your main power in the game is Being." O'Reilly says that philosophy is 'extremely important' to his life, and that he hopes to fashion the perfect game-based medium for philosophising. He has also turned shots of the game into a 10-minute video, a simulation of the world from the perspective of everything from atoms, plants and animals to planets and galaxies, accompanied by the comments of philosopher of religion Alan Watts. Sadly, the technical limitations of current gaming platforms probably do not allow players to fully experience what it is like to have a bat's sonar sense or even the emotions and values that constitute so much of another human's perspective.
Climate Change Calculations
Stanford University doctoral candidate Blake Francis is working to create a practical framework that governments could use to evaluate their policies concerning climate change. It is meant to help decide when it's morally justified for society or parts thereof to generate greenhouse gases. Stanford philosopher Debra Satz comments: "We often have debates in climate change about how to trade off benefits and burdens without adequately considering what constitutes benefits and burdens – and whether all burdens are of the same kind. Blake's approach introduces an important dimension – not all burdens to people count as harms." Chris Field, director of the Stanford Woods Institute for the Environment, believes philosophical approaches to the problem to be vital for finding efficient solutions: "As natural scientists, we know a lot about what controls the climate and what kind of impacts we're likely to see in the future. But increasingly the important questions are human ones. What will people decide is important regarding climate change? Natural science can't speak to those issues and philosophy can."
Intelligence & Moral Development
Does intelligence help us to make better moral decisions? Psychologists Hanna Beissert and Marcus Hasselhorn at the German Institute for International Educational Research in Frankfurt set out to study how closely children's intelligence correlated with their moral development. So they took six to nine year olds, tested their IQs and then asked their views about four stories involving moral transgressions. Beissert says that the choice of age group was due to the fact that this is a phase in children's lives when they have a fairly well developed moral sense and can distinguish between different moral principles, yet their moral intuitions still develop and change. The results demonstrated, she said, that at this stage of childhood there is no connection between intelligence and morality. Beissert explained that among the children in this study neither moral reasoning, nor moral emotions, nor judgements could be correlated with intelligence.