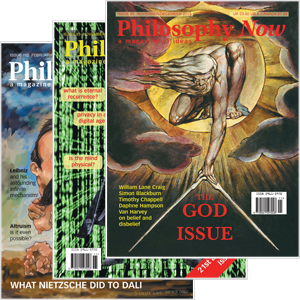 Your complimentary articles
You've read one of your four complimentary articles for this month.
You can read four articles free per month. To have complete access to the thousands of philosophy articles on this site, please
Report
The Philosophy Now Festival 2018
Report by our Special Correspondent
Outside it was a cold, damp January day in central London, but inside Conway Hall was warmth, fellowship, the buzz of conversation and the crackle of ideas. Children in facepaint headed for their own philosophy workshops (run by the Philosophy Foundation) or mingled with their elders in the hallways and café.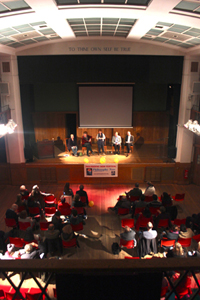 The 4th Philosophy Now Festival on 20 January 2018 ran for the entire day from 10am to 10pm, and consisted of more than thirty separate philosophy-related events – philosophy talks, workshops, debates, activities, panels discussions and games. The Festival is held every two years, and as usual we were the guests of Conway Hall in their magnificent building. Numerous organisations took part including Philosophy For All and Oxford University's Uehiro Centre for Ethics, and the day was powered by the enthusiasm of dozens of speakers and volunteers.
The Great Balloon Debate
One of the Festival's most popular attractions, as always, was the Balloon Debate. The idea is this: imagine a hot air balloon is crossing the Alps with four world-famous philosophers in the basket. Unfortunately it is overladen, and will crash unless somebody is thrown out. Which philosopher should be ejected first? Which should go next? Each of the four is represented by a modern-day philosopher who speaks on their behalf, explaining why they should not be hurled from the balloon. Then the audience votes on who to eject. This year the four airborne sages were: Bishop Berkeley, The Buddha, Søren Kierkegaard and Bertrand Russell. Their representatives waxed eloquent about their philosophical and personal merits. After three rounds of voting only Bertie Russell (represented by Anja Steinbauer) remained aloft.
Fun and Games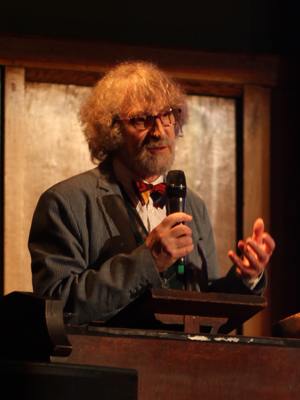 Peter Cave
Major highlights included Peter Cave's George Ross Memorial lecture on 'Myths, Morality and McTaggart's Cat'. The Royal Institute of Philosophy's Director, Professor Anthony O'Hear addressed a packed lecture room on 'Philosophy: Limits and Vocation'. There was a roundtable discussion on 'Artificial Intelligence, the Singularity, and the Future', and another on 'Nationalism and Multiculturalism'. Sevenoaks School sent a group of sixth-form students who gave impressive and intriguing five-minute talks on topics from Time Travel to Sartre. Activities included 'The Anti-Philosophers' (come and have an argument with us!); a workshop on mental toughness and a session in which people were helped to explore what, for them, constituted happiness. Talks covered topics including mathematical knowledge; philosophy of science; personal identity; reality, and even 'David Bowie and Philosophy'. Naturally, there was a Café Philo session hosted by Christian Michel, who runs them regularly at the Institut Francais.
Against Stupidity Awards
Every year since 2011, Philosophy Now magazine has given a trophy for Contributions in the Fight Against Stupidity. Due to the timing of this year's Festival, it was decided that both the 2017 and the 2018 Awards should be made at the event.
The 2017 Award was given to magician and investigator James Randi. Known during his stage career as The Amazing Randi, he increasingly turned his skills to investigating paranormal and pseudoscientific claims. For many years Randi made a speciality of exposing fraud by purported psychics and televangelists. He was given the 2017 Award for entertainingly highlighting two universal human characteristics that he says are essential to the magician's trade: the ability of people to be fooled, and the willingness of people to fool themselves.
The 2018 Award went to biologist Professor Robert Sapolsky, who accepted it via a live but patchy video link from California. Sapolsky was given the Award for the originality and brilliance of his expositions of the connections between biology and human behaviour, including his Stanford University lecture courses which are available online. His many books include Why Zebras Don't Get Ulcers and Behave: The Biology of Humans at Our Best and Worst. Scientists sometimes change the way we think about the world. Sapolsky changes the way we think about the way we think (and feel, and behave).
Next year's Award will be presented in January 2019. Nominations are open!
Live Stream
One problem with the Philosophy Now Festival has always been that it tends only to involve people who live in or near London. We've been working on that. This year, for the first time, some of the Festival events were livestreamed to the Philosophy Now website so that they could be watched in real time anywhere in the world. You can see the videos now at philosophynow.org/videos or on the Philosophy Now YouTube channel.