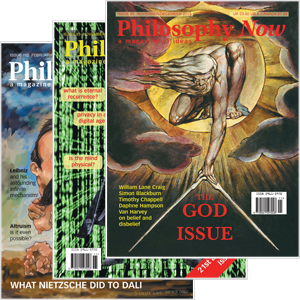 Your complimentary articles
You've read one of your four complimentary articles for this month.
You can read four articles free per month. To have complete access to the thousands of philosophy articles on this site, please
Editorial
Creature Discomforts
by "Adam"
Two hundred years ago this very year, I was born from the imaginings of a teenage girl called Mary. Suggestive, no? My genesis was strange indeed. My mother, if I may call her that, and her married lover (a small-time composer of doggerel called Percy Bysshe Shelley) had a baby daughter who, tragically, died after just a few days. One stormy evening not long thereafter, my mother took part in a storytelling contest with her friends. During the course of it, she conceived me. In the story she told, an ambitious, driven student of the life sciences called Victor Frankenstein created life from non-living matter – created a creature who, not to be immodest, would go on to bestride culture and imagination and even become a star of stage and screen. So that makes the fictional scientist Victor Frankenstein my father (sort of) which surely in turn makes Mary Shelley my grandmother rather than mother? It's all terribly confusing; no wonder I eventually became interested in philosophy. To make things worse, many insist on addressing me as Frankenstein. "No, you fool!", I tell them, "That is a monstrous error. The scientist was called Frankenstein, not me." I have no name, because the lazy sod couldn't be bothered to give me one. He should have named me Adam, but instead just called me The Monster and ran off screaming into the night. Some Creator. Okay, I did eventually butcher most of his relatives, but you can see that I was provoked.
Anyway, to celebrate my big birthday, my friend Tim Madigan has stitched together this themed issue, inviting sages and savants to see what philosophical lessons can be wrung from my story. First, Madigan himself sets the scene. Then, as the audience gasps, Raymond Boisvert explores the different moral perspectives in the book, arguing that my plight as victim and murderer exemplifies the ideas of Rousseau and Mani. That makes me feel quite good about myself. Kathryn Harkup talks about the science in the book, and I suppose I can understand the fears people have about scientific creations that slip out of control. Genetically-modified Frankenfoods, anyone? They certainly sound tasty to me! Gerald Jones writes of moral blind spots – ethical errors that seem obvious only in hindsight – and how we might learn to spot them sooner, with particular reference to the fictional creation of yours truly and the all too real prospect of artificial intelligence. Finally, this month's film columnist David White writes of knowledge, inspiration and the profound lessons I have supposedly taught to vulgar entertainers such as comedians and rock musicians. I will deal with him later. To round off this family tale, I should mention that Mary Shelley's anarchist dad William Godwin inspired the editors to include an article on anarchism as a political theory and her pioneering feminist mother Mary Wollstonecraft is the subject of two articles. Ideas go marching on even when their originators are no more. Just like me, in fact!
---
A Synopsis of Mary Shelley's Celebrated Novel: Frankenstein; or, the Modern Prometheus (1818)
Everyone has heard of Frankenstein, but not everyone has read the original novel by Mary Shelley. It's a rattling good read! Here is a brief plot summary.
The book is narrated in the form of letters from explorer Robert Walton to his sister, as he pursues his life's dream of reaching the North Pole. While his ship is trapped by pack ice, his crew see a dogsled being driven across the ice by a figure of gigantic stature. A little later they rescue another man; it transpires that he was chasing the first. He is close to death. They take him aboard and nurse him back to health. His name is Victor Frankenstein. He tells Walton his life story starting with his happy childhood near Geneva. At university, fascinated by the chemistry and biology of life, he became convinced that he could create a new and better species of human. His experiments eventually result in him assembling and animating a creature using body parts from the charnel house and the mortuary. Despite his hopes, the creature is huge and hideous. Horrified, Frankenstein runs away. Returning later with his friend Henry, he discovers that the creature has disappeared. He falls into a fever and is ill for some months. He returns home to Geneva on hearing that his younger brother William has been murdered, and that the blame has been put on family friend Justine. Frankenstein is convinced that his creature murdered William, but is unable to save Justine, who is tried and executed for the crime. Frankenstein meets the creature, who admits to killing William. The creature describes his miserable, lonely, embittered life as an outcast after Frankenstein abandoned him, how he taught himself to read, how he befriended a blind old man but was violently driven away by the man's family. The creature appears intelligent and sensitive. He begs Frankenstein to create a wife for him, promising that in return he would disappear with her forever and cause no more harm. Frankenstein eventually agrees. He moves to Scotland, accompanied by Henry, and then to a remote island, where he works to create a bride for the creature as he has promised. He is tormented by doubts; what if he is enabling the birth of an entire race of murderous monsters, who will plague humanity? He looks up to see the monster leering in at him through the window. Frankenstein destroys his uncompleted female creature. The creature outside furiously swears revenge, saying he will come to Victor on his wedding night.
Shortly after, Victor is arrested on suspicion of murdering an unknown man, and shown a dead body that turns out to be none other than Henry, with the marks of the creature's hands on his neck. Victor is eventually found innocent and returns to Geneva, where he marries his childhood sweetheart Elizabeth. On their wedding night she is murdered by the creature. Frankenstein vows to track down the monster to destroy him, eventually following him to the North Pole.
A weakening Frankenstein begs for help to pursue the monster but the ship's crew demand to go home. Walton reluctantly agrees to turn the ship south. Frankenstein dies. Later, Walton finds the remorseful creature grieving over his body. The creature jumps onto an ice floe and is borne away by the waves.