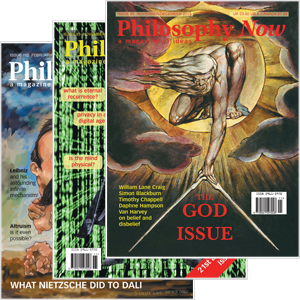 Your complimentary articles
You've read one of your four complimentary articles for this month.
You can read four articles free per month. To have complete access to the thousands of philosophy articles on this site, please
News
News: October/November 2018
China hosts vast World Congress • Johns Hopkins philosophy department prepares to throw big party • Causality starts to look wobbly — News reports by Anja Steinbauer
Largest Ever Philosophy Event?
In August, Beijing hosted one of the biggest gatherings of philosophers in living memory, the 24th World Congress of Philosophy. "Over 8,000 people registered, making it by far the largest philosophy event I've ever heard of," said George Leaman of the Philosophy Documentation Center in Virginia. "The number of registrations surprised the organizers and forced them to relocate the event from the Peking University campus to the China National Convention Center, about five miles away. I'm not sure how many registered participants actually made it but the numbers were large. The organizers arranged for hotels around Beijing with buses to and from the convention center. Beijing has an excellent subway system and we used it many times to get to and from the congress."
It's usual for the World Congress to have some big overarching theme, which is usually happily ignored by most of the participants. This year was 'Learning to be Human'.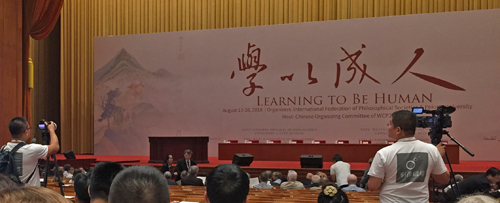 World Congress of Philosophy, Beijing
One keynote speaker was Judith Butler, from Berkeley, who gave the Simone de Beauvoir Lecture on the opening day. The subject of her talk was 'Gender in Translation/Beyond Monolingualism'. That it was a truly global conference can be seen from the composition of the 'Humanism and Post-Humanism' round table: Correddu and Garasic from Rome, Parsakhanqah from Tehran, Anastasiya Kriman from Moscow and Youngmin Kim from Seoul, with Sigridur Thorgeirsdottir (University of Iceland) in the chair.
Philosophy Now had applied for a display stand and to host a session, as we have at every World Congress in the last couple of decades. Alas, we were told no by the organisers, who stated that only publications complying with "the rules" could be accepted. So we stayed at home. However, George Leaman tells us that Philosophy Now "was one of the first publications stolen from our booth – there's a complement somewhere in that."
Johns Hopkins Gifted
Earlier this year, investor Bill Miller pledged to donate $75 million to the Department of Philosophy at Johns Hopkins University. Intended to boost faculty research and graduate and undergraduate study of philosophy, it is the largest gift ever made to a university philosophy department. Miller, chairman of the investment firm Miller Value Partners, is a former Hopkins philosophy graduate student. He told the university: "I attribute much of my business success to the analytical training and habits of mind that were developed when I was a graduate student at Johns Hopkins."
Chicken or Egg?
Which came first, the chicken or the egg? According to a report in Physical Review Letters, a team of physicists from the University of Queensland and Grenoble's Institut NÉEL have come up with lab evidence concerning the direction of causality that would have left Aristotle speechless. Dr Jacqui Romero from the ARC Centre for Engineered Quantum Systems explains that quantum physics offers a strange alternative to clear cut causes and effects: "The weirdness of quantum mechanics means that events can happen without a set order… This is called 'indefinite causal order' and it isn't something that we can observe in our everyday life." To observe this effect in the lab, the scientists devised a photonic quantum switch. "By measuring the polarisation of the photons at the output of the quantum switch, we were able to show the order of transformations on the shape of light was not set." In other words, the transformation events were not taking place in a fixed order. Dr Fabio Costa sees much potential in the findings: "This is just a first proof of principle, but on a larger scale indefinite causal order can have real practical applications, like making computers more efficient or improving communication."
Truth and Debate in Current Affairs
What is a fair debate? What types of discourse help us to find the truth? These are questions at the very heart of philosophy. They are of equal concern to good journalism. A particular dilemma for journalists in recent years has been the problem of false balance: Should two sides of a debate be treated as equal when overwhelming evidence supports only one of them? A recent BBC briefing note to its editorial staff gives an insight into the agonising that takes place in many media organisations over what constitutes fair debate: "Climate change has been a difficult subject for the BBC, and we get coverage of it wrong too often. […] Manmade climate change exists: If the science proves it we should report it. […] To achieve impartiality, you do not need to include outright deniers of climate change in BBC coverage, in the same way you would not have someone denying that Manchester United won 2-0 last Saturday. The referee has spoken."