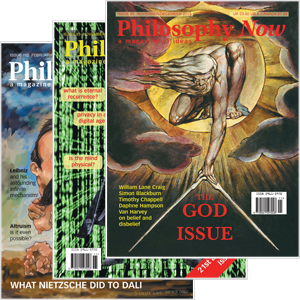 Your complimentary articles
You've read one of your four complimentary articles for this month.
You can read four articles free per month. To have complete access to the thousands of philosophy articles on this site, please
Report
The Philosophy Now Festival 2020
Report by Anja Steinbauer
The century-old doors exploded inwards as Rick and I, laden with crates and rolls of paper, pushed into the eccentric Art Deco building. Conway Hall, so familiar from many weird and wonderful philosophy gatherings, was awaiting us in all its solemn charm. The ideal setting for an event that was equally eccentric but also definitely aspiring to awesomeness.
It was the fifth Philosophy Now Festival. In only an hour people would be streaming in. I've organised philosophy events for more than twenty years now, but there is always this uncertainty just before it happens: Is it going to be a disaster? Have we forgotten something vital?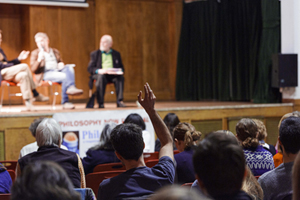 Fast forward three hours, and there could be no doubt that worries were unfounded. Even the early morning events had been well attended, the discussions lively and productive. Now all the talks, debates and workshops were packed; the audience were energised, engaged and, as all of us, gripped by the excitement of the day. An edifying discussion of the pros and cons of New Year resolutions was followed by two events on theatre and philosophy, including a Hamlet performance by young actor Marcel and a presentation by the man who literally wrote the book on theatre and philosophy, Tom Stern.
There were three or four events running concurrently in different rooms, ranging from philosophy of mathematics to an art workshop about identity; from philosophy in prisons to philosophy and the news; from John Locke to Blade Runner; from Androids to Ayn Rand. The Philosophy Foundation ran no less than four workshop events for children of different age groups and some sixth formers from Sevenoaks School dazzled with their 'philosophy snaps'.
Elsewhere in the building, discussions about race and about straight sex were being held by Greg Scorzo and Lizzie Soden of Culture on the Offensive. Meanwhile Gerald Jones led a session – cunningly labelled "adults only" in the programme and packed from floor to wall with people – reflecting on the blurring of moral boundaries in matters of love and the heart. Jones later commented: "We proved conclusively that all is fair in love (but not war)."
The Balloon Debate, a popular regular fixture at the Festival, had Confucius, Hume, Marx and Nietzsche each explaining why they shouldn't be thrown out of a sinking hot air balloon. It featured a memorable performance by Nietzsche (channeled by Tim Beardmore-Grey) who proceeded to philosophise with an actual (toy) hammer! Two amazing round table events saw eminent thinkers discuss 'Climate Change and Responsibility' and 'Judging Religion'. Among many great lectures, two stood out for me: Raymond Tallis eloquently cleared up myths about the nature of time, and Ian James Kidd, who gave this year's George Ross Memorial Lecture, introduced us to philosophical misanthropy.
The Against Stupidity Award
The last highlight of the day was, as always, as Rick announcing the winner of the annual Philosophy Now Award for Contributions in the Fight Against Stupidity. This year we had chosen writer Jon Ronson, who in his book So You've Been Publicly Shamed gives a sensitive yet critical discussion of the democratic opportunities of social media, weighed up against the public shaming in which they can result. In his vivid, captivating style, Ronson writes about how while we seek justice by calling out perceived wrong-doing on social media, the global snowballing of abuse can sometimes ruin the target's life. The colossal damage to their reputation, career and mental health can be out of all proportion to the original offence and to the intentions of those taking part. In his acceptance speech Ronson concluded: "The truth is we are, as humans, grey areas. We're a mess. We're clever, and we're stupid, and almost nobody is simply bad. Those that are deserve punishment. But if you spend your life judging and condemning, you can blind yourself to a much better reality, which is that people are interesting. Yes, it is important to think critically, to value facts over fiction. But I do what I do because of curiosity, not judgment. And if you fill your head with judgement there is no room left for curiosity."
The Festival, in the course of which about 2,000 people passed through the building, was made possible by Conway Hall and their wonderful staff, as well as the help given to us by twenty energetic volunteers, and of course our amazing presenters, ranging in age from 14 to 80+, with all their diverse interests, styles and wonderful idiosyncrasies. Everybody gave their time and work for free, making this Philosophy Now Festival once again into a truly shared project – because we all really love philosophy! Thank you, my friends, and I'm looking forward to the January 2022 Festival. See you there?