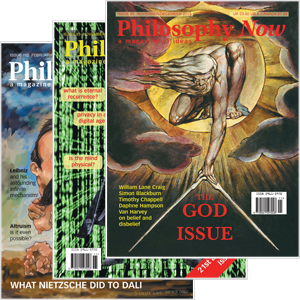 Your complimentary articles
You've read one of your four complimentary articles for this month.
You can read four articles free per month. To have complete access to the thousands of philosophy articles on this site, please
News
News: August/September 2020
Woman Philosopher of Year is Ann Garry • UNESCO invites public to comment on AI ethics rules • Steiner and Kohák dead — News reports by Anja Steinbauer
Woman Philosopher of 2020
Each year, the Society for Women in Philosophy honours one (usually Anglo-American) philosopher with the title Distinguished Woman Philosopher of the Year. It has now been announced that for 2020 this will be Ann Garry. She is emerita professor of philosophy at California State University, Los Angeles, where she created and ran the Center for the Study of Genders and Sexualities. Prof. Garry has long been among the pioneers of feminist philosophy, conducting research into applied ethics, reconsidering philosophy's underlying methods from a feminist angle, and developing the concept known as intersectionality. In a paper on this last topic, she explained: "Intersectionality … includes the idea that various forms of oppression and privilege interact with each other in multiple complex ways." It examines the mechanisms by which in a given social environment, the different aspects of an individual's identity, such as their race, gender and socioeconomic background, can jointly have consequences that they might not have separately.
AI Ethics
On 15 July 2020 UNESCO launched an international online public consultation on the ethics of artificial intelligence. In March it formed a group of 24 AI experts from different disciplines to draw up ethical recommendations on how AI technology should be adopted globally. They have to take into account a range of areas that AI will affect including the environment, labour markets and culture. The group swiftly produced a draft text on which UNESCO now invites the public to comment. The text outlines eleven principles for the "research, design, development, deployment and use of AI systems", including fairness, accountability, human oversight, sustainability, multi-stakeholder governance and privacy. It also has six foundational values, which are human dignity; human rights and fundamental freedoms; leaving no one behind; living in harmony; trustworthiness; and protection of the environment. UNESCO's Director General, Audrey Azoulay, commented: "It is crucial that as many people as possible take part in this consultation, so that voices from around the world can be heard during the drafting process for the first global normative instrument on the ethics of AI." Better move fast, though – the public consultation is only open for two weeks, until 31 July. Oh no, too late! Never mind.
Dr Brian Ball, of London's New College of the Humanities, is launching a conversion MA in Philosophy and AI. He told Philosophy Now: "Philosophical issues surrounding Artificial Intelligence can be roughly divided into two kinds: theoretical issues concerning the very possibility of AI; and ethical and political issues arising in connection with the emerging or foreseeable technologies in this area … Philosophical investigation of issues of both kinds are not only intellectually stimulating; they are also practically applicable."
EU Citizens Oppose Animal Testing
A survey conducted by Savanta ComRes in June 2020 reveals that 72% of citizens in 12 EU countries believe the EU should make it a priority to draw up concrete plans for phasing out animal testing. Around 90% of medicines that appear safe in animal tests fail when tested on humans. Despite this poor effectiveness, 30 million animal tests were conducted in the EU between 2015 and 2017.
Philosophers Lost: George Steiner
George Steiner wasn't a thinker who could be easily categorised. He combined Continental and Analytical approaches to philosophy. To him, there was no divide between poetry and philosophy. He believed Plato to have been a dramatist like Shakespeare. His interdisciplinary approach stood out as unconventional at a time where the trend was to compartmentalise and separate. Steiner once wrote: "Every one of my opponents, every one of my critics, will tell you that I am a generalist spread far too thin in an age when this is not done anymore, when responsible knowledge is specialized knowledge." Steiner had a particular interest in language, in reading books. He thought about what is expressed in a text, a sentence or just a word, but also about the correlate to speech, silence.
Philosophers Lost: Erazim Kohák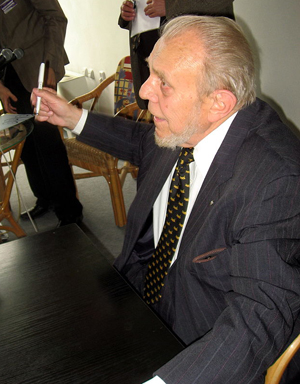 Kohák in 2009
Photo by Dezidor, Creative Commons 3.0
The great Czech philosopher Erazim Kohák has died. His parents were members of the Czech resistance during World War II, and after the Communist takeover in 1948 he emigrated with them to the USA. After studying philosophy at Colgate and Yale he became a professor of philosophy at Boston University. He later split his time between the Universities of Boston and Prague, before permanently returning to Prague, where he became a revered public intellectual. His numerous philosophical publications in English and Czech range from phenomenology to political philosophy and ethics. Kohák wrote extensively about democracy, but is perhaps best known now for his work on environmental ethics. He was both a theorist and an activist. He never owned a car, believing them to be more damaging than useful. During his time in the US he lived in a cabin he had built himself; later he lived in a tiny flat in Prague. In 2013 he was honoured with the Order of Thomas Masaryk, named after the philosopher who was Czechoslovakia's first president.