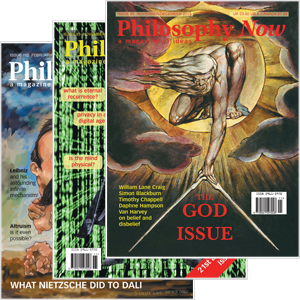 Your complimentary articles
You've read one of your four complimentary articles for this month.
You can read four articles free per month. To have complete access to the thousands of philosophy articles on this site, please
News
News: October/November 2020
Ethicists shadow vaccine research • David Hume gets cancelled • Philosopher tackles Tour de France — News reports by Anja Steinbauer
Ethics of Covid Vaccinations
The intense worldwide search for a safe and effective Covid-19 vaccine has given rise to several new areas of ethical debate. Both the development and the administration of a possible vaccine throw up various moral considerations. A paper by Lisa Tambornino and Dirk Lanzerath published in July in Research Ethics gives an idea of the main concerns. It outlines the complexities of balancing the need for a quick result with the ethics of a hastened testing process. It considers the suggestion that the last step should be a human challenge trial, where volunteers allow themselves to be injected with the virus to test the vaccine. It considers risk management, and informed consent issues as well as containment. Other ethicists are researching the ethics of vaccine distribution: who should get priority, and how should financial, political and moral concerns be balanced?
In August, the Anglican, Catholic and Greek Orthodox archbishops of Sydney jointly wrote to Australian Prime Minister Scott Morrison asking him not to rely solely on the vaccine being developed by Oxford University. They expressed concern that (like many existing vaccines) it uses a human cell line which was derived originally from an aborted fetus. The prelates asked the PM to ensure that alternative vaccines would be available too.
The Philosopher Cyclist
Has it ever occurred to you that cycling is a deeply philosophical activity? Meet Guillaume Martin, one of the top level competitors in this year's Tour de France. He has a Masters degree in philosophy and has been rising to stardom in France, a land which loves both philosophers and cyclists. Martin wrote a book called Socrates on a Bike, which imagines a cycle race between famous philosophers. He claims inspiration from Nietzsche and Flaubert. Martin rides with Team Cofidis and argues that cycling combines two defining characteristics of philosophy: quiet, introverted contemplation and constantly being in motion.
Midnight Philosophy
"Night is the other half of life, and the better half," Goethe once claimed. This summer Philosophy Now has pioneered a new kind of online event, Midnight Philosophy. Once a fortnight, thirty or forty Philosophy Now readers around the world gather on Zoom for an hour of reflection and discussion. Led by Anja Steinbauer, these sessions explore different aspects of human experience. So light a candle and join us! Sessions take place every second Thursday night at midnight (London time). Dates and themes can be found at https://tinyurl.com/PNMidnight. Audio recordings of sessions will be added to the podcast page of philosophynow.org.
God and the Good
Can you still be a moral person even if you don't believe in God? A new paper has been published under the catchy title 'The Global God Divide'. Pew Research have conducted an extensive survey, asking 38,426 people in 34 countries across six continents a range of questions relating to morality and religious belief. 45% said it is necessary to have faith in a God in order to be moral and have good values. Researchers found an inverse relationship between GDP per capita and the percentage of the public that draws a connection between belief in God and morality. Respondents in nations with lower gross domestic product turned out to be far more likely to say that belief in God is necessary to be moral and to have good values. You can find the full data set at pewresearch.org.
David Hume Tower Renamed
David Hume (1711-76) is probably the most famous British philosopher in history. A genial genius, he was a central figure in the Scottish Enlightenment and among the most celebrated alumni of Edinburgh University. His writings on subjects as diverse as the nature of causation, epistemology and the foundations of ethics had a profound impact on subsequent philosophy that continues even today. Unfortunately, his views on race and intelligence were decidely eighteenth century. For example in an essay he wrote in 1753, he remarked that he suspected black people "to be naturally inferior to the whites." His old university has now announced the renaming of its David Hume Tower (an undistinguished 1970s office block) to unequivocally distance itself from such views. The university's decision was made following the police killing of George Floyd in May and an online student petition in support of the Black Lives Matter movement. The building will now be called simply 40 George Square.
Cornell Realist Dies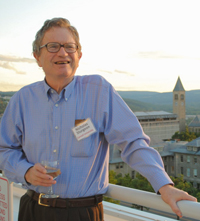 Prof. Nick Sturgeon at his retirement conference, 2012
Photo by kind permission of Nicholas Sturgeon's family
Nicholas Sturgeon, Professor Emeritus at Cornell University, died on 24 August. Born in 1942, Sturgeon taught at Cornell from 1967 and was an expert on metaethics. He was the joint creator (with Richard Boyd and David Brink) of a metaethical position known as 'Cornell Realism'. This is a version of moral realism, which holds that true moral judgments reflect facts about the natural world (that is the Realism part). Cornell Realism has several unique features. It says that moral judgments can be non-motivational – in other words, you could believe some moral judgment to be true without feeling compelled to act.