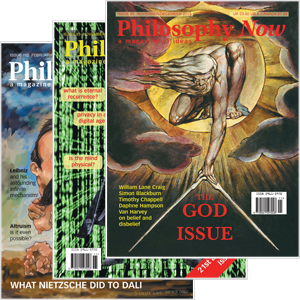 Your complimentary articles
You've read one of your four complimentary articles for this month.
You can read four articles free per month. To have complete access to the thousands of philosophy articles on this site, please
News
News: February/March 2022
Leading African Philosopher Dies, Aged 90 • Socrates Jazz Opera Opens Off Broadway • Hegel Museum Installs Escape Room — News reports by Anja Steinbauer
Kwasi Wiredu Has Died
The philosopher Kwasi Wiredu died on 6 January 2022, aged 90. Born in Kumasi in what is now Ghana, Wiredu studied philosophy at the University of Ghana, then at Oxford, where he was taught by Gilbert Ryle, Peter Strawson and Stuart Hampshire. He became Professor of Philosophy at the University of Ghana and later at the University of South Florida. Wiredu also held several guest professorships in the United States and Nigeria.
Often referred to as the greatest African philosopher of his time, Wiredu analysed the concepts of truth and of the mind within the traditional Akan culture of West Africa, and was the author of books including Philosophy and an African Culture and Cultural Universals and Particulars. He also edited the Blackwell Companion to African Philosophy. Influenced by David Hume, Immanuel Kant and John Dewey, Wiredu's work is unique in its references to African thinking. Wiredu's particular approach to African philosophy, 'conceptual decolonisation', was intended as a tool for rethinking the crises of modernity as well as African consciousness.
Together with Paulin J. Hountondji in Benin, Henry Oruka Odera in Kenya and Peter O. Bodunrin in Nigeria, he co-founded the universalist school of African philosophy. Rigorous in their philosophical approach, the universalists established the standard for philosophy in Africa and became influential worldwide.
Emmanuel Levinas Centre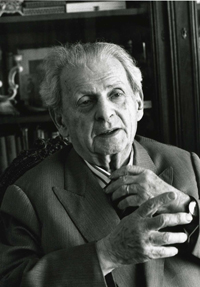 Levinas
Bracha L. Ettinger, CC-BY-SA 2.5 Licence
During the Holocaust 95% of Lithuania's 250,000 Jews were killed, and the city of Kaunas saw many horrific murders. To this day, there are ongoing disputes about commemorations of people and events of that time, especially the status of local collaborators. Many, therefore, welcome the decision by city officials in Kaunas to name a large new cultural and scientific center after Emmanuel Levinas, a famous Jewish philosopher who was born there in 1906. Levinas died in 1995 in Paris, after a long and illustrious philosophical career in France. The Emmanuel Levinas Centre is part of the Lithuanian University of Health Sciences, and it will host scientific and cultural events, as well as exhibitions about Levinas. The opening ceremony was attended by David Hansel, a French-Jewish neuroscientist living in Paris and grandson of Levinas: "A French Jew and Litvak from Lithuania, [he] was proud of his origin. The Centre embodies the entire life and work of Emmanuel Levinas and the Kaunas Jewish community."
Agamben, Covid and Politics
While Italian politicians launch another appeal to citizens to get vaccinated, prominent Italian philosopher Giorgio Agamben warns that vaccinations mean a loss of freedom and will lead to dictatorship. Agamben is one of Italy's best-known philosophers, who throughout his long career has made great contributions to political philosophy, critically examining concepts such as 'state of exception', 'form-of-life' and ' homo sacer'. However, more recently, Agamben has been in the media for his views on the coronavirus crisis. In his blog ' Una voce' he posted a contribution in February 2020 titled 'The Invention of a Pandemic'. Far from retracting his position, he has since reaffirmed it, drawing analogies between governmental efforts to control the pandemic and repressive measures against the Jews in Nazi Germany. Agamben has written newspaper articles to this effect and even had the opportunity to address parliament in October. A large number of his fellow Italian philosophers made a public statement opposing their famous colleague. In a statement 'There is not only Agamben', signed by more than 100 Italian philosophers, they stated their opposition to his views and their surprise that philosophy's contribution to the crisis is confined "to thinkers like Agambo", who "do not represent anyone but themselves." Philosopher Donatella Di Cesare is concerned that soon "we will have to save Agamben from Agamben." Together with philosopher and former mayor of Venice, Massimo Cacciari, Agamben published an article on the website of the Italian Institute for Philosophical Studies that warns of the danger that the vaccine might turn into a political-religious symbol. Recently, they founded the 'Doubt and Prevention Commission', a think tank which seeks to cast doubt on Corona and Corona policies. It is not clear what is meant by prevention, though at the founding event, which was streamed on YouTube, Agamben evoked more comparisons to the resistance against Hitler. A few days later, it turned out that Cacciari had received the booster jab, a piece of news that may take some wind out of the sails of the movement.
Hegel Museum
Even experienced philosophers find Hegel's ideas a challenge. Now, a new and accessible way of coming to grips with the philosopher, who has the reputation of being a notoriously forbidding thinker, has opened up. A year ago, the house in Stuttgart where the German philosopher Georg Wilhelm Friedrich Hegel was born in 1770 was restored and has reopened as a novel and exciting museum. No, not a place full of dusty display cases that make your eyes glaze over within minutes. Hegel House combines some traditional exhibition pieces such as Hegel's cap, note books and letters, as well as elements of the original decoration of the house with many interactive elements. On the walls of the ground floor, all around the visitors, an interactive film plays, explaining and showing Hegel's life and time. Upstairs, you can take books from the shelves of Hegel's private library; a media station allows you to find out more about the book in your hands: what it is about and why Hegel owned it. Finally, on the second floor, there is an escape room, where, in the light of flickering lamps that visitors carry around, they have to steal a manuscript for Goethe from Hegel's study while the philosopher is snoring next door. Hegel House has been honoured with the Lotto-Museum award of Baden-Württemberg.
Socrates Opera In New York


Is that you, Socrates?
The Hang, HERE Arts Center
A new jazz opera based on the execution of Socrates has just opened in Manhattan. Called The Hang, it will be playing at HERE Arts Center on 6th Ave until 20 February. In it, Socrates awaits the hemlock and certain death with a small group of friends, passing the hours, wrangling about the nature of virtue and saying his goodbyes. The music was written by Matt Ray and the words are by Taylor Mac, who also plays Socrates. You already know the ending but by all accounts the tale is a lively one. New York magazine calls it "incomprehensible in the best way" and "a house party crossed with a New Orleans funeral procession married to a Radical Faerie bacchanal." The Wrap calls it "blissfully bizarre' and comments that "Criticizing Mac for being indulgent is a little like bitching that the Empire State Building is tall."