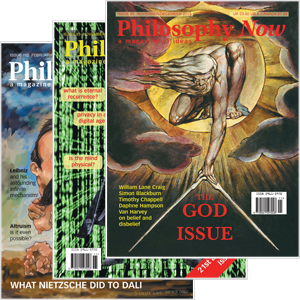 Your complimentary articles
You've read one of your four complimentary articles for this month.
You can read four articles free per month. To have complete access to the thousands of philosophy articles on this site, please
News
News: August/September 2023
Harry Frankfurt, philosopher, has died • So has Milan Kundera, novelist and thinker • Violent attack on philosophy class — News reports by Anja Steinbauer
Stabbing in Philosophy Class
In June a philosophy class session at the University of Waterloo in Canada came to a shocking and violent end. A former student of the university entered towards the end of the Philosophy 202: Gender Issues class, taught by assistant professor Katy Fulfer, and asked her if it was a Psychology class. On being told the title of the class he smiled and pulled two knives from his rucksack, then stabbed Fulfer and two of her students. All three were hospitalized and their injuries are described as serious but not life-threatening. Another student apparently threw a chair at the attacker, who was later arrested and charged. Waterloo Regional Police are treating the attack as a suspected hate crime.
A large number of philosophers from various countries have since signed a statement saying, in part: "We stand with those affected, affirm our commitment to academic freedom, and condemn all uses of violence, intimidation, or derogation that attempt to undermine philosophical examinations of gender and sexuality."
Harry Frankfurt
Freedom, responsibility, equality, bullshit: Harry Frankfurt was a thinker known for tackling some of philosophy's greatest problems. After acquiring a PhD from Johns Hopkins University and subsequently serving a couple of years in the army, Frankfurt spent his academic career, which spanned almost half a century, teaching at some of the greatest universities in the US, above all Yale and finally Princeton. From 1995, Frankfurt was a member of the American Academy of Arts and Sciences. Frankfurt is particularly known for his analysis of freedom of the will. He understood it to be the correspondence of a will to action and a second order desire, i.e. a desire that we have with respect to having desires, such as the desire to give up smoking. He believed that free will thus understood is constitutive of personhood. Frankfurt challenged our thinking about moral responsibility when he introduced counterexamples to the principle of alternate possibilities which says that we are responsible for our actions only if we could have done otherwise. Frankfurt's contribution to the discussion of egalitarianism in political philosophy was suggesting that equality is not what we should aim for, introducing instead an alternative concept: 'sufficiency'. Fame beyond academic philosophy came to Frankfurt in 2005 when he published a popular bestseller called On Bullshit, in which he explored the phenomenon of wanting to persuade without regard for truth. Its opening words became mildly famous: "One of the most salient features of our culture is that there is so much bullshit." Harry Frankfurt died on 16 July 2023 at the age of 94.
Milan Kundera
Thinker and novelist Milan Kundera was born in Czechoslovakia in 1929, and went into exile in France in 1975, where he lived until his recent death on 11 July 2023. After the 1968 Prague Spring was suppressed by Soviet tanks, and right up until the Velvet Revolution of 1989, Kundera's books were banned in his native country by the ruling Communist Party. Kundera is best known for his 1984 novel The Unbearable Lightness of Being. (It was later loosely adapted into a 1988 film of the same name, which Kundera disliked). The plot of the book is accompanied by philosophical reflections strongly influenced by, and reacting to, Nietzsche's idea of eternal recurrence. Kundera believed in the philosophical potential of the novel: "A novel is a meditation on existence, seen through imaginary characters. The form is unlimited freedom." In an interview, Kundera told the Paris Review: "My lifetime ambition has been to unite the utmost seriousness of question with the utmost lightness of form. The combination of a frivolous form and a serious subject immediately unmasks the truth about our dramas (those that occur in our beds as well as those that we play out on the great stage of History) and their awful insignificance. We experience the unbearable lightness of being."

Protestors carry a flag past a burning Soviet tank, Prague 1968. The brutal crushing of the Prague Spring forms the backdrop to Kundera's most famous novel, The Unbearable Lightness of Being.
Declassified CIA file photo, via Wikimedia Commons
Temperature and Human Behaviour
How we act can be linked to environmental factors, such as temperature. Therefore as the climate is heating up in East Asia, more domestic violence against women is predicted especially in low income households in India. A recent study published in the American Medical Association's journal JAMA Psychiatry examined if 'ambient temperature' made a difference to the prevalence of 'intimate partner violence' in India, Nepal and Pakistan. Tracking 194,800 girls and women aged between 15 and 49 across all income groups, the researchers observed prevalence of intimate partner abuse, including physical, sexual, and emotional violence. The study concluded that a 1 degree Celsius increase in annual mean temperature meant a 4.5% increase in intimate partner violence, with the largest increases among rural and lower-income households, particularly in India. "In the 2090s, India is estimated to experience the highest intimate partner violence prevalence increase at 23.5% followed by 14.8% in Nepal and 5.9% in Pakistan under an unlimited carbon emissions scenario," the study said.
Privacy, Social Media and UK Law
Most popular messaging apps provide end-to-end encryption, ensuring privacy but also, it is alleged, making them convenient for criminals. Now the UK government is planning an extension of the Investigatory Powers Act which will require messaging providers such as Apple, WhatsApp and Meta to provide government access via backdoors into their services. Consequently, all of these companies are considering withdrawing their messaging apps from the UK market. Apple pointed out threats to free speech and the right to privacy as well as cybersecurity: "These provisions could be used to force a company like Apple… to publicly withdraw critical security features from the UK market, depriving UK users of these protections."
Philosophy Shorts Book News
The start of each issue of Philosophy Now features the Philosophy Shorts column written by Professor Matt Qvortrup. We are happy to report that a collection of these columns will be published by Duckworth (duckworthbooks.co.uk) in October 2023 – in time for Christmas! The book will be called Great Minds on Small Things.