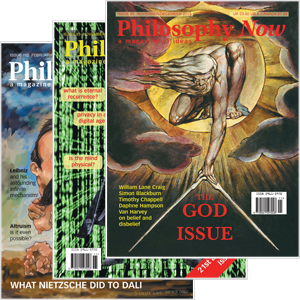 Your complimentary articles
You've read one of your four complimentary articles for this month.
You can read four articles free per month. To have complete access to the thousands of philosophy articles on this site, please
News
News: Spring 1997
Lyceum Found!
January saw one of the greatest archaeological finds of the decade, when the remains of the building which once housed Aristotle's school of philosophy were discovered under a car park in central Athens.
The Lyceum was founded by Aristotle in 335BC, and took its name from the public garden in which it was situated. Classical literature contains some quite detailed descriptions of it, but its precise location had been lost until now. It is known to have included a gymnasium and a long, covered colonnade or peripatos, in which Aristotle used to wander while talking to his students. From this habit, his followers became known as the Peripatetics. Aristotle had to flee Athens in 323BC and died shortly afterwards, but the philosophical school he had started survived in one form or another for around 800 years.
The Lyceum gave the word lycée to the French language and is also commemorated in the names of numerous cinemas, theatres and concert halls.
The archaeologists say they are almost certain that the ruins are those of the Lyceum. They base this belief mainly on the layout of the walls, which indicates extensive exercise areas and colonnades. The building also appears to date from exactly the right period.
The ruins were unearthed during the digging of foundations for a museum of modern art. The Greek Minister of Culture, Evangelos Venizelos, has since announced that the museum plans will be shelved in order to preserve the Lyceum remains.
Philo Cafés spread
The Economist reported that there has been a boom in 'philosophy cafés' in Paris. The trend started four years ago when a teacher called Marc Sautet began to hold get-togethers to discuss philosophy on Sunday mornings in his favourite café on the Place de la Bastille. Entrance is free of charge, the café owner being pleased to acquire some regular customers who don't get into fights or demand exotic Mexican beers. The events aren't lectures – more informal discussions of philosophical topics. The gatherings became very popular, and the idea is being widely copied. Apparently there are now around 50 cafés-philos in France, half of them in the capital. Proceedings are usually rounded off with a good meal, and the growing popularity of cafés-philos may be due as much to the opportunity they give to meet likeminded people as to interest in the topics under discussion.
Vive La France
A high-school philosophy teacher in Meaux, near Paris, attempted to liven up his lessons by stripping naked in front of his surprised class. M. Bernard Defrance had challenged the mixed class to set him philosophical riddles, rashly promising to remove an item of clothing for each question he couldn't satisfactorily answer. They turned out to be better at formulating questions than he had anticipated. M. Defrance told reporters "I want to deconstruct the idea of pupils' submission before the teacher and the institution, to instil an idea of equality… that way I will make students interested in philosophy, while also making them respect me." The school governors failed to appreciate this breakthrough in teaching methods, and have suspended M. Defrance pending an inquiry.
First legal assisted suicide
On a grimmer note, the debate over the rights and wrongs of euthanasia was given added urgency just after our last issue went to press. The world's first legal, assisted suicide took place in the Northern Territory of Australia. The Northern Territory passed a law on 1st July last year permitting voluntary euthanasia. Bob Dent, who had suffered from incurable cancer for five years, and was in constant pain, took his life with a lethal injection controlled by a computer program. The computer asked him a series of questions ending with "If you press Yes, you will cause a lethal injection to be given within 30 seconds, and you will die. Do you wish to proceed?"
Mr Dent was assisted by the machine's developer, Dr Philip Nitschke, a pro-euthanasia campaigner nicknamed Doctor Death by opponents in Australia. There are moves afoot to strike down the new Northern Territory law, and no signs yet that it will be adopted by other Australian states.