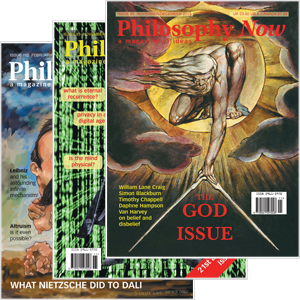 Your complimentary articles
You've read one of your four complimentary articles for this month.
You can read four articles free per month. To have complete access to the thousands of philosophy articles on this site, please
Articles
Philosophy on the Internet
The number of philosophy-related sites on the Internet continues to grow rapidly. In an act of blatant and unabashed favouritism, I thought I'd concentrate on some created by Philosophy Now contributors.
Stuffed Animal Rights Page
http://easyweb.easynet.co.uk/~ursa/stuffed/
"The stuffed animal rights movement starts where the regular animal rights campaign leaves off. Two stuffed animals – a teddy bear and a donkey – have created their own web page to promote news and views on what is now a growing international movement. They also discuss their philosophical underpinnings, rooted in the theory that the mind is not a mysterious 'something' in the head but is actually socially constructed. So, a stuffed animal can have a mind if it plays a social role in which mental states are attributed to it, even though it has no nervous tissue.
The page is run by Yorick the bear and Alfredo the donkey, and they have included links to my own essays (including pieces from Philosophy Now)."
http://easyweb.easynet.co.uk/~ursa/peter/philos/.
(Peter Lloyd)
Philosophy Around the Web
http://users.ox.ac.uk/~worc0337/phil_index.html
Peter King has put together one of the two or three most comprehensive philosophy links pages on the Internet. From here you can jump straight to any of a vast number of philosophy sites. Well-organised.
Christians On The Internet (COIN)
http://www.ely.anglican.org/coin
"COIN is an interdenominational group of Christian users of the Internet. It was set up to encourage and to help churches, church organisations and individuals to use the Internet. The group seeks to ensure an active Christian presence on the Internet to serve as a witness to the wider world", writes Gordon Giles. Gordon's own homepage, with a couple of his Philosophy Now articles, is at:
http://homepages.enterprise.net/gjg
SPIKE
http://www.pavilion.co.uk/david-pearce/spike.htm
SPIKE is a magazine published entirely on the Internet. It describes itself as "a literary/cultural cyberzine dedicated to the weird, the wired and the wonderful." It was established by Chris Mitchell. A typical entry on its contents page is "Suck It And See: An exclusive sneak preview of the forthcoming outrageous new British film The Killer Tongue." SPIKE is attractively laid out and, unusually for something so trendy, the content is pretty good too. Interviews are a particular speciality. It includes the one with Catherine Camus which Chris Mitchell and Russell Wilkinson conducted for Philosophy Now Issue 14.
Philosophy Now
http://www.kcl.ac.uk/kis/schools/hums/ philosophy/PhilNowHome.html
It had to happen sooner or later, didn't it? We've finally established a Philosophy Now website. It's still a bit rough at the moment, consisting mainly of some basic info about the magazine and a page of offbeat philosophy links. However, several kind readers have volunteered to help redesign it, so it should develop quite rapidly. Do visit!
Jeremy Bentham on the Web
http://doric.bart.ucl.ac.uk/web/Nina/JBentham.html
This site breaks the rule in that it wasn't composed by a Philosophy Now contributor. However, if I can track down the perpetrator I'll try to convince him to write us something, for this is the weirdest philosophy site I've ever seen. As you may know, Jeremy Bentham, the founder of Utilitarianism, was also instrumental in setting up University College London, in the 1820s. After he died, the college authorities were naturally overjoyed to learn that he had bequeathed his body to them, with instructions that it be stuffed and preserved in a glass case in the foyer.
Some joker has set up a camera pointing at this display case. It feeds a picture of Jeremy Bentham to the Internet, updating the image every five minutes. The text below the picture reminds us that Bentham was famous for designing the Panopticon, a prison in which all the thousands of inmates could be watched by a single guard. Now, it says, the tables have been turned on Bentham, as he can be observed around the clock by all the millions of Internet users.