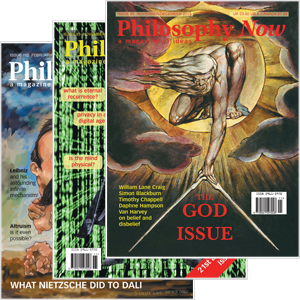 Your complimentary articles
You've read one of your four complimentary articles for this month.
You can read four articles free per month. To have complete access to the thousands of philosophy articles on this site, please
News
News: Winter 1997/98
Philosophy cafés arrive in UK
Further to our article in Issue 17 about the increasing popularity of philosophy cafés in France, news of a pilot programme here in the UK. The cafés, in which people gather once a week to talk philosophy, drink coffee and meet like-minded souls, have thrived in France. There are now reported to be at least 80 in France, 20 in Paris alone. On the 15th of November, London got its own Café de Philosophe, (somehow gaining the less exalted title 'Brain Breakfast') at the Institute Français. This, the first of four Saturday morning meetings, was hosted by Gale Prawda, who studied in the Sorbonne under Paul Ricoeur. Places are still available for future meetings, but although the 'Brain Breakfast' is free, bookings must be made on 0171-838 2167. Bring a healthy appetite!
Philosophy Now Philosophy Café?
We may be launching our own Philosophy Café jointly with the London Group of the Philosophical Society of England over the next few months. Few detail have been settled yet, but it will probably take place on a weekday evening somehwere in central London. If you wish to join the merry throng please write to Philosophy Now, c/o Dept of Philosophy, King's College London, The Strand, London WC2R 2LS. We'll then be able to contact you when we have some more definite info.
Philosophical counselling in New York
Psychiatrists in America are facing a new challenge to their supremacy as professional counsellors from an unexpected quarter. 'Philosophical counselling' has arrived with the avowed aim of making psychiatry obsolete. For $100 an hour, Dr Louis Marinoff of the City College of New York, founder of the American Society for Philosophy, Counselling and Psychotherapy, offers discussion and debate to those seeking solutions to the problems of modern life. Kant, Wittgenstein and the Epicureans replace Jung, Freud and Prozac as the preferred prescription for mental disorder. In New York the continuing proliferation of philosophical counsellors has spurred psychiatrists to sit up and take notice, warning of the dangers of treating serious conditions with untested methods. Marinoff is unrepentant however, stating in The Times, "Philosophical counsellors are not like the couch brigade. Half of them invent syndromes, and the other half conduct experiments to affirm these imaginings. If you have a problem, come to us first. Don't go to them." Marinoff's bullishness does not disguise the fact that philosophy, whatever its healing powers, is not a guaranteed cure for madness. Nietzsche's erudition and love of debate could not halt his eventual descent into madness. Indeed, many readers of this organ may have had occasion to tear their own hair out because of philosophical debate and discussion.
The ayatollahs and the philosopher
The struggles of the new, more liberal, President Khatami of Iran against the views of more conservative members of the clergy culminated in a small victory when philosophy professor Abdul-Karim Soroush (who challenges the position of the Ayatollahs as the sole interpreters of Islam) was given an exit visa to attend a conference in Cyprus on Islam and the West. His passport was confiscated in July.
Genetic engineers in zombie scare
It was reported in October that a team of genetic engineers at Bath University had succeeded in creating a batch of headless frogs. The team had discovered a way to switch off the gene responsible for the development of particular organs in embryos, and had used this to prevent the development of the frogs' heads.
The aim of the experiment was to develop techniques which could be made applicable to humans. Individual organs for transplant could then be grown in artificial wombs, by switching off the genes for growing anything else. The life-saving potentias are considerable.
The media speculated that the techniques could be more simply used to grow headless humans to supply organs – a procedure which in past centuries could have led to the scientists being burnt at the stake and which even today might raise the odd eyebrow in certain quarters.
Ethics for businessmen
With the rise of Business Ethics, the University of Leeds has announced Britain's first MA course in the subject to be aimed at company directors, lawyers, accountants, trade union officials and other such corporate types. There has been much activity in this area in recent years. The Jewish community, for example, has seen the foundation of a centre for Jewish business ethics, ethics luncheons in the City of London and the delivery of a battery of sermons around the country.