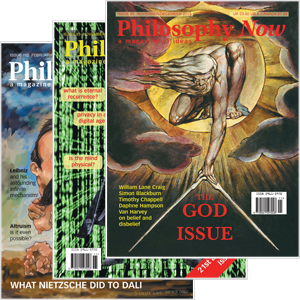 Your complimentary articles
You've read one of your four complimentary articles for this month.
You can read four articles free per month. To have complete access to the thousands of philosophy articles on this site, please
News
News: April/May 2000
Philosopher turns into lizard • Sexist jokes cost philosopher his job • Don't mention euthanasia! • 100 and full of ideas • Bruno fêted on 400th anniversary of execution
Happy Birthday
Hans-Georg Gadamer, German philosopher and author of Truth and Method (see Philosophy Now Issue 24), was 100 years old on 11 February 2000. On being asked how it felt to have been a witness to an entire century, which has now ended, Gadamer answered: "It is something special. It is something rare. But it does not mean that life is suddenly different. Every day confronts us with new responsibilities." Gadamer, holding the chair of Karl Jaspers at Heidelberg University, still regularly comes into his office at the department to discuss philosophy with the students. His ideas were developed in response to the thought of Wilhelm Dilthey, Edmund Husserl and Martin Heidegger, one of Gadamer's teachers. Writing everything by hand, he is currently working on a soon-to-bepublished collection of his essays in the field of philosophy to which he has in his life-time made a major contribution: philosophical hermeneutics, the theory of understanding and interpretation, a focal aspect of which is language. Talking about his current philosophical concerns, he explains: "I am mostly interested in the relation between word and concept. In the scientific context we often use concepts. Where do they come from? What are they?" His advice to people today: "In a system, in which so much is regulated, it is most important to discover free spaces. Within every regulation there is a free space. I don't mind people who watch television, only those who allow for it to be dictated to them as a program."
(Gadamer was interviewed by Anette Vorpahl for the Berliner Morgenpost, 11 February 2000)
Philosopher-Lizard
Philosophy can change your life. It can also change you. This is what seems to be happening – though in an extreme and weird way – to Erik Sprague, performance artist and doctoral candidate in philosophy at the State University of New York at Albany. His art, which he describes as "conceptually driven" currently consists in transforming himself into a reptile: his entire body is tattooed in scales, a bony ridge has been surgically implanted across his forehead, his tongue has been split to form a fork. Claw-like fingernails and neatly filed teeth complete the picture, for which 'eccentric' seems too weak a description. Sprague, however, may go further: he is considering the possibility of a prosthetic tail. "Why?" is the question which springs to mind. Sprague blames philosophy. He explained to Philosophy Now: "A large portion of the transformation piece developed out of my work in philosophy of language and psychology considering Wittgensteinian notions about how people learn and use terms. I came to think that by removing myself sufficiently from the 'family resemblance' of other things referred to by 'human', 'person', etc. I would be potentially removing myself from that application of that term or expanding it." Don't try this at home.
APA Crisis
Eric Hoffman has left his part-time job as executive director of the American Philosophical Association (APA). The decision, which became effective from the end of last year, was seemingly brought about by an internal conflict culminating in Hoffman being banned by the association from the setting foot on the APA office's premises. No concrete explanation of the circumstances leading to this unpleasant situation has been given. However, the word 'power struggle' was repeatedly mentioned. This may refer to structural problems of the association itself: the national office formally serves as an umbrella to three regional divisions. Since the division leaders hold a majority on the APA's executive committee, they essentially are in control of the association. Problems may have come to a head when APA officials became divided over Hoffman's repeated attempts to strengthen the position of the national office.
Not So Funny
Professor Laurence Goldstein has stepped down as head of the philosophy department at the University of Wales, Swansea, while an inquiry is conducted following a formal complaint concerning his behavior: at the department's Christmas party, compered by the professor, he allegedly told a number of sexually discriminating jokes between the entertainment. Goldstein dismissed the incident as "the type of thing which goes on in office parties the length and breadth of Britain", and characterized his critics as "ultrasensitive". This is a surprising comment from someone who must himself have spent some thought on gender-issues and their controversial nature, since one of his papers is entitled 'Is the dissemination of pornography harmful to women?'. He admitted that there were "slight sexual overtones" in his jokes but at the same time argued a less than eloquent case in his defense by pointing out that "they were nothing you would not hear on television."
Philosophical Critique or Witchhunt?
Most of the work of Norbert Hoerster, professor of philosophy of law, has been on the moral and legal aspects of euthanasia and abortion, and about the individual's right to choose life or death for herself. He held the chair of Legal and Social Philosophy at the University of Mainz until 1998 and has published several books and numerous articles regarding the legal side of medical ethics. Hoechster's thoughts on matters of life and death seem akin to those of Peter Singer. Unfortunately, to many in Germany, Hoerster's ideas appear uncomfortably close to those propagated by the Nazis during the Third Reich. To this day, euthanasia remains a highly sensitive, if not taboo topic in Germany.
Philosophy Now correspondent Filiz Peach met Hoerster at a recent seminar on thanatology, the study of death, at Mainz University. At the event, a group of students, armed with banners and leaflets, tried to persuade the audience not to listen to Hoerster's speech. This kind of incident constitutes by no means a new experience to Hoerster, whose presentations have been regularly disturbed by protesters hoping to bully him into silence. Talking to Peach, Hoerster maintained that his views had been misinterpreted and vehemently denied any possibility of associating them with National Socialism. He also expressed his disappointment at the lack of support from his colleagues in academic circles.
Eminent Kant Scholar Dies
Salim Kemal, professor of philosophy at the University of Dundee, died unexpectedly on 19 November 1999. Kemal received his education first in India then in England, and studied philosophy at Middlesex Universitiy, as well as the Universities of London and Cambridge. Before being appointed professor at Dundee, he taught philosophy in Cambridge, Beirut and the US (Penn State). He is especially well known for his work in the fields of aesthetics and Kant-studies, though he also published on a range of other areas, including Aristotle and the Arab Aristotelian thinkers, as well as Nietzsche.
The Question of Inquisition
The Inquisition is a somewhat sore point for the Catholic Church. In March the Pope held a 'Request for Forgiveness Day' for the injustices committed by the church, involving formal apologies to those tortured and murdered by the Inquisition. One of them was the philosopher-monk Giordano Bruno, burned at the stake for his views almost exactly 400 years ago, on 17 February 1600. Still not popular enough with the Church to be likely to receive rehabilitation, he seems to be all the more admired by everybody else: On the occasion of this anniversary, Bruno was treated like a popular hero, with much public attention given to him, including a Rome school erecting his statue and a parade in period costume organised in his honour. Additonally, an international conference on Bruno's ideas will be held in London in June.
---
Nietzsche Anniversary Looms
This year sees the 100th anniversary of the death of Friedrich Nietzsche. One of the more colourful of the ghosts who have haunted the 20th Century, Nietzsche still has a large number of admirers who will use the anniversary to celebrate the man and his works.
Philosophy Now Nietzsche 2000 Issue
Later in the year Philosophy Now will be bringing out a commemorative issue focusing on the life and ideas of old Freddy. The issue will be edited in the US by H. James Birx with contributions from around the world. Look out for it!