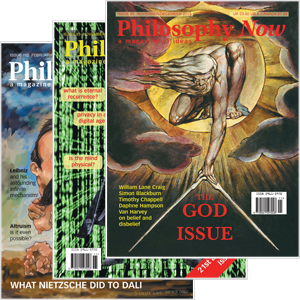 Your complimentary articles
You've read one of your four complimentary articles for this month.
You can read four articles free per month. To have complete access to the thousands of philosophy articles on this site, please
News
News: October/November 2000
Dialogue impossible • Philosopher in identity scam • Last chance for lost souls • Indian philosophers celebrate jubilee
Philosopher Flees ETA
After an escalation in ETA violence in which thirteen people, including four rebel activists have been killed since December last year, Mikel Azurmendi, professor of philosophy at San Sebastian University will be leaving Spain to undertake a year's research in the USA. Although it is nearly 30 years since Azurmendi left the militant Basque separatist group, he feels that he has become an ETA target because he is not a nationalist. Even within his own faculty at the University he clearly feels under threat. Incidents which include finding the word 'killer' on his office door and a large target bearing his name on the faculty office wall have culminated in a parcel bomb which was defused close to his home recently.
Professor Azurmendi states that he has always believed in dialogue rather than violence. It was why he left ETA and why he is now leaving the country for a time, frustrated at being "unable to express even slightly critical opinions."
Churches May Hold Seances to Rescue Atheists' Souls
At the fifth Christian Parapsychology conference in Canterbury, Anglican priest David Christie-Murray called on local parishes of the Church of England to set up 'Christian rescue groups' to contact and help rescue the souls of atheists who have "passed over to the other side." He said that the souls of atheists are "lost and bewildered, in a condition in which they did not believe in this life and cannot understand now that they have passed over into the next."
Café Philo Goes South
New Zealand's first ever philosophy café was set up recently in Auckland. The group meets fortnightly in the café of Borders Bookshop in Queen Street.
Breakthrough in Voting Paradox
In Britain, long-term controversies over the rival benefits of different voting systems have been given added impetus by the government's declared aim to bring democracy to the House of Lords by throwing out the unelected hereditary members. Various systems of proportional representation have been advocated by different groups, but many suffer from Condorcet's paradox. This voting paradox named after an 18th century French mathematician shows that under many voting systems it is possible in certain circumstances for the least popular candidate to win. Now however, the government has unveiled a startling new system to select independent members of the upper house which cleverly avoids Condorcet's paradox completely. Under the new system, citizens wishing to compete for a seat in the upper house will send in an application form, and the successful candidates will simply be chosen by a committee. To ensure political impartiality, the members of the selection committee are being appointed by an executive recruitment agency (Pricewaterhouse Coopers), which was in turn appointed by the government. A representative of the recruitment agency is reported in the Observer newspaper (17 September) as saying that democratic outrage would be inappropriate because "Britain isn't a democracy and never has been."
Identity Crisis
The controversial issue of what constitutes personal identity, as examined by greats such as Locke, Descartes and Hume, took a new twist recently. James Cadello, a 42-year old philosophy professor at Central Washington University with a reputation for intellectual vibrancy and considerable charisma, pursued a handson approach. In a recent court case Cadello was found guilty of 'identitytheft' over the past few years; illegally using the Social Security numbers of former students to create false IDs, open cheque accounts and fraudulently apply for credit cards. His modus operandi was to obtain the names and Social Security numbers of unwitting students from the university's computer and name them as 'parents' of fictitious children whose Massachusetts birth certificates he then forged. He obtained new Social Security numbers with those names and used them to obtain various sets of IDs and apply for credit cards, which he never actually used.
Mike Filovic, his attorney, maintained that Cadello had concocted the scheme because he was nearly $40,000 in debt. He had since gained control of his finances and had abandoned plans to use the credit cards by the time of his arrest in February of this year. The scheme was uncovered when an agency worker at the Social Security office became suspicious of the number of applications for cards involving Massachusetts birth certificates. Forty sets of false IDs were subsequently found at Cadello's home.
His downfall was aided by a former partner in crime; a female student with whom he had become romantically involved and whom he had helped to obtain a false ID to enable her to drink in bars with him. Now 23 years old, she co-operated with federal investigators to earn herself immunity from prosecution.
U.S. District Judge Thomas Zilly said that even though Cadello had never actually used the credit cards his blatant violation of students' privacy warranted a prison term of six months. In a testimony to his popularity and the respect he had earned academically, numerous letters of support from students and colleagues had been received but were of no avail in his defence.
World Philosophical Conference
The Indian Philosophical Congress is 75 years old this year. It is celebrating its Platinum Jubilee by organising a World Philosophical Conference, to be held in Delhi from 28 December to 1 January. The general theme will be 'Spirituality, Science and Technology'. The Indian Philosophical Congress was founded in 1925 by the poet Rabindranath Tagore and the philosopher Sarvepalli Radhakrishnan, who became President of India in the 1960's. The patron of its jubilee celebration is India's current President, K.R. Narayanan.
Deaths of Professor & Mrs Korner
Professor Stephan Korner, 86, and his wife, Edith, 79, were, tragically, found to be dead by the doctor on a routine visit to their Bristol home in recent weeks. Prof. Korner, professor of philosophy at Bristol University for 27 years from 1952 and his wife, appointed a CBE for her work for the NHS, were said by friends to have been happliy married for 56 years. They were Czechs who had fled from the Nazi regime in 1938. Sadly, Edith Korner had been suffering from a terminal cancer.
Worm's eye view of increased longevity
Serious philosophical issues may loom in the future following the discovery of a drug that could possibily enable people to live longer. In a study using microscopic nematode worms, researchers from the University of Manchester and the Buck Institute, California, have significantly slowed the ageing process of a living creature for the first time by use of drugs which mimic the bodies own defences
A recent report in the journal Science suggested that similar drugs might be used in the future to prolong youthfulness in human beings as well as assist in the search for cures to diseases such as Parkinson's disease and Alzheimer's The experiments, which consisted of treating the worms with synthetic catalytic scavengers that copy the action of naturally occurring enzymes that protect cells against 'oxidative stress' caused by oxygen radicals in the body,were replicated successfully on a nurnber of occasions. It is now planned to repeat the experiments on mammals, according to Simon Melov of the Bucks Institute. Meanwhile Elizabeth Mills, director of Research into Ageing called the work 'significant' but said the focus should be on preventing disease in old age, not on extending life for its own sake.
German Post Office Commemorates Nietzsche
The centenary this year of Nietzsche's death on 25 August 1900 has been commemorated not only by this special issue of Philosophy Now, but also by the German Post Office, who have just issued a stamp in the philosopher's honour. The stamp (below) has been in great demand, especially among philosophers.
---
Philosophy Now
Issue Editor: H. James Birx,
Ph.D., D.Sci., Harvard Scholar, Professor of Anthropology at Canisius College, is the author of Human Evolution, Interpreting Evolution, and his forthcoming God & Evolution from Charles C. Thomas, Publisher. birxh@canisius.edu
Timothy J. Madigan,
Ph.D., Editorial Director for the University of Rochester Press, is is Vice President of the Bertrand Russell Society.
Eva Cybulska is a consultant psychiatrist living in London.
Alexander Razin Ph.D., Professor of Philosophy in the Ethics Department of Moscow State University, Russia, will co-chair with Professor Birx the Darwin, Evolution, & Values international conference at the Darwin State Museum in Moscow on 5 June 2001.
Stefan Sorgner, who studied philosophy at both King's College London and the University of Durham, is the author of Metaphysics without Truth (1999).
J. Harvey Lomax, Ph.D., Visiting Research Professor in Philosophy at the University of Heidelberg (1998- 2000), is Professor of Political Science at the University of Memphis, Tennessee
Bill Cooke, Ph.D., lecturer in philosophy at the School of Visual Arts, Manukau Institute of Technology, New Zealand, is Editor of The New Zealand Rationalist & Humanist journal.
Keith R.W. Kersting, internationally renowned illustrator of themes in anthropology and philosophy, resides in Hawaiíi.
Deep appreciation goes to Sylvia S. Bigler at Canisius College, for her excellent secretarial assistance.
Plus the regular team: Rick Lewis and Anja Steinbauer