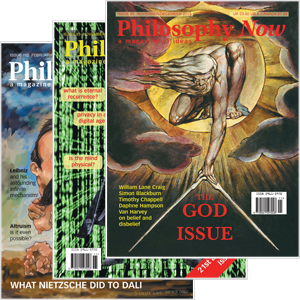 Your complimentary articles
You've read one of your four complimentary articles for this month.
You can read four articles free per month. To have complete access to the thousands of philosophy articles on this site, please
News
News: May/June 2004
Philosophy and the Mob • Cloned Kittens • Mice with Two Mothers • Philosophy Comes Top in New Zealand — News reports by Sue Roberts in London and Lisa Sangoi in New York
Wise Guys Tackle the Mob
In 2001, Open Court Publishing introduced a Popular Culture and Philosophy series, the brainchild of Professor William Irwin. He collaborated with a few of his academic colleagues to produce Seinfeld and Philosophy. Shortly thereafter, with the launch of Simpsons and Philosophy, the series became a hit and was very well received amongst a diverse readership. The latest book in this series is The Sopranos and Philosophy; I Kill Therefore I Am. It is a collection of essays by philosophers who examine the television show in connection with popular schools of thought in classical philosophy.
Less of Moore
Does religion underpin the law? The Chief Justice of the Alabama Supreme Court, Judge Roy S. Moore, thinks so, and in August of 2001, he and a band of evangelical Christian supporters installed a large granite monument engraved with the ten commandments in the state courthouse rotunda. Various groups protested that this breached the constitutional separation between church and state. In July a federal appeals court ordered Moore to remove the monument, but he refused. Therefore in November an ethics panel removed Chief Justice Moore himself. Most recently, state officials have agreed to pay $550,000 to settle a lawsuit brought by three lawyers who objected to the monument. Danielle Lipow, a lawyer with the Southern Poverty Center, which represented the plantiffs, said the payment represents about two thirds of the legal fees incurred in the case. Chief Justice Moore has authored numerous articles and poetry. Among his selected writings are Religion in the Public Square, and Putting God Back in the Public Square.
Here Kitty, Kitty, Kitty, (etc)
The Californian biotec company Genetic Savings & Clone announced that it has now taken five orders for cloned cats at US$ 50,000 (£28,000) a throw. Each kitten will be an exact genetic copy of a deceased and sorely-missed pet. Let's hope the prospective owners don't live near a busy road!
Mama Mama Mia! ... but no Papa
Another major innovation in mammal reproduction has been reported recently in Nature. It is likely to be a hugely controversial issue as the technique employed eliminates the need for male input. The method of producing live female mice without the need for sperm or male chromosomes has been developed by Dr Tomohiro Kono and his team at Tokyo University of Agriculture, along with colleagues in Japan and Korea. A mouse known as Kaguya was born as a result and has since gone on to have babies of her own in the normal way.
The Daily Telegraph commented that "Reproduction without fertilisation was thought to be impossible in mammals due to the process of imprinting,a mechanism that turns genes on and off depending on whether they come from the mother or father. At least 40 genes necessary for development are thought to be regulated in this way."
The paper reported that "rather than combine egg and sperm, Dr Kono combined a female-imprinted genetic code from an older egg with a 'male-like' imprinted female genetic code. The latter was created from the genome of a young egg, free of maternal imprinting. To masculinise it , Dr Kono used genetic engineering to remove a gene (H19) so that there was no H19 activity ... as is normally the case in the father's genetic code."
Dr Kono remarked that it was 'a possibility' that the procedure could be carried out in some other domestic animals but was not forthcoming as to whether two women could reproduce by this method. Prof. Ian Wilmut, of Dolly the Sheep fame, described the result as "very exciting and impressive". However, he underlined that method was "even more complex, inefficient and unsafe than cloning."
Philosophy Now Readers Meet Up
Would you occasionally like to meet other Philosophy Now readers to discuss philosophy over a coffee or two? Thanks to an initiative by a group of readers in California, you can do just that. The Orange County Philosophy Reading Group, which formed about three years ago, recently decided to use articles in Philosophy Now as a basis for its discussions, and simultaneously began to coordinate its gatherings via meetup.com. This free website serves 1.1 million people by coordinating local gatherings by topic and location. Their creation of a subsection called philosophynow. meetup.com allows readers to sign up wherever they are in the world, and more than sixty have already done so. About a quarter of them live in Orange County, but if the numbers continue to grow, then members in various other cities worldwide will soon be able to arrange their own meetups.
• see http://philosophynow.meetup.com
Swiss Say No to Suicidal Tourists
The regional parliament in Zurich, in response to a lack of action by the national parliament, is introducing a law to crack down on 'suicide tourism'. In future, instead of a minimal stay, foreigners seeking help in ending their lives in a special euthanasia clinic, will need to have lived in Switzerland for at least six months before being eligible for assisted suicide. This would allow the Swiss authorities to check a patient's criteria, such as whether their illness is incurable and if there has been a repeated desire to die.
Shoppers Ponder Ethics
According to the Co-operative Group's Shopping with Attitude survey of 30,000 people, Britain is becoming a nation of shoppers increasingly conscious of the ethical standards met in the production of their goods. The survey reports that 80% of consumers will pay extra for goods that meet ethical standards such as being environmentally friendly, not requiring cruelty to animals, and not being produced in sweatshop conditions. Comparing this to a similar survey conducted in 1994, it appears that the number of people with these higher expectations has increased by about a third.
Archbishop's Dark Materials
In spite of profound differences of opinion over organised religion between Dr Rowan Williams, Archbishop of Canterbury and Philip Pullman, the children's author and prominent atheist, the former suggested at a seminar in Downing Street that "Mr Pullman's novels should be studied as part of religious education in schools." During a debate Pullman revealed that he might introduce the figure of Jesus into his next book. However, he said that there was no immediate prospect of him converting to Christianity, as he believed that morality did not rely on the existence of God.
Dr Williams has in the past been critical of Philip Pullman's fiction, which portrays organised religion as dogmatic and ruthless, complaining that Pullman doesn't balance his picture with a portrayal of Christian virtues such as redemption. An adaptation of Pullman's trilogy His Dark Materials is currently playing at the National Theatre in London.
Joel Feinberg
Joel Feinberg, a professor of philosophy and law whose work helped to shape the American legal landscape, died of complications due to Parkinsons Disease on March 29. He was 77 years old. After service in the Army, he earned his doctorate from the University of Michigan. He then spent many years teaching at Brown, Princeton, and Rockefeller universities before joining the University of Arizona in 1977. He retired in 1994. He published widely on moral issues such as capital punishment, the treatment of the mentally ill, civil disobedience, environmental ethics, and pornography. Feinberg is survived by his wife, Betty; a sister, Lois Kozlow; two children and three grandchildren.
Philosophy Around the World
Old .... Each year in the USA since 1984 (apart from 2000), the Eastern Division of the Society for Women in Philosophy has made a Distinguished Woman Philosopher award, to honor a woman philosopher for outstanding contributions to philosophy and to the support of women in philosophy. Nominations for the 2004 Distinguished Woman Philosopher have now closed and a program celebrating the honoree's accomplishments will take place at the December meeting of the American Philosophical Association in Boston. (Dec. 27th-30th 2004) Last year's winner was Eva Feder Kittay. Previous winners include Marjorie Greene and Linda Lopez McAlister.
And new .... The American Philosophical Association has announced the creation of a new annual 'APA Prize in Latin American Thought'. The purpose of this prize is to encourage fruitful Latin American thought. The first winner of the US$500 prize has yet to be announced.
And soon to go .... The University of Wales, Swansea, is to press ahead with controversial proposals to close its Philosophy Department and two other departments as part of a plan to develop more popular degree courses. Out will go philosophy, anthropology and sociology while the teaching of history, English, geography and computing will be expanded with 75 new posts created over the next three years.
Swansea's Vice Chancellor Professor Richard Davies maintains that the changes are being made in response to the demands of students. However, there have been petitions and demonstrations against the closures at the campus since the plan was backed by the University's ruling council in January.
Kiwi Philos Triumph in Survey
But it's not all doom & gloom – from New Zealand comes the news that the country's most successful research subject is philosophy. This has emerged after the release of the NZ Government's performance- based research fund rankings for tertiary institutes. Further, Otago and Auckland Philosophy Departments were deemed to be, respectively, the highest and second highest-scoring academic units (across all subjects) in the country.