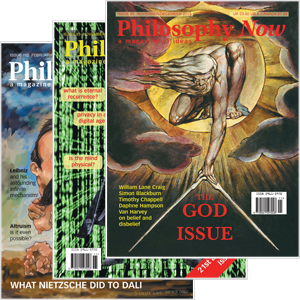 Your complimentary articles
You've read one of your four complimentary articles for this month.
You can read four articles free per month. To have complete access to the thousands of philosophy articles on this site, please
News
News: October/November 2004
Derrida Dead • 'Innate Grammar' Shock • World Philosophy Day • Life in the Balance — News reports by Sue Roberts in London and Lisa Sangoi in New York
STOPPRESS - Jacques Derrida
As we were going to press, the sad news broke that Jacques Derrida has died of pancreatic cancer in Paris at the age of 74. The controversial, snowy-haired deconstructionist was one of the world's best-known thinkers, and we will be publishing a full obituary in our next issue.
UNESCO Philosophy Day
UNESCO will be holding its third International Philosophy Day on November 18th. Public philosophy events will be held in more than two dozen countries around the world.
Visitors' Book
The British Philosophical Association has recently started keeping a list of philosophers who are visiting the UK from elsewehere. When philosophy departments or learned associations invite overseas speakers for seminars or lectures, their visits are not usually publicised with sufficient notice for other interested departments to invite them to speak elsewhere during their stay. The BPA has recognised the opportunities lost as a result. If you know of a visiting speaker who could be added to the list, which covers the academic year 2004-05, please send dates, details and the speaker's email address to Robin Cameron (j.r.cameron@abdn.ac.uk) who is the BPA webmaster. For recent additions to the list please see http://www.britphil.ac.uk/visitors.htm
Greek philosophy magazine
The city of Socrates, Plato and Aristotle now has a popular philosophy magazine of its own. This summer saw the birth in Athens of Cogito, a beautifully-produced large-format magazine in Greek. The first number included features on Peter Singer, Samuel Beckett and Wittgenstein. Editor Vasso Kindi writes "Most probably it would all be Greek to you, but we wanted to let you know that Philosophy Now showed us that what we were aiming at could be made possible."
Radio Philosophy
News comes to us of a regular philosophy radio programme from 'down-under'. Philosophy postgraduates at La Trobe University in Melbourne anchor the programme on Sub FM from 2 to 4pm on Friday afternoons during semester. A recent discussion took place on various philosophical approaches to considering the 'war on terror'. The programme can be streamed through the internet live at 2pm on Fridays from http://www.subfm.org/.
Signs Suggest Chomsky is Right
A recent study published in the journal Science revealed the fascinating phenomenon of the birth of a new sign language. Deaf children at a special school in Nicaragua, founded in 1977, were left to their own devices with a little instruction in lip-reading or Spanish. They were not exposed to adult signing and used 'pantomime-like' gestures to communicate with each other. These crude gestures gradually evolved into a grammar of increasing complexity as new children learned the signs and elaborated on them.
Nicaraguan Sign Language (NSL), which now has 800 signers aged 4 to 45, is a distinct language that would not be understood by American and British signers. Unlike most new languages, it is not derived from one or more complex parent languages, but developed purely from ordinary hand gestures. It nonetheless bears remarkable structural similarities to other languages, which supports Noam Chomsky's theory that children are born with an innate understanding of the rules of language.
Life in the Balance
The fraught ethical question of just how far doctors should strive to sustain life was the subject of a recent court judgment over the fate of Charlotte Wyatt, a desperately-ill baby of eleven months. Born three months prematurely, she has remained in hospital, being tube-fed; needing a constant supply of oxygen; and with problems of the heart, urinary tract and kidneys. She is blind and deaf. The Portsmouth Hospital NHS Trust maintain that she feels only pain, has no prospect of surviving beyond infancy, and that she should not be resuscitated the next time she stops breathing. Her parents feel that this is an unduly pessimistic view of her capacities and that she should continue to receive life-sustaining treatment. Mr Justice Hedley told the High Court in a compassionately-worded judgment that it was not for him to decide whether the baby should live or die but how and when she should die.
The Nuffield Council on Bioethics has set up a working-party to look into the problems of prolonging life in foetuses and newborns. The chairman, Prof. Margaret Brazier, said their aim is to learn from cases resolved privately to see if future guidance could be offered in the decision-making process of doctors and parents, in order to prevent recourse to the Courts. In Holland the law decrees that no baby is resuscitated if born at or before 25 weeks gestation. However, critics argue that this law, in conjunction with the country's law on euthanasia, is devaluing human life and leading to a decline in palliative medicine.
No Moore Appeals?
Chief Justice Roy Moore's three year legal battle to reverse his expulsion from his seat on the Alabama Supreme Court – for refusing to remove a two and a half ton granite monument engraved with the Ten Commandments – has failed in the U.S. Supreme Court. The judges rejected his final appeal, upholding the Constitution's call for separation of church and state. "Now, no court on this planet has ruled in Moore's favor," said the Rev. Barry Lynn of Americans United for Separation of Church and State, one of the groups that sued in 2001 to have the monument removed. "It is truly time for him to understand that he has lost."
John Passmore dead
See obituary here.