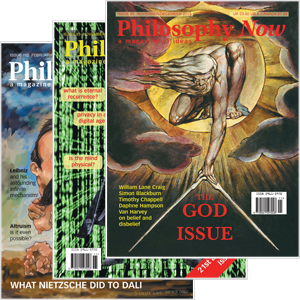 Your complimentary articles
You've read one of your four complimentary articles for this month.
You can read four articles free per month. To have complete access to the thousands of philosophy articles on this site, please
Films
Spanglish
Thomas Wartenberg ponders the classic dilemma of the Good Mother in a film about ethnicity, renunciation and cookery: Spanglish.
Feminist film theorists have found the maternal melodrama to be fertile ground for speculation. Films in this genre, very popular during the classical era in Hollywood, tell the stories of women who are forced to choose between motherhood and romance, as if patriarchy refused to allow women to find fulfillment in both of these spheres simultaneously. The feminists' idea is that these films accurately portray the double bind in which women find themselves, for they cannot take care of their progeny in the way they would like and also find satisfaction for themselves in adult romance.
The paradigmatic film of this type is King Vidor's Stella Dallas (1937). Born in a small mill town in New England, Stella (Barbara Stanwyck) has aspirations to live among its mill owners rather than the working-class family in which she finds herself. Discovering that she cannot fit herself into the constricted social norms that dominate New England's elite, Stella resigns herself to existing on the margins of society, but only because she is engineering the rise of the person who matters most to her: her daughter, Laurel (Anne Shirley). When it becomes clear that all that stands in the way of Laurel's ascent into 'proper' society is Stella herself, she connives to get Laurel to accept a severing of the maternal bond. The film ends as Stella witnesses her own daughter's wedding by watching through a window from outside on the street. Despite its poignancy, the scene of Stella's exclusion from the rituals of the bourgeoisie signify her triumph, for she has secured Laurel's acceptance by the very people who reject her mother. By dramatically portraying the bind in which women find themselves, the film has, according to many critics, given us a clear picture of the price exacted from women in a patriarchal society.
Although James Brooks' recent film, Spanglish, bills itself as a film about ethnicity – very clear, for example, in its title which refers to the mix of English and Spanish spoken by Spanish-speaking immigrants to English-speaking countries – the film is really an updating of the maternal melodrama to the twenty-first century and the world of immigrants to the United States. The film's voice-over narration comes from an admissions essay to Princeton University written by Cristina (Shelbie Bruce), the daughter of a working-class Mexican woman, Flor Moreno (Paz Vega), who came to the U.S. seeking a better life for her daughter. The essay's subject is Flor, the individual whom the young Cristina thinks most influenced her.
The main body of the film takes place in the homes of Flor's employers, the Claskys. John (Adam Sandler) is a fabulous chef, whose restaurant garners a four star review from the New York Times during the course of the film. The praise lavished upon him presents him with the issue of how he can stay true to his dream of operating a neighborhood establishment when clients are dying to get a reservation. Deborah (Téa Leoni) is now a full-time mom, having been fired from her lucrative job months earlier. She hires Flor to take care of her household and her two children, Bernice (Sarah Steele) and Georgie (Ian Hyland), even though Flor speaks no English.
John's dilemma – remaining true to one's dream in the face of success – figures the issue that confronts Flor and powers the film: What is the right course for her daughter's entry into American society? Is the only path that leads to success one that requires Cristina to transform herself into someone who is, in Flor's words, completely different from her, Flor? The film will chart a way for Flor to accept her own desire to remain close to her daughter despite the fact that giving her daughter a chance for material success seems to preclude that option.
By means of its portrait of Deborah, the film presents upper-class American life as shallow, concerned only with appearances. In a variety of funny but also cruel episodes, the film shows that Deborah is not a good mother, for she is less concerned with what her children need than she is with them conforming to her sense of appropriateness. In fact, in the very first scene in which we meet her, she and John are arguing about how to deal with the misbehavior of their son, Georgie. Whereas John is easy going and accepting of the children, Deborah uses the language of contemporary psychology – "We need to be together on this." – to justify her own standards even when they clash with what's really best for the kids.
Flor's entry into this family is a source of much of the film's humor. From the opening moments, when Flor's cousin Cecilia walks nose first into a sliding glass door, there is a tension between the good mother Flor and the bad mother Deborah. But it is only when Flor and Cristina move into the Clasky's summer cottage that things erupt, for Deborah can't help meddling with Cristina, whom she sees as the beautiful daughter she herself lacks.
This crisis comes when Deborah intervenes to get Cristina a scholarship to the posh private school that Bernice attends. Her rationale is that Cristina is so bright, much brighter in fact than her own daughter. But knowing that Flor will not approve, she schemes and forces the issue. Although Flor initially allows Cristina to attend the school, she changes her mind as a result of yet another subterfuge of Deborah's. Flor is upset because she realizes that Cristina has all but become a member of the Clasky household.
On the very evening that Flor arrives a to take Cristina home, John discovers that Deborah has been having an affair with a real estate salesman. As John and Flor leave the house at the same time, he asks her to spend some time with him. By this time, Flor has learned some English and can converse with John in the Spanglish of the film's title. As he shows her his restaurant and cooks her a meal, they both acknowledge the attraction they feel for each other.
But now Flor must decide what the right path to tread is, both in relation to her daughter and John. With regard to John, the film takes the usual tack of maternal melodramas. Flor declares that, even though she loves him, there are certain things that a parent must renounce in order to do what is right for one's child(ren), and that one of these things is romantic fulfillment as an individual. Deborah's mother Evelyn – played spiritedly by Cloris Leachman – remarks to Flor that living for oneself, as she herself does, is as problematic as living completely for someone else, as Flor does for Cristina. But the film doesn't provide a clear alternative to Flor's renunciation other than this remark. Indeed, one difference between this post-modern melodrama and those of the 30's and 40's is that it presents renunciation as equally the province of men and of women. Although the film does not fully explore John's decision about how to react to his wife's infidelity, it is clear that his bond to his daughter Bernice – frequently ridiculed by her mother for being overweight – will cause John to accept some modus vivendi with his wife, even though he has now glimpsed a better possibility for himself in his relationship with Flor. Spanglish, then, is less about the travails facing immigrants than its title makes it seem. Because it uses the traditional structure of the maternal melodrama, albeit with some modifications – contemporary men are equally subject to the renunciations earlier demanded of women alone – the film portrays the dilemma facing mothers and sensitive fathers in a world in which the role of parent and romantic partner are joined. By portraying John and Flor as both equally subject to renunciation, the film takes the feminist edge off the maternal melodrama, seeing the issue as one that faces parents of whatever gender.
But the issue that signals the film's greatest departure from the tradition of maternal melodrama is that of parenting. Whereas Stella Dallas had to give up her daughter in order to fulfill her role of mother, Flor Moreno chooses not to do so: She quits her job and heads back to her home, her daughter in tow, tearful at the prospect of no longer living in the opulence of the Clasky house nor attending the upper class private school on scholarship.
What's at stake in the question of schooling had become clear earlier in the film, when Flor had asked John to talk with her on the beach. Both of them, it turned out, were worried about what might happen to their child at this prep school, where the choices were, as John puts it, to be odd or to become one of 'them'. That Bernice, John's daughter, had become odd – being overweight and wearing braces are the visual markers of her oddity – provides one way of escaping a transformation into a superficial, self-obsessed, status-conscious person, like her mother, Deborah. But the beautiful Cristina seems less likely to choose this path.
Flor's decision to pull her daughter from her path of upward mobility is figured in the film as allowing her daughter to retain her identity as a Mexican. What otherwise might seem a selfish choice – one that the beneficent Stella could not make – becomes in this film an affirmation of otherness, a gesture of resistance to the force of cultural assimilation. This allows the film to square the circle, to present Flor as a good mother despite, or indeed because of, her unwillingness to let her daughter fully assimilate into American society. Maintaining one's ethnicity – and thereby one's relationship to one's parent, the only means of maintaining cultural identity in America, in the film's terms – is presented as a form of authenticity.
Spanglish thus views ethnicity as providing a way out of maternal renunciation. Unlike its earlier forbears, this film can let its caring mother retain her bond to her daughter despite her desire for her daughter's success in America. It does so by criticizing upper class American life as unsuitable as the goal for which a young immigrant should strive, while viewing the maintenance of an ethnic identity as inherently valuable. And since this requires that the mother-daughter bond not be broken, the film provides an optimistic ending not available in the earlier melodramas.
© Thomas E. Wartenberg 2005
Thomas Wartenberg is the author of Unlikely Couples: Movie Romance as Social Criticism (Westview) and co-editor of Philosophy and Film (Routledge). He teaches philosophy and film studies at Mount Holyoke College in Massachusetts.