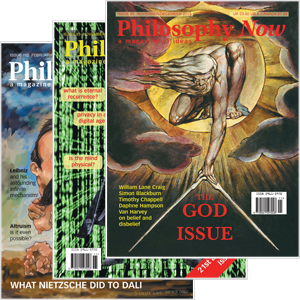 Your complimentary articles
You've read one of your four complimentary articles for this month.
You can read four articles free per month. To have complete access to the thousands of philosophy articles on this site, please
News
News: June/July 2005
Alexandrian Philosophy School Excavated • APA Loses Its Head • Philosophy Joke Contest • High School Philosophy News — News reports by Sue Roberts and Charlotte Rigby
Philosophy Video Festival
The 2005 Philosophy Video Festival will be held this December in New York at the Eastern Meeting of the American Philosophical Association. The festival features a contest to find the most profound philosophical videos produced by high school and college students in North America. This year's theme is 'The Ethics of Consumption'. Entries must be between one second and four minutes long, and must be received by December 3rd 2005. Cash prizes will be awarded to the top three winners in the high school and college divisions.
A new category for graduate philosophy students has been added for this year's festival: the Wittgenstein Prize, or 'Witty', will be awarded for the best philosophical video that comments on an edition of the philosophy television series No Dogs or Philosophers Allowed. Full rules can be found at: www.nodogs.org/PhilVidFest.html.
Ancient Philosophy School Found in Alexandria
Just eight years after the rediscovery of Aristotle's Lyceum in Athens, Polish archaeologists have uncovered the remains of a building in Alexandria which is believed to be a philosophy school described in ancient writings. The team discovered seventeen lecture theatres, some of which contain thirty seats in a horseshoe. It is believed that the lecture rooms are those described by the 5th-6th Century bishop and church historian, Zacharias. During his time the school was the centre of philosophy in the Mediterranean world, and was home to thinkers such as Ammonius and Philoponus.
A conference to discuss the findings, entitled 'Discovery of the Alexandrian Philosophy School of the 6th Century by Polish Archaeologists, 2004', was held at the Institute of Classical Studies, University of London in April. The conference was hosted by Richard Sorabji from Oxford University, who introduced a series of lectures on Alexandria and Alexandrian philosophers. This was followed by a lecture on the recent discoveries by Professor Grzegorz Majcherek, who headed the excavation.
APA Decapitated ... Again
The Executive Director of the American Philosophical Association, Michael Kelly, has resigned, becoming the fourth holder of that post to resign or be fired since 2000. Professor Kelly hasn't revealed in detail his reasons for resigning, but said that "They overlap with the reasons given by my predecessor, who also resigned, as well as those which led to the resignation of the APA finance office last August." In his resignation letter to the members Prof. Kelly said "the problems facing the APA and the obstacles facing any Executive Director in particular, are in my opinion, too formidable at this time."
This has led a group of APA members to call for an investigation into the management of the organisation. They expressed concern over the cost to the membership in terms of loss of leadership and services and financial outlay each time an Executive Director has to be replaced. The question was raised as to whether this rapid turnover indicates structural problems in the APA that interfere with its ability to address issues in the profession which require attention at the national level.
Karen Hanson, Rudy Professor of Philosophy at Indiana University and acting chairwoman of the APA's Board of Officers, received a request from members for an ad hoc committee to be appointed from a widely representative list of nominees and established by July 1st 2005. It was proposed that a new Executive Director should not be hired until the committee has carried out investigations at divisional level and reported back to the Board with a set of recommendations within one year.
Karen Hanson agreed that governance changes are necessary but said that the Association should consider in future hiring an experienced nonprofit manager as Executive Director rather than a professional philosopher.
Another Philosophical Joke
The Canadian Philosophy Association recently launched an annual philosophical joke contest. The Official Joke Committee (yes, really!) invited members to submit entries and the winners will be announced at the General Assembly of the Association and published in their Bulletin.
Wisdom and Occupation
Bayt Al-Hikma (House of Wisdom) in Baghdad is dedicating a special issue of its journal Al-Hikma to English-language papers on "any area within social and political philosophy relevant to the current situation in Iraq." Suggested topics include those relating to liberalism, democracy, just war and the ethics of occupation. The intention is to bring international focus of a scholarly nature on the many social and political issues confronting Iraq today.
Named after a famous ninth century scholarly establishment, the modern Bayt Al-Hikma is an independent, non-profitmaking research institute and think tank. With 88 resident scholars and fellows representing major research areas, it publishes books, periodicals and reports; it also organizes conferences, seminars and workshops. The submission deadline for papers is 31st August 2005. For further information contact Hakam Ai-Shawi: hhalssshawi@yahoo.com
Doctors and Ethics
The need for ethical training as an integral part of doctors' training was emphasised by Dame Janet Smith, author of the Shipman Inquiry report, at a conference organised by Britain's General Medical Council. While acknowledging that medical students had a heavy curriculum, she felt that there should be exams to ensure that they had absorbed the ethical principles that should guide their careers. "I would say that knowledge and skills can be enlarged and enhanced as you progress through your professional life but ethics and attitudes are fundamental and have to be planted right at the beginning."
Over the past few years there has been a steady increase in the number of Clinical Ethics Committees in the UK, from only twenty in 2000 to fifty two today. These multi-disciplinary groups, made up of hospital professionals and lay members, aim to provide support on ethical issues arising from patient care within the NHS. Their growth reflects the growing complexity of modern medicine and of the ethical dilemmas facing medical staff, patients and their families.
The BBC recently turned the spotlight on this phenomenon with a three part television series called Inside the Ethics Committee, which put real-life cases to a panel of experts drawn from hospital ethics committees across Britain. The panel were asked to consider such convoluted questions as whether a terminally-ill patient has the right to demand only one part of a recommended treatment, while rejecting other parts on religious grounds, if this would not improve his condition and might actually prove harmful; taking into consideration the emotional impact on nursing staff and the cost of resources. A clergyman on the panel observed that he was in a position to explain the teachings of various religions in order to help doctors and nursing staff understand a patient's wishes. The committees' role is not to direct but to inform and to facilitate dialogue between the various parties.
Secret Donor Funds Kiwi Philo
The University of Otago in Dunedin, New Zealand, has received a generous gift of one million New Zealand dollars from an anonymous donor. The money will allow the University to establish New Zealand's first Chair in Early Modern Philosophy, and will be matched by the government, under its 'Partnerships for Excellence' scheme. The Philosophy Department Head, Professor Alan Musgrave, hopes to appoint an eminent scholar who will develop links with the departments of Political Studies, Economics and Law. "It is appropriate that this Chair of Early Modern Philosophy is based in Dunedin, the 'Edinburgh of the South'," says Professor Musgrave. "Three of the greatest early modern philosophers – David Hume, Adam Smith and Thomas Reid – were Scots associated with the 'Dunedin of the North'." Philosophy has been taught at the University of Otago since 1871, as one of its four founders was a philosopher.
---
High School Philosophy News
Undergrads Boost Washington High School Philosophy
Undergraduate students at the George Washington University in Washington, DC are giving high school students an introduction to philosophy at a free after-school programme. Dave Backer and his friends set up the High School Philosophy Seminar in order to improve the image of philosophy among schoolchildren and show them how philosophical thought can be useful in everyday life. The programme provides the children with a fun environment, in which they can learn about philosophical problems and arguments. Approximately twenty schoolchildren are attending the first semester of the programme, and discussing various topics, including death, religion, dreams and time.
Ontario High School Philosophy Goes From Strength to Strength
While philosophy may not be on offer in most North American high schools, happily it is now a mandated course in schools in Ontario, Canada's most populous province. Philosophy has been growing steadily there since 1996, when the Ministry of Education released a curriculum guideline for one senior-level course. Now, two elective courses are available to students: a general interest course for grade 11, and a more rigorous programme in grade 12, the final year, for students bound for university.
Currently, more than 29,000 students are studying philosophy in over 300 high schools. To meet the needs of the growing number of teachers, the Ontario Philosophy Teachers' Association was formed in 1999. OPTA organizes an annual provincial conference, maintains a website and provides resources and assistance to teachers and administrators as requested. Members of OPTA have written textbooks for both courses, as well as the curriculum support materials that are available from the province's Ministry of Education, and the teacher qualification criteria for the Ontario College of Teachers. OPTA liaises closely with the philosophy departments of Ontario universities, especially the University of Toronto and York University, and the Canadian Philosophical Association. The organisation is also co-sponsor of The Aristotle, a national essay-writing contest that will be launched in the Fall of this year. Their website is: www.highschoolphilosophy.on.ca.
Ken Peglar
• For more on philosophy in schools, see our new Learning & Teaching section.