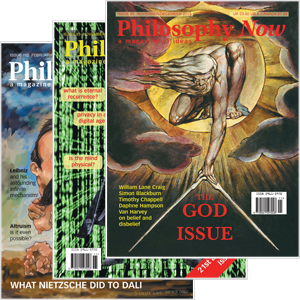 Your complimentary articles
You've read one of your four complimentary articles for this month.
You can read four articles free per month. To have complete access to the thousands of philosophy articles on this site, please
Food for Thought
Albert C. Barnes: Cantankerous Freethinker
Tim Madigan ponders the mysteries of friendship.
The philosopher John Dewey (1859-1952) was by all accounts a lovable, gentle and self-effacing man, who seldom made enemies and almost always sought a compromise between opposing points of view. And yet, surprisingly, for over 30 years he was a close friend to a man who was by all accounts unlovable, pugnacious and self-aggrandizing, with a penchant for making enemies out of most everyone he met, and a reputation for never compromising even in the face of overwhelming evidence against his position. How could it be that Dewey could remain close to this outrageous individual? Dewey's other close associates were befuddled by this friendship. Sidney Hook, for instance, wrote in 1952, shortly after Dewey's death, that "Dewey's goodness was so genuine, constant, and sustained, even under provocation, that I sometimes found it somewhat oppressive. It was almost a relief that I discovered one shortcoming in him. That was his indulgent friendship with Albert C. Barnes."
Who was Albert C. Barnes, and why was Dewey so fond of him? Barnes (1872-1951), was a successful physician, scientist and entrepreneur. He co-developed the anti-inflammatory drug Argyrol, which went into production in 1902. He later quarreled with Hermann Hille, the German chemist who co-discovered Argyrol; not the first time he would have a bitter falling out with a close associate.
The profits from his business made Barnes a wealthy man. He became a highly influential art collector, and his personal fortune – which he managed to keep even during the height of the Great Depression – allowed him to purchase many masterpieces, especially of the Impressionist School, which he displayed in his mansion in Merion, a Philadelphia suburb.
As a self-made man, Barnes despised phonies and snobs. He had a love/hate (primarily hate) relationship with the Philadelphia art community, which he felt did not truly appreciate the works of art in their various museums. One of the things Barnes attempted to do at his factory was encourage the workers there to develop their artistic and intellectual capabilities, and he initially became an art collector to show his workers some of the best paintings then being produced, as well as to thumb his nose at the Philadelphia curators who did not see the significance of such contemporary artists as Renoir, Picasso, Seurat, Modigliani and Matisse.
Barnes became enamored with the writings of William James, a philosopher whom he believed truly understood the common people. James' pragmatism was in line with his own 'can-do' approach to problem solving. Much to his disappointment however, James was already dead by the time Barnes discovered his writings. Then he learned that a professor at Columbia University named John Dewey was considered to be James' successor as an exponent of pragmatism. He promptly wrote to Dewey in 1917 and asked if he might sit in on one of the professor's philosophy courses. The always-courteous Dewey agreed to this. It was said that Barnes promptly fell asleep at the beginning of each lecture and only awoke when the class ended.
Dewey was 12 years older than Barnes, and was flattered by the younger man's attention. It also didn't hurt that Barnes was fabulously wealthy and treated the professor to many trips to Philadelphia to see his growing art collection. In fact, Barnes later gave funds to supplement Dewey's Columbia salary, which no doubt further helped cement their relationship.
There are three main events in the Barnes/Dewey friendship. The first was the so-called 'Philadelphia Study of Polish-Americans.' In 1918 Barnes funded a study by Dewey and some of his students. They wished to explore why Polish immigrants did not seem to be assimilating into the American democratic community in the same way as previous immigrants had. The study proposed that this was due to the baleful influence of the Catholic Church and its clergy, which kept the immigrants from learning English and discouraged them from communicating with non-Poles. The study was widely criticized at the time, and continues to be a bone of contention for Polish-Americans, who felt that Dewey and his associates were insensitive to Polish Catholic concerns. But Dewey countered by saying that many members of the Polish community welcomed interactions with the broader culture when they were allowed to do so, and Poles in general would benefit from coming into contact with wider democratic forms of life.
The second event of great importance in the Barnes/Dewey friendship was Dewey's publication of his book Art as Experience in 1934. It is Dewey's major contribution to aesthetics, and he dedicates the book "To Albert C. Barnes, in gratitude." He wrote most of it while staying at the Barnes Foundation, and he states in the book that Barnes went over every page and made substantial comments. It is in many ways a collaborative effort, and expresses their common view that art is something natural to all human beings which should not be overly explained or theorized about before being experienced.
The third event occurred in 1940, when Bertrand Russell was denied a job teaching at the City University of New York because of his controversial views on sexuality, religion and politics, even though the courses he was scheduled to teach were all on mathematical logic. Knowing that Russell desperately needed a job, Dewey asked Barnes if he might be able to employ him at the Barnes Foundation. Barnes agreed, and paid for Russell to give lectures on the history of Western philosophy to the factory workers and other students. Not surprisingly, the equally-headstrong Barnes and Russell soon clashed (it was said that Barnes could not stand the fact that Russell's wife knitted throughout her husband's lectures, perhaps forgetting his own tendency to sleep through his friend Dewey's lectures). Barnes fired Russell, who promptly sued and won. Ironically, the lectures which Russell prepared for the course were eventually published [as The History of Western Philosophy], and the proceeds from the book essentially supported him financially for the rest of his long life.
Albert Barnes was a complex man. He had deep respect for African-Americans, and in his will left his Foundation to be administered by Lincoln University, a traditionally black college. But he sometimes made disparaging remarks about blacks, as he tended to do about all groups. He had a remarkable inferiority complex, yet he could also be extremely perceptive. Many painters – even those who despised him as a person – respected his sensitivity to their work. He was a lover of democracy who ran his company like a tyrant. He was an advocate for the common man who led a highly unconventional life. He was an advocate for public art who only allowed a select few to see his collection. Perhaps the most diplomatic term to describe this unusual and unorthodox man is "freethinker."
All in all, Barnes was a fascinating individual. He added spice to John Dewey's life, and Dewey in turn helped to soften Barnes' bad temper. They had a profound effect upon one another, not only as inspirers of each other's works but as true companions. For all his ire, there is a humorous and human side to Barnes which can best be seen in reading the vast number of letters he sent to Dewey. Barnes died in 1951 after being hit by a car, and Dewey died the next year.
The Barnes Foundation has had many hardships over the years, and will soon be moved to a new location. Freethinkers who have the chance to see it before the move should certainly do so: for a little while yet you can still experience the art collection of this idiosyncratic man as he meant it be seen.
For further details on his life and views, I recommend Howard Greenfeld's 1987 biography The Devil and Dr Barnes: Portrait of an American Art Collector.
© Dr Timothy R. Madigan 2006
Tim Madigan is a US Editor of Philosophy Now. He teaches philosophy at St John Fisher College in Rochester, NY.