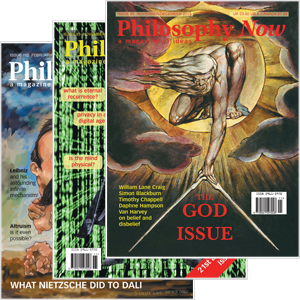 Your complimentary articles
You've read one of your four complimentary articles for this month.
You can read four articles free per month. To have complete access to the thousands of philosophy articles on this site, please
News
News: November/December 2006
Philosopher court-martialled • Confucian reigns in China • Darwin evolves online • Philosophy under the hammer — News reports by Sue Roberts in London and John Ruddy in New York
Daughters of Confucius
Confucius scholars and feminists enjoyed a rare moment of harmony recently thanks to a policy change by the sage's descendents as they compile a new edition of the family tree. Selected female descendants of Confucius (551-479BC) are finally to be recognized in his published lineage, which until now has included only male descendents. It's forecast that Confucius' recorded descendents, male and female, will number over three million once the scholarly survey has been completed in 2007. The family name is 'Kong'.
Confucianism was heavily suppressed during Mao's Cultural Revolution, but is now enjoying a resurgence in China, with the apparent approval of the regime. This is seen as part of an attempt to bolster China's moral values in an age of dizzying material change. The Chinese government's stated goal these days is a 'harmonious society', which resonates well with Confucian philosophy. It is backing a $10 billion programme to establish 100 Confucius Institutes worldwide by 2010 to promote Chinese language and culture.
Ex-Philosophy Tutor Beats the Drums for Peace
Dr Malcolm Kendall-Smith was a university philosophy tutor before becoming a medic in the RoyalAir Force. His duties took him to various international trouble spots, including Iraq. However, he became convinced the war there was immoral and illegal, and that it was his duty to refuse to participate. He therefore began to refuse orders from his commanding officers. For this he was eventually court-martialled and sentenced to 8 months in prison. Released on license after 2 months in a civilian jail, he is currently banned from talking to the media. However, he has been addressing anti-war meetings around the UK, including a large rally outside the Labour Party annual conference in Manchester.
Poetry Evolves
A website has been created which applies Darwinian natural selection to poetry. The initial 'poems' are generated randomly by a computer, and readers get to determine which are the fittest to survive and 'interbreed'. Site designer David Rea originally began the project "to impress a girl" but his prior interest in poetry and genetic algorithms didn't hurt.
Is this poetry as we know it? "Well, not in the sense that poetry is made by a poet," responds Tree Swenson, executive director of the Academy of American Poets. The Darwinian poetry project can be found at www.codeasart.com/poetry/darwin.html. The complete works of Charles Darwin himself are now available on-line. The texts are searchable, and can be found at: www.darwin-online.org.uk
Death of Jonathan Cohen
British philosopher L. Jonathan Cohen died in September at the age of 83. He was a fellow of the British Academy and of Queen's College Oxford. He was also ex-president of the International Union for History and Philosophy of Science and the British Society for the Philosophy of Science. He wrote eight books and co-authored two, and was interested in logic, law, language, society, psychology and science, among other things. His most influential work was possibly The Probable and the Provable (1977), about the problems of probabilistic philosophising. He thought of inductive reasoning as a gradation of necessities. He was moderate, good-humoured and gentlemanly, and maintained a commitment to Judaism.
Either/Or under the Hammer
A rare copy of the classic existential treatise Either/Or by Danish philosopher Søren Kierkegaard is to be auctioned in Copenhagen in December 2006. The book, a 2nd edition from 1849, carries a handwritten inscription to Hans Christian Anderson from 'Victor Eremita', which was a pseudonym used by Kierkegaard. It is estimated to be worth at least £9,000.
Offensively Free Speech?
A French philosophy teacher has been in hiding during the past few weeks after writing an article critical of Islam and the Koran, which appeared in Le Figaro. Robert Redeker wrote the column in response to the furious Islamic reaction to Pope Benedict XVI's controversial remarks during his summer visit to Germany. According to Redeker, the article's appearance led to several death threats and the publication on Islamist websites of his photograph and address.
The Education Minister Gilles de Robin expressed solidarity with the teacher but warned that State employees must show "prudence and moderation in all circumstances". Redeker responded that the consequence of such taking such advice would be a loss of intellectual life in France. He remarked that the function of politics should be to defend the freedom to think and speak out. This seemed to coincide more closely with the view of Prime Minister Dominique de Villepin who said on radio that "In a democracy everyone has the right to express views freely but must respect the views of others."
The Paris state prosecutor's office has launched a preliminary enquiry into the affair. In spite of round-the-clock police protection Robert Redeker has accused the French government of leaving him "alone and abandoned," saying the Education Ministry had not contacted him with support.