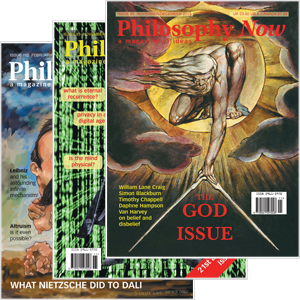 Your complimentary articles
You've read one of your four complimentary articles for this month.
You can read four articles free per month. To have complete access to the thousands of philosophy articles on this site, please
Letters
Letters
In Security Issues • It's Only Natural? • Outta Space • The Rules of Particularity • Anarchist Head-To-Head
In Security Issues
DEAR EDITOR: I had trouble getting to sleep after reading Mary Midgley's riveting article, 'What DoWe Mean By Security?' (Issue 61). My sense of unease was increased still further by an account in the Financial Times (26-27 May) of the Chinese developing five submarines that will carry ballistic missiles. The report rings true, if only because four is an unlucky number in China: one never asks for a table for four in a restaurant. Five submarines probably means four, but I am sure that is quite enough.
Midgley concludes her paper with the stark warning that unless people and countries stop feuding and accumulating weapons, climate change "will shortly whack us all so hard" that we will have no other choice but to co-operate in a general defence against "global civilization collapsing into total anarchy." The chaos stemming from global warming will, she maintains, make us see the absurdity of 'collecting armaments'.
Would this were so. Midgley does not deal with the tensions caused by the uneven distribution of energy resources. I suggest that the 'whacking' that's surely coming will stem from feuding over resources, particularly oil and gas. The 'whacked' will suffer a condition known as peripeteia, which means, as Aristotle first presented it in his analysis of tragedy, 'first one, then the other': role reversal, in other words – a dramatic reversal in fortune (Poetics, Chapter 10).
As for climate change, this is dreadful – and I agree with Mary Midgley that it is the greatest danger. It is also uneven in its impact. Twenty-five years ago I spent four years in the Sahelian country, Burkina Faso. Life for the people of the Sahel was at the margin then: it's hard to see how they could survive a further deterioration in their habitat. Their energy to cook their staple droughtresistant crops, millet and sorghum, comes from scarce firewood. This is a far cry from a submarine capable of launching rockets armed with nuclear warheads with a range of 800 kilometers. But that is part of the tragedy.
I'm not quite finished. To the above problems should be added terrorism, economic breakdown, civil disorder and the responding crackdown. If you want to prepare for all this, start with Arnold Toynbee, A Study of History, Vol. IV: 'The Breakdowns of Civilisations' (1939).
JOHN CROSTHWAITE
LEATHERHEAD, SURREY
---
DEAR EDITOR: Mary Midgley says that the idea of waging a chronic cold war was immoral. She says much the same thing several times, using terms such as 'pathological', 'failure of normality', 'corrupts moral thinking'. Unfortunately she produces no supporting argument. Does she want us to take her word for it?Why should we?
NICK GARDNER
LONDON N12
---
It's Only Natural?
DEAR EDITOR: Brenda Almond claims not to be homophobic [in 'Gay Adoption', Issue 61], yet her argument suggests that she should indeed be thought bigoted in that fashion. She claims not to disparage same-sex relationships while maintaining that a child adopted by a gay couple deserves better, because a child needs a mother and a father. This is true strictly speaking only in terms of conception, though Almond is thinking in terms of family structure. This is insulting, because it is to claim that gay couples have lower standards. But successful gay couples clearly do not need to involve a man and a woman to prosper; so the requirements of a child for parents need not differ here, either.
Almond appears to be confusing biology and sociology, despite her claims to the contrary. She claims that the mother/father/child triadic nature of the family is rooted in biology. But the only biological given is that a foetus is borne of the impregnation of a female by a male. The occurrence of the nuclear family is patchy across nature. Many female animals, such as lionesses, are left to raise their cubs by themselves, albeit as part of a herd, protected by a single testosterone-fuelled lion. Mother cheetahs and leopards do not even have the protection of a herd. Mother and baby are always completely abandoned by the father. In other species, such as meer-cats, the little ones are raised collectively by the whole troupe, mothers and fathers taking equal baby-sitting responsibility for all the baby meer-cats. And in many species of fish, such as salmon, the baby salmon are left to their own devices entirely, without any family upbringing whatsoever. The mother salmon lays her eggs in the gravel and swims off, and a male salmon subsequently swims past and scatters his sperm over the gravel, and swims off likewise. A quick trawl of the internet has also alerted me to the story of a gay flamingo couple adopting an abandoned chick. Granted, in birds, the baby chick is always jointly raised by the mother and the father; but in general the nuclear family is far from the natural paradigm Almond would have us believe.
Perhaps society should follow the example of meer-cats, making raising children a collective responsibility beyond the somewhat suffocating confines of the nuclear family. This was after all the communal model advocated by Plato in the Republic, although Plato went further in arguing that parents should not even know which children were their own! A communal model would also be useful for gay parents, in ensuring that children enjoyed close exposure to both male and female influences.
ANDREAWADDELL
SOMEWHERE IN BRITAIN
---
Outta Space
DEAR EDITOR: I am sorry that Jean Kazez flinched at my praise of her resis-tance to the blackmail of the monstrous regiment of starving children in Issue 61's letters page. I think she's missed my main point, which by chance was illustrated by Dr Klein's article in the same issue. This article puts the case that Human Life is so sacred it should be expanded throughout the universe.
This is an old Science Fiction answer to an overpopulated Earth: an answer long discarded as impractical. After terraforming our planets, what happens when they are full? We must then look further to find others, light years rather than light minutes away. Assuming these are not already occupied by intelligent life forms who might have their own ideas about the suggestion they give place to the human master race, these in turn will fill, requiring us to go even greater distances. Eventually the point will be reached where the space answer is too expensive – or impractical because journey times from Earth are so great that the colonists die of old age before arriving.
In other words, we will have to shut the door on the monstrous growing regiment of hungry mouths at some time or other, and it makes a lot of sense to now change our criteria that human life is sacred above all other considerations, (which after all is only aWestern cultural construct), to an ideal which aims for quality of life rather than quantity.
GORDON HAINES
WOODBRIDGE, SUFFOLK
---
DEAR EDITOR: Jean Kazez's dilemma regarding whether to buy a TV or to feed and medicate the needy brings to mind today's ever-expanding notion of what it takes to be ethical. The utilitarian philosophy espoused by Peter Singer has it that neglect per se is somehow an ethical breach. This mistaken notion has somehow replaced cause and effect with noncause and effect: it is now possible for agents at rest to affect, without contact, other agents. Outside of ethics, this phenomenon is recognized as magic, but inside it, it is understood as neglect. In other words, what you don't do can be just as unethical as what you do do. Whether you do something or not, you're guilty.
This concept has long been codified: so long, in fact, that people have gotten used to the idea of assigning responsibility for an effect to a non-acting (ie noncausing) agent. A mother who lets her infant child alone is supposed to have caused her child's death. From the standpoint of cause and effect this is no different than suggesting that the rock upon which a seed lands causes the seed's demise. But the cause of death for the seed and for the infant cannot be neglect. In both instances there are identifiable causes of death which are physical and chemical processes, not the non-action of inert objects or indifferent agents.
An ethical systemwhich assigns responsibility to non-actors is incoherent, because to deem unethical that which is unavoidable makes ethics impossible (I must in fact neglect nearly 6 billion people). Laws passed in conformity with such a system would make instant criminals of us all.
We have indeed made 'progress' towards that end. Laws prohibiting neglect abound. A recent example are Good Samaritan laws [by which it's illegal to ignore a person in distress]. These laws attempt to create benevolence through coercion. I can no longer mind my own business and be ethical (or even legal).
Ethics (and law) have long since moved past requiring restraint and on to requiring benevolence. But benevolence is injured by this, because the victim of forced 'giving' is not the bestower of gifts, and therefore cannot be benevolent ['benevolent' means, 'of good volition']. Neither are the coercers of the 'gift' benevolent, because the gift comes not from them. The gift has been annulled. Gifts become forced distributions, and the human impulse to give is not acted upon. This is the modern welfare state.
If annihilating the free motive to give is beneficial to society, then we are well on our way to a better life. Perhaps it's best if generosity gets sacrificed for the sake of expediency. This has been the trend. But when stinginess is made unethical, we're a short step away from requiring generosity, and thus eliminating benevolence.
It's good to give, but giving cannot be an ethical imperative; otherwise poor people who cannot give will be unethical. Ethical behavior must be a possibility for everyone regardless of circumstances. For instance, everyone can refrain from doing harm.
Jean Kazez's benevolent impulse is commendable. What is troubling is her calling into question her own ethics in the matter – the mistaken notion that somehow making the decision not to give might be unethical. The question of how much one has to give to be ethical, if taken seriously, cancels out benevolence. If it did not, then we would feel the joy of giving whenever we paid taxes. But what we feel is not the urge to give, but rather, the necessity to comply.
In addition to forcing charity, neglect in law has served as a kind of catch-all. For example, the prescribers of medicine charged with neglect for providing drugs to patients when those patients have subsequently used these drugs to excess, not in accordance with the recommended dosages. Prescribers in such instances are deemed to be negligent 'causers' of the overdoses. This principle is well established in law, with respect to illegal drugs as well, where selling is a felony, and usage is frequently only a misdemeanor. Here, the act of selling a commodity is considered more harmful than its use. But obviously, whatever harm is done is done by the user, not the seller. There should be no mystery as to who is responsible for drug use.
Ideally law should mirror ethics, and both should be about restraint. Neglect should be a matter of ethics only when a contract exists; and only contracts, both implied and explicit, should compel performance. But I cannot fathom a contractual obligation of 'mother to infant'. What mothers do is give the gift of life: therefore the only ethical and legal imperative for mothers should be, do no harm. Likewise, Jean Kazez is under no contractual obligation to feed or medicate the world, and should only be ethically and legally bound not to bomb it.
Under the well-established principle of neglect, modern ethics stands eager and ready to make Jean Kazez's TV purchase into some sort of international misdemeanor. Perhaps this is what she, and the rest of us, should be losing sleep over.
ROBERT KRAFT
CHICAGO, IL
---
The Rules of Particularity
DEAR EDITOR: Ramsey McNabb, in his use of the words 'particular' and 'universal' (Issue 60), seems to me to have reversed their ordinary meanings.
There is an old saying, 'the exception proves the rule'; but McNabb says that if one can dream up an exception where the rule does not apply it disproves the rule.
It seems universally believed that all children should grow up into mature adults who have the ability to assess each action before them, to see the options and then to make choices. Does our finding some childish individual not achieving this ideal mean that this understanding ought to be downgraded, that the particular makes the universal wrong?
What he and Jonathan Dancy call moral particularism should be preferred, McNabb says, to moral universalism (general statements of principle). But when in history has strict rule-keeping in any situation been universalism? I am referring in particular to his portrayal of a Christian as one who must keep the commandment not to steal. The New Testament urges Christians to love one's neighbour as oneself. This principle of love must be applied in all contexts. I understand this to be universalism.
Consider: I am sitting in my car in a small Canadian prairie town at midnight, when the temperature has reached -40 degrees, facing the red light at the main intersection. The houses appear dark and I see no car lights in any direction. Of course, if I have a son in the car whom I am teaching to obey traffic lights, I may not go against the red for his sake. But now I think, 'Who's being hurt if I don't wait for the green and get to my warm home seconds earlier?' I go. I heard this story from the lips of a man who did not see the police car hiding in a driveway with its lights off.He was stopped, lectured and given a traffic ticket.
Yes, he was indignant. But was he morally vindicated, or the policeman? If one argues for the driver, one has to see that this could only be so if one makes this a particular case where the strict universal law for preventing harm does not apply But if I make the policeman morally right – as legally he was – I personally feel like a bit of an ass. Also I have made a legal rule superior to what I have believe is a truly moral universal rule.
Am I the only particularly confused reader [probably not], or was mine a universal reaction to McNabb's language use? Isn't life complicated?
ERNIE JOHNS,
ONTARIO, CANADA.
---
Anarchist Head-To-Head
DEAR EDITOR: I am very sorry that Michael Potter (in letters, Issue 60) felt sullied and thought my review of I am Not a Man I am Dynamite (in Issue 58) little more than an excuse to spew venom. It wasn't meant to be. But, given the fact that Nietzsche spewed out nothing but venom and abuse towards anarchists and socialists, whom he ill understood; given that Nietzsche had nothing but contempt for ordinary people and their struggles for a better world; given that the Editor of the book, the late John Moore (with whom I had warm and friendly relations) had nothing but contempt for an earlier generation of social anarchists and never lost the opportunity to denigrate Enlightenment, reason and socialism generally; given that some of the essays were written in such scholastic and arcane language they precluded any real engagement with non-Academic- Philosophers; and given that Max Cafard's long essay was largely dedicated to describing contemporary anarchists as power-hungry dogmatists, fanatics, and violent, rigid personalities – may I be excused for reacting with some critical passion (not venom) towards this rather biased collection of essays? Please note that this was a shortened version of the original review, and I had to leave out a long discussion of the 'thoughtful essays' I mentioned which explored the link between Nietzsche and the anarchist tradition. It thus came to be less of an overall review than a critical and polemical response to the thesis put forward by the collection, namely that Nietzsche was an anarchist.
Please. I may be highly critical of Nietzsche's reactionary politics – he was no democrat, let alone an anarchist – but I do not hold him in contempt (see my discussion in Western Conceptions of the Individual pp 66-79). Nor do I hold academics in contempt, though I may be critical, sometimes, of their pretensions and elitism. The tone of the review may have offended Mr Potter's sensibilities, but to say that the review had no substance is simply untrue.
BRIAN MORRIS
---
DEAR EDITOR: In his review of I am Not a Man I am Dynamite, Professor Emeritus of Anthropology BrianMorris makes certain claims that are not merely implausible but verifiably false. One of these claims demonstrates with particular clarity the ineptitude of his reading of the book, and specifically of my article 'Nietzschean Anarchy and the Post-Mortem Condition', which, according toMorris, "represents the main thrust of this collection."
Morris claims that in 'Nietzschean Anarchy…' I "whole-heartedly embrace Nietzschean aristocratic individualism," depict Nietzsche as a "good anarchist," and disregard his rather conspicuously non-anarchistic aspects. Yet in my book in which this essay originally appeared, The Surre(gion)alist Manifesto and Other Writings, I reject such aristocratic individualism quite explicitly: "The more we try to become heroic, self-asserting 'individuals' the more we become pitiful puppets playing a ridiculous role."
Though Morris obviously didn't read that book, he also failed to comprehend similar statements in the very article he attacks.When he skimmed it for ammunition he missed the following, in which I clearly reject any simplistic pro-Nietzsche view such as he attributes to me:
It would be tempting to turn our surre(gion)al travelogue into 'A Tale of Two Nietzsches'. However, we will limit our visit for the most part to 'The Best of Nietzsches'. There is, however, 'TheWorst of Nietzsches', and this worst can be indeed abysmal. The abysmal Nietzsche emerges for example in a statement, quite appropriately, on the topic of depth. A man, he says, "who has depth, in his spirit as well as in his desires… must always think about women as Orientals do; he must conceive of woman as a possession, as property that can be locked, as something predestined for service and achieving her perfection in that." [BasicWritings of Nietzsche p357] And savor the exquisite odor of this statement: "We would no more choose the 'first Christians' to associate with than Polish Jews – not that one even required any objection to them: they both do not smell good." [The Portable Nietzsche p625] On Nietzsche as a pretentious buffoon, see Friedrich Nietzsche, Ecce Homo, part two, "Why I am So Clever," and part five, "Why I am Such an Asshole."
Thus, I make it quite clear to any minimally perceptive reader just how bad and 'unembraceable' this 'worst of Nietzsches' could actually be. It's unfortunate that the Professor Emeritus, blinded by his ideological fervor, missed the point of my article. However, it's even worse that he was blinded to what anarchists (or anyone else that Nietzsche attacked) can learn from this brilliant and provocative 'best of enemies'.
MAX CAFARD
BY EMAIL