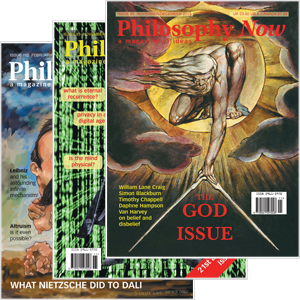 Your complimentary articles
You've read one of your four complimentary articles for this month.
You can read four articles free per month. To have complete access to the thousands of philosophy articles on this site, please
Crossword
Crossword
Our seventeeth sexy set of sophisticated symbols stirred and sorted by Deiradiotes.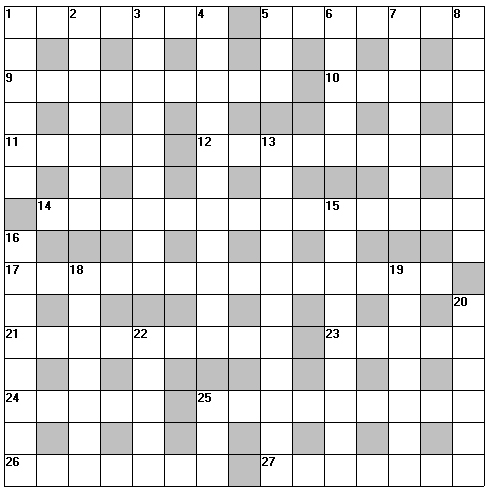 Across
1 A poem Geo. Luce could produce. (7)
5 Merit of French supply. (7)
9 Sums up by means of addresses. (9)
10 Valuable fabric made from thistles. (5)
11 Famous person seen in Greece, Lebanon, etc. (5)
12 6's friend prepared tuna broth. (9)
14 Philosopher's testament: 'I am well, having absorbed helium and tungsten.' (7,7)
17 Moral theory upset miniaturist Ali. (14)
21 Saucy Italian. (9)
23 Who's confused? I'm not. 'I am!', old Sceptic might say. (5)
24 Pass end of rope through high official. (5)
25 Spanish-American philosopher is part Spanish saint, part native American. (9)
26 Rubbish person, mad, nuts, crazy. (7)
27 Southern wise man is barbarian in Roman dress. (7)
Down
1 Look forward to prospects being reduced by half. (6)
2 See about wreath for German nymph. (7)
3 Italian patriot's blouse. (9)
4 Bleed tense drunken avatars in river. (11)
5 Diogenes the Sophist initially shakes. (3)
6 Quick wit. (5)
7 Reunite disordered train. (7)
8 Upright, backward Eli can be raised. (8)
13 Something loopy from below Tonkin perhaps. (7,4)
15 Philosopher of science upset merchants. (5,4)
16 Hindered, philosopher Richard loses land next to England borders. (8)
18 Disease of sick head. (7)
19 Shaman I upset at pagan festival. (7)
20 Indian philosopher decapitated in Turkish city. (6)
22 Shine of jungle amaryllis. (5)
25 Do wrong in Abyssinia. (3)
---
Crossword Solution