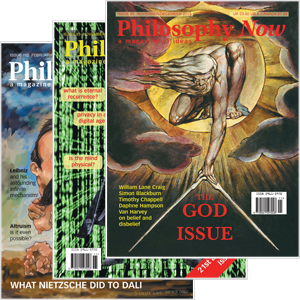 Your complimentary articles
You've read one of your four complimentary articles for this month.
You can read four articles free per month. To have complete access to the thousands of philosophy articles on this site, please
News
News: January/February 2008
Intellectuals vs Politicians • Philosophers are weird • Babies evaluate behaviour — News reports by Sue Roberts
Wisdom and Sarkasm
President Sarkozy clashed with France's revered intellectual elite in December, dismissing critics of his human rights record as "coffee-sipping windbags who prefer talk to results." This broadside is said to have been aimed at the philosopher Bernard-Henri Levy, who had denounced a proposed visit to France by Col. Gaddafi. Interviewed by Britain 's Daily Telegraph, Levy responded: "Every time a French politician is embarrassed by an avalanche of criticism he lays into the intellectuals." Referring to Sarkozy's success in securing the release of six foreign medics held in a Libyan jail last year, Levy quoted Sartre in saying "the end never justifies the means."
Greater problems than Sarkozy lie ahead for café society, France's gift to the world, in the form of an anti-smoking ban which descended on France at the beginning of the year.
Apeing Each Other?
According to research published in Biology Letters, it seems that empathy for positive emotions, previously believed to be possessed by humans only, has been found in orang-utans too. Dr Davila Ross of the University of Portsmouth, observed that orang-utans very rapidly pick up and imitate facial expressions displayed by others in their company.When one forms an open-mouthed 'laugh' it is often copied within seconds by another orangutan. The research was based on study of facial expression at four primate centres around the world.
Baby Knows Best
Scientists at Yale University have reported in the journal Nature the results of experiments designed to test whether infants of 6-10 months are able to evaluate the behaviour of others. The babies were presented with a story where a 'humanised' character was shown to be helped or hindered by other characters. Several repetitions were made. Asked to pick a character, all of the 12 six-month olds and 14 of the 16 ten-month olds indicated a preference for the helpful character. This was claimed to show that humans engage in social evaluation at an earlier stage of development than previously believed.
"What I did in the vacation"
The most recent Proceedings and Addresses of the American Philosophical Association reproduced this piece of schoolwork written by the 9-year-old son of one of its members after attending the APA Eastern Division Meeting, 2006:
"2 days after Christmas I went to a philosophy confrence [sic]. It was horrible. There were 2000 philosophers. They all did weird things. They couldn't make jokes, many had beards. In the elevator it was worse. Once a philosopher got off on the wrong floor, so said, 'wait for me.' 'We'll take you to the 27th,' said another. Nobody laughed. 'Get it there are only 10 floors,' said some random old guy in a country accent. You get the point it was creepy.

"A few days later there was a fire. Only one person was hurt, but everyone did weird things. Like people were standing in the roads, so nonphilosophers had to lead them out. Some people went back into the hotel. Firefighters had to lead them away. Still one guy stayed and had his bags blocking the door. Firefighters told him to move his bags, so he did, but when they left he put them back. I'll never go to a philosophy confrence again."
Bon Anniversaire, Simone!
January 9th was the centenary of the birth of existential feminist Simone de Beauvoir. Among other celebrations of her life and work, there was a discussion of her novel She Came To Stay by Philosophy For All at the Philosophy Now offices. She was the paramour of Jean-Paul Sartre and author of The Second Sex, among other original and influential books.
Peter Lipton
Prof. Peter Lipton, head of History & Philosophy of Science at Cambridge University, has died of a heart attack aged 53. He wrote Inference to the Best Explanation (1991) in which he analysed the process of inferring conclusions from available evidence and provided an alternative account of scientific method to Popper's theories of empirical falsification. Lipton was an inspiring teacher whose lectures attracted those outside his course who came to hear an 'energetic, incisive and witty speaker'. It is said many were drawn into philosophy from other disciplines through his lectures. A self-confessed 'religious atheist', Prof. Lipton said he didn't think it necessary to believe in God to recognise the value of religion in providing the individual with a moral compass.
Father Fitz
Fr. John Fitzgerald, lecturer in philosophy at Aberystwyth from 1970 -2004, died at Carmarthen in November 2007. 'Father Fitz' as he was affectionately known to students, enjoyed a long association with Aberystwyth, where he attended a small Catholic seminary overlooking the town from the age of 13. He had a life-long love of theWelsh language. From 1942-48 he was a novice with the Carmelites in Ireland, where he continued his study of Welsh at University College, Dublin. He was ordained in 1951. By the time he became Chaplain to Catholic students at the University College ofWales in 1964 he had published two volumes of verse in Welsh, and in 1988 he was a member of the ecumenical panel which produced a new translation of the Bible intoWelsh. He had a warm sense of humour: he was recalled by a former student to have remarked that "one of my duties was translating exam papers written by students in Welsh so as to preserve exactly the right degree of philosophical confusion."
Peter Hare
We're very sorry to report that Professor Peter Hare of the State University of New York at Buffalo, a good friend of this magazine, died on 3rd January. There will be a full tribute to him in our next issue.