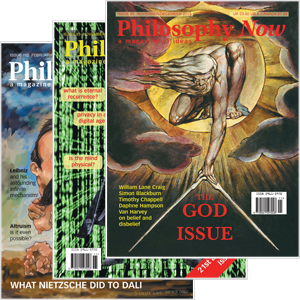 Your complimentary articles
You've read one of your four complimentary articles for this month.
You can read four articles free per month. To have complete access to the thousands of philosophy articles on this site, please
Crossword
Crossword
Our twenty-second serried sequence of sophia's scrambled secrets sorted squarely by Deiradiotes.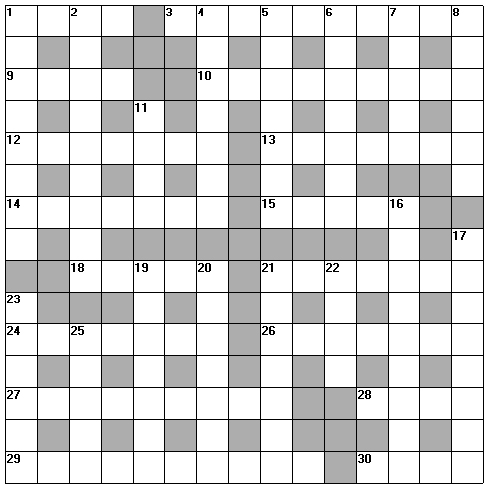 Across
1 Attic subdivision. (4)
3 One of 25's 27, makes a trooper, lacking energy, sag. (10)
9 One of 25's 27, strange omen. (4)
11 One of 25's 27, says he. (9)
12 Charles in Wonderland? (7)
13 A kind of understanding that can be cordial. (7)
14 Home town of Heraclitus, where lost sheep lead us. (7)
15 Twenty two form chain where ships are built. (5)
18 Put in place suppository, but not all of it. (5)
21 Hermeneuticist's lady found inside fish. (7).
24 See 6 down.
26 Creator of creative becoming is totally right? On the contrary. (7)
27 Au (gold) is mixed with natural base to form conversation pieces. (9)
28 Philosophical grinder. (4)
29 Compulsive type reforms a hip school. (10)
30 Prophet knocks back soma. (4)
Down
1 Flatterer of Dionysius was also a master of suspense? (8)
2 Lesser vessel for youth. (9)
4 Follows final scores. (7)
5 Essay contains old type of drama. (7)
6 and 24 across Probably not one of 25's 27; it's bigger, up to date, constant, for instance. (7,7)
7 First part of 'Doctor Illuminatus' found in mysterious manor. (5)
8 Empiricists start with theirs so that we may all come to ours. (6)
11 Pros are opposed to them. (4)
16 One of 25's 27, his party piece? (9)
17 One of 25's 27, combines reason and truth, yet leaves us sceptical initially. (7)
19 Zip a son mended for rationalist. (7)
20 Roman military protector partly ate stud on shield! (7)
21 Italian philosopher, lightweight and a bit scientific. (7)
22 Dead surrealist laid out. (4)
23 Greek letter from the French home of Panaetius. (6)
25 Philosopher reversed into hot alpine spring. (5)
This is a revised version of a crossword which first appeared in Practical Philosophy, and is reproduced with permission.
---
Crossword Solution