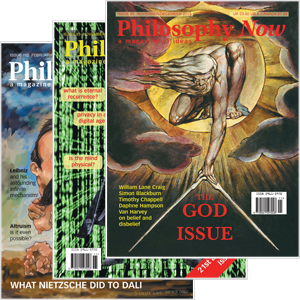 Your complimentary articles
You've read one of your four complimentary articles for this month.
You can read four articles free per month. To have complete access to the thousands of philosophy articles on this site, please
News
News: September/October 2008
Italian Festival of Philosophy • Nagel Nabs Morality Prize • Atheists Urged to Be More Cuddly — News reports by Sue Roberts
Modena Philosophy
Passengers on a number of trains in central Italy earlier this month were startled when they were accosted by philosophers attempting to engage them in dialogue about the big questions. 'Travelling with Philosophy' was part of the third Philosophy Festival to be hosted by the city of Modena. With a festival theme of 'How fantasy feeds the body as well as the mind' there was much to stimulate the many visitors. Two hundred free events, spread between Modena and neighbouring Carpi and Sassuola, featured art, science, music and food. A series of menus inspired by 'Reality and Expectations' had been designed by one of Italy's best-known philosophers, Tullio Gregory. Good food and music by visiting jazz musicians set the scene for talks by top thinkers. The programme was divided into five areas: The Nature and Function of Images; Territories of the Imagination; Utopia and the Future; Second Life; Appearance and Fiction. The Festival has proved to be very popular since its inception in 2000.
Virtue Rewarded
Thomas Nagel of New York University has won the prestigious Balzan Prize for his work in moral philosophy. Nagel is the author of well-known books on ethics and metaphysics including Mortal Questions and The View from Nowhere. The prize will be awarded at a ceremony in Rome in November by the President of Italy, Giorgio Napolitano. The prize citation says that it is being awarded to Nagel "For his fundamental and innovative contributions to contemporary ethical theory, relating to both individual, personal choices and collective, social decisions. For the depth and coherence of his original philosophical perspective, that is focused on the essential tension between an objective and subjective point of view and for the originality and fecundity of his philosophical approach to some of the most important questions in contemporary life."
Dogs and Fair Play
Findings reported at the first Canine Science Forum in Budapest suggest that selective breeding over the 10,000 years that humans have kept dogs has created dogs able to tell right from wrong, according to New Scientist. Studies presented by scientists demonstrate that the rarity of rough-and-tumble dog-play escalating into full-blown fighting shows that dogs abide by certain rules and expect other dogs to do the same. Other experiments found a negative reaction if one dog was given treat and another denied it. Dog owners worldwide failed to express any shock at these findings.
The Happiest Days of Our Lives
Following a Unicef survey last year which claimed that Britain had the 'least happy' schoolchildren out of 21 developed nations, classes in 'happiness' are now being introduced into the school curriculum in some parts of the United Kingdom. They are based on a set of psychological techniques developed at the University of Pennsylvania and known as the Penn Resiliency Program. Children will be taught how to cope with difficult situations and gain confidence. A pilot scheme already underway with 1,500 eleven year-olds is said to be proving a success, and the classes may well be introduced into schools nationwide. Children are warned not to follow the example of Chicken Little, the fictional hen who always feared the sky was falling in. Perhaps high school anthems should be changed to Monty Python 's "Always Look on the Bright Side of Life!"
Are You Different and Quirky?
If you are a philosophy graduate seeking employment, the jobs section of The Guardian newspaper has the following advice on increasing your 'kerb appeal'. "Being a philosophy graduate makes you different and quirky; turn that into your unique selling point. You will be better placed than most to formulate and deliver persuasive arguments. Put that to use in convincing employers that your conceptual analysis skills, ability to spot bogus rhetoric and to constructively challenge others ' thinking and beliefs are just what their organisation needs. You should, of course, phrase it in terms that won 't scare them."
Email Scam Targets Academics
Academics should beware: it appears that they are being targetted by an email fraud. A scam email, sent to university lecturers around the world, asks them to send in abstracts describing unpublished research. Falsely purporting to be from the publishing giant Elsevier, it promises that work will be printed in its journals and discussed at seminars organised globally by the company. The initial email doesn 't mention money, but at least one academic who submitted a paper was later asked for a substantial handling fee. A spokeswoman for Elsevier said the company had reported the matter to the authorities but could not comment further as the case was still under investigation. It has posted a warning note on its website. It is feared that the spammers are seeking personal information as well as money.
Be Nicer to Believers
In August, prominent cancer specialist and author Dr Robert Buckman told a major conference for atheists in Toronto that his fellow non-believers should take themselves less seriously, be nicer to religious believers and, in his words, should "humble up." Although an atheist since he was a young man, Dr Buckman says that through his career as an oncologist he has learned the importance to others of sincerely-held beliefs which sustain patients facing illness and death. While at Cambridge University he was a member of the Footlights comedy troupe alongside John Cleese, and later collaborated with Cleese to produce a series of humorous medical videos to help patients with various ailments.