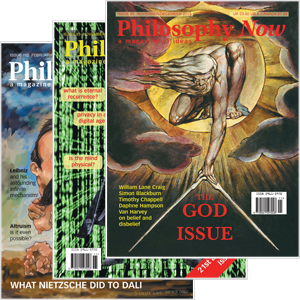 Your complimentary articles
You've read one of your four complimentary articles for this month.
You can read four articles free per month. To have complete access to the thousands of philosophy articles on this site, please
News
News: November/December 2008
Faith, science and free speech in the UK • 'Memory eraser' experiments • Enlightenment thinkers go online — News reports by Sue Roberts
Enlightening Letters
A fascinating project to give unprecedented access to the web of correspondence between thousands of writers during the 18th century has been launched by the University of Oxford hosted by the Bodleian Library. The Electronic Enlightenment project aims to bring under one umbrella letters between such luminaries as Addison, Bentham, Boswell, Defoe, Hobbes, Hume, Kant, Locke, Pope, Rousseau, Smith, Swift, Sterne and Voltaire. Tasty titbits giving an insight to the content include correspondence between Hume and Benjamin Franklin a few years before the American Revolution; Jeremy Bentham pondering different methods of breadmaking; and Descartes and Jacob Gool, Dutch mathematician, discussing the refraction of light. There is also an insight into everyday life with letters to families, bankers, patrons and publishers. Electronic Enlightenment is available by subscription to institutions and individuals worldwide and can be accessed via www.e-enlightenment.com.
Distinguished Professor
The Society for Women in Philosophy has named Nancy Tuana as Distinguished Woman Philosopher of 2008. Professor Tuana, who founded of the Rock Ethics Institute at Pennsylvania State University, has written extensively on applied ethics and feminist philosophy. The award will be presented in a ceremony at the American Philosophical Association's meeting in Philadelphia in December.
Saints and Sages
Professor Roger Steare conducted a survey of the ethical make-up of more than 20,000 readers of The Times newspaper's website. He is Professor of Organisational Ethics at London's Cass Business School. After answering a questionnaire, each participant was sent an 'ethical DNA profile' and assigned to one of six moral types based on their scores for principled conscience, social conscience and rule compliance. The types were: Philosopher; Angel; Enforcer; Judge; Teacher and Guardian. Every Times reader fell under one of these headings, so there was no need for any further categories such as Bully, Sycophant or Psychopath.
Godless Bus Fuss
London buses will shortly begin carrying a controversial advertisement which reads: "There's probably no God. Now stop worrying and enjoy your life." The idea by British humanists attracted the support of Professor Richard Dawkins, who offered to pay half the cost of a month's display on 30 buses. An online appeal raised the other half within hours and eventually more than £60,000 had been given in small donations. Dawkins said that as an atheist he "wasn't wild" about the ad's assertion that there was 'probably' no God. Apparently the word was included to ensure that the posters didn't break the bus company's advertising regulations, which require that ads shouldn't offend religious people. Nonetheless the director of radical envangelical pressure group Christian Voice suggested that the posters "might attract graffiti."
Science and Faith in Class
The director of education of the Royal Society (England's oldest and most prestigious science organisation) has been fired after calling for creationism to be debated in school science lessons if students raised the issue. The Rev. Professor Michael Reiss, an ordained Church of England minister who also holds a doctorate in evolutionary biology, said that with many children growing up with alternative beliefs, creationism should be viewed not as a 'misconception' but as a 'world view'. Senior members of the Royal Society said that this was close to endorsing the teaching of creationism as science, and brought the Society into disrepute. Other scientists defended Reiss: Lord Winston said that he was merely "arguing that we should engage with and address public misconceptions about science – something that the Royal Society should applaud."
Meanwhile, the British Humanist Association is seeking a judicial review following a rejection by examinations regulator Ofqual of a proposal to allow humanism to be taught in religious education classes next year. The OCR exam board (Oxford, Cambridge & RSH) had hoped to become the first to include humanism alongside six major religions in its draft GCSE syllabus. Ofqual ruled that humanism is a 'body of belief' rather than a religion, as it is based on humanity, experience and reason and therefore shouldn't be taught in religious education classes!
Thanks for the No Memories
Neuorobiologists believe they have found a way to target and chemically remove painful memories and treat phobias without causing harm to the brain. Scientists at the Medical College of Georgia and at East China Normal University in Shanghai have isolated a 'memory molecule' in a mouse and used it to remove its painful memories. No, I don't know how they could tell either, but their findings are published in the journal Neuron. The benign application of this technique could, for example, help war veterans overcome the horrors of conflict. Some less benign applications may also be possible, but I've forgotten what they are.