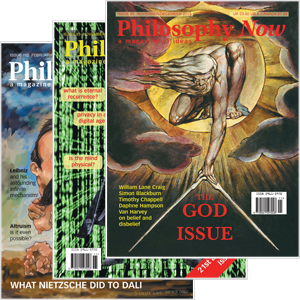 Your complimentary articles
You've read one of your four complimentary articles for this month.
You can read four articles free per month. To have complete access to the thousands of philosophy articles on this site, please
Crossword
Crossword
Our twenty-eighth potpourri of perplexing philosophical phrases perspicuously placed in parallel poses by Deiradiotes.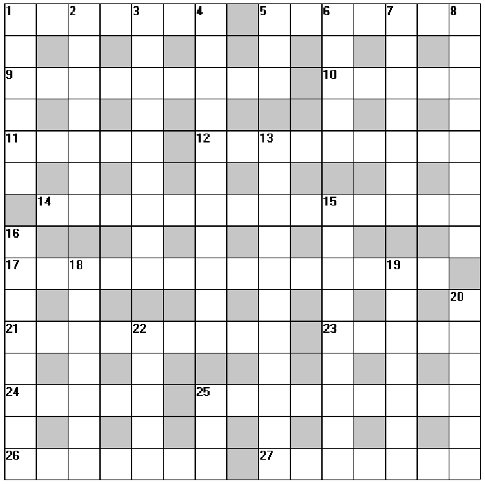 Across
1 How the Vienna Circle might have appeared to an observer? (7)
5 Author of the original book The Queen. (7)
9 A French bedroom I used freely is without blemish. (9)
10 Kind of architecture found in Greenland or Iceland. (5)
11 Narcotic discovered in Punjab hangar. (5)
12 These people really deliver. (9)
14 Orphan at market produces pithy summary of Epicureanism. (14)
17 An ancient philosophy is a mixture of paganism and theory. (14)
21 It's on its way in a van. (2,7)
23 Follower of 17 from Syracuse lost monad. (5)
24 Man and others sound silly? (5)
25 Mean Stoic could be one who gives praise. (9)
26 Injure a football team: sadomasochism is a philosophy! (7)
27 Nosy elk disturbed Russian scientist. (7)
Down
1 Dance of an island with an airline. (6)
2 Offence given by old shade. (7)
3 Arid area of China, Algeria and most of Hungary once. (8)
4 Cress and tripod could be symbols. (11)
5 Director Browning's ivy bush. (3)
6 Wavy dune moving east. (5)
7 Violently angry fool consumes vetch. (7)
8 Centaurs confused dissenter. (8)
13 'A form of a language', I state, 'is logical.' (11)
15 Old philosopher from Eretria used men and me badly. (9)
16 There is confidence in the philosophy of Leibniz. (8)
18 Guardian covers broken lute with tar. (7)
19 Shia man organised festival. (7)
20 Colouring held by man at tonsorial establishment. (6)
22 Very musical. (5)
25 Tree begins exuding ligneous matter. (3)
---
Crossword Solution