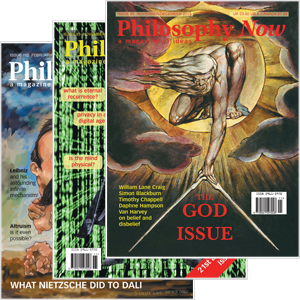 Your complimentary articles
You've read one of your four complimentary articles for this month.
You can read four articles free per month. To have complete access to the thousands of philosophy articles on this site, please
News
News: July/August 2009
The impermanence of the Dalai Lama-ship • Happiness breaks out everywhere • Bishops still generally annoyed — News reports by Sue Roberts
Souled Out
A senior Catholic bishop believes that Britain has sold its soul to the pursuit of scientific knowledge above all else. The Most Rev Vincent Nichols, Archbishop of Birmingham, believes that because only provable facts are now considered valuable, arguments based on morality and spirituality are being ignored. In a new book about the rise of secularism, The Nation That Forgot God, Nichols claims that faith has been relegated to an individual pursuit, and the country has sought to define itself by secular and material standards. In his view, society lacks cohesion when there are no common values, while the virtues of compassion, respect and tolerance cannot survive once severed from their roots in Christian teaching.
However, this view of Britain as a secular society isn't shared by Dr Rowan Williams, the Archbishop of Canterbury. He claims that it is a country "uncomfortably haunted by the memory of religion" and not knowing what to do with it. He cites the piles of flowers left at the scenes of road accidents as potent symbols of such a society. With regard to the Church's attitude to other faiths he says "The ideal in a plural society is everyone has the respect to say what they want. A country in which we are all nervous about offending each other is not a free society."
Frankenstein Sperm
The debate over stem cell research has been reignited by an announcement in the journal Stem Cells and Development of what could become an astonishing breakthrough in fertility treatment. Researchers at the Northeast England Stem Cell Institute have created human sperm in the laboratory, from stem cells harvested from the skin of the 'parent'. The researchers believe that with minor changes the sperm could theoretically fertilise an egg to create a child. If so, it could mean that in years to come the technique might enable infertile couples to have children who are genetically their own.
Even more controversially, it might be possible to create sperm from stem cells collected from the skin of a woman. This could leave men out of the reproductive process altogether. At present the UK's Human Fertilisation and Embryology Act bans the use of artificially-created sperm and eggs in fertility treatment.
Some experts are sceptical of the claim, saying that the cells did not constitute 'authentic sperm' with all the necessary biological characteristics. Josephine Quintavalle, rhe founder of Comment on Reproductive Ethics, described the research as "totally wrong… science must be totally ethical and totally safe."
Healthy, Happy Planet 1
The Happy Planet Index measures life expectancy, happiness and environmental impact on people of different nations. Nick Marks, who devised the Index, reported that the top 10 Happy nations are middle-income countries in Latin America, Asia and the Caribbean, where there is high level of life satisfaction and a low carbon footprint. On the other hand, Britain ranked 74th out of 143 countries, with Australia 109th and USA 114th.
All Change
The Dalai Lama has told fellow exiles in India that the tradition of a monk leading Tibet's Buddhists by divine right should end with him, and that in the interests of democracy, future leaders should be elected. As the 14th Dalai Lama, (Jetsun Jamphel Ngawang Lobsang Yeshe) Tenzin Gyatso has been Tibet's spiritual leader during six decades of turmoil.
The Tibetan parliament-in-exile will debate this pivotal reform, but attitudes may be very hard to change. A young man of 24, Osel Hita Torres, was believed by some to be the reincarnation of the previous Lama when only five months old. He was chosen by the Dalai Lama over others to be raised accordingly. In keeping with tradition, he was taken from his home, and from 14 months old he lived in a monastery and was treated like a god. But Osel has now completely turned his back on the order that held him in such esteem. In spite of this rejection, and although wearing normal clothing and studying film in Spain, he is still revered by many Tibetans.
Healthy, Happy Planet 2
In an attempt to improve customer services, the Keihin Electric Express Railway in Japan plan to subject their workers to a 'smile scan' computer that produces a smile rating between zero to 100 (depending on estimated value of the fulfilled potential of that person's biggest smile). Workers will receive print-outs each day, and be expected to keep them throughout the day to inspire them to smile at all times. Meanwhile, drivers on the London underground are trying to lift travellers' spirits by reading out philosophical quotes along with their normal announcements. A book of quotations from Jean-Paul Sartre, Mahatma Gandhi, Albert Einstein and other great thinkers has been compiled by the artist Jeremy Deller. Such pronouncements as "An ounce of actions is worth a ton of theory" (Friedrich Engels) will now compete for attention with sudoku or the daily crossword puzzle.
Euthanasia Overruled
Two former UK Cabinet Ministers, Lord Falconer and Baroness Jay, recently attempted to change the law to remove the threat of prosecution from people who take terminally ill loved ones to die abroad in 'suicide clinics'. However, their amendment to the Coroners and Justice Bill was rejected by a vote of 194 to 141. It is believed that 115 people from Britain have travelled overseas to die since 2002. Currently, assisting suicide is a crime in Britain, punishable by up to 14 years imprisonment. The rejection of the Bill was blamed on fears of giving a 'green light' to the state sanctioning of all assisted suicide.