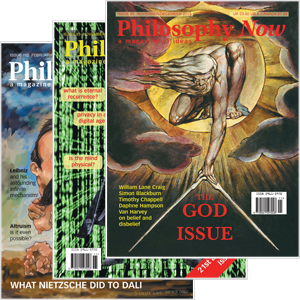 Your complimentary articles
You've read one of your four complimentary articles for this month.
You can read four articles free per month. To have complete access to the thousands of philosophy articles on this site, please
News
News: February/March 2010
Famous Radical Feminist dies • Dolphin rights on agenda • Wittgenstein: the opera • Sex with robots? • Fodor attacks Darwinism — News reports by Sue Roberts
Mary Daly Dead
The Radical Feminist philosopher Mary Daly died just after the New Year, at the age of 81. Daly, who had two PhDs and was originally a theologian, was the author of many provocative books critical of patriarchal society, including Beyond God the Father. She became notorious and celebrated for the case that ended her thirty year teaching career at Boston College. She had specified that one of her courses on feminist philosophy could only be attended by female students. In response, a male student successfully took the college to court, claiming discrimination. Daly refused to back down, and was 'resigned' by the college authorities. [See obit.]
Think-Off on Wealth and Poverty
The Great American Think-Off is an annual essay contest open to all US residents. Now in its 18th year, four finalists will participate in a live debate at the New York Mills Sports Center in Minnesota in the hope of attaining the title 'America's Greatest Thinker'. The essay of not more than 750 words must be based on views gained from personal experience. This year's topic has been announced: 'Do the wealthy have an obligation to give to the poor?' (think-off.org)
PhiloSurvey
A large-scale survey of the opinions of professional philosophers has been conducted by David Chalmers and David Bourget. The survey required yes/maybe/ no type answers to around 30 complex philosophical questions. The results, which can be read at PhilPapers.org, give a fascinating snapshot of contemporary academic opinion on issues such as the existence of God; freewill versus determinism; and the possibility of zombies. Chalmers and Bourget invited respondents to also participate in a 'Metasurvey' – a survey of what they thought the results of the first survey would be! By the time the survey closed, 3,226 people had taken part, including 1,803 philosophy faculty and PhDs.
Dolphin Rights?
A conference to be held in San Diego in February will bring together scientists and philosophers with an interest in dolphins. Speakers will include the ethicist Thomas White, of Loyola Marymount University, who has written numerous papers advocating rights for dolphins. This time, however, his case will be bolstered by research presented by several scientific teams suggesting that dolphins are more intelligent than chimps. Scans have shown that dolphin brains have many structural features thought to be indicative of high intelligence, and recent behavioural studies have demonstrated clearly their strong 'cultural' ability to learn complex skills from one another.
Wittgenstein Sonata
"An Opera? A Cantata? A telephone book vocalized? No! It's merely Ludwig Wittgenstein's Tractatus Logico-Philosophicus!" So writes music critic Michael Wruss on the launch of a new CD from Brucknerhaus-Edition. Wittgenstein's famous first book, which revolutionised philosophy when it was published in 1921, has now been turned into a 'one woman opera' by Austrian composer Balduin Sulzer. The CD features the Austrian soprano Anna Maria Pammer singing Wittgenstein's propositions. This isn't the first time that the Tractatus has been set to music – a punk rock version was recorded by a Finnish band in 1991 – but it is the first classical arrangement.
The Ethics of Sex with Robots
Writing in the journal Computer Law and Security Review, Anna Russell of the University of San Diego alerts us to the potential problems caused by the increasing sophistication of robots. Cyborgs – human-like robots – are no longer the stuff of science-fiction but a real possibility. She believes we should address now the question of whether society will accept relationships between humans and robots; "If a self-aware. super-intelligent, thinking, feeling humanoid is developed , the legal system will be hard-pressed to distinguish this creature legally from human actors on grounds not stemming from a religious or moral prejudice." More specifically, "it will be inevitable that legal issues would be raised and the love lines blurred. In what way such sexual activities would be regulated, however, and how regulation would work, is not clear."
Painful Discoveries
Those who profess to share the pain experienced by someone else might be doing so literally. Dr Stuart Derbyshire of the University of Birmingham has reported his findings in the journal Pain after inviting 123 undergraduates to watch images of people in great pain. To the researchers' surprise, 30% said they felt physical pain in the same part of the body as the person they were watching. These claims were supported by observation of heightened activity in areas of the brain that handle pain, which could confirm the sensations were genuine.
Jerry Fodor: Anti-Darwinian
Famed American philosopher of mind Professor Jerry Fodor has co-authored a surprising new book which claims that Darwin's theory of evolution by natural selection is fundamentally flawed. He wrote the book, What Darwin Got Wrong, with fellow cognitive scientist (and fellow atheist) Massimo Piattelli-Palmarini. Early signs are that it is raising some eyebrows among their philosophical colleagues: Daniel C. Dennett is quoted on the back cover as wondering: "What could drive Fodor to hallucinate the pending demise of the theory of evolution by natural selection?" We are unable to tell you the answer, as the book had only just arrived when we went to press.