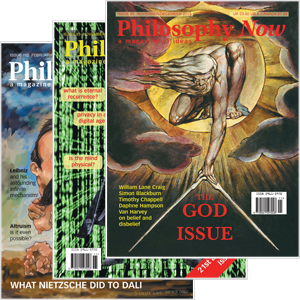 Your complimentary articles
You've read one of your four complimentary articles for this month.
You can read four articles free per month. To have complete access to the thousands of philosophy articles on this site, please
News
News: April/May 2010
Stolen Descartes letter found • Philosophy football: the big match • Schrödinger's strip • Shock finding: choice causes anxiety! — News reports by Sue Roberts
Descartes Letter Found
A letter by René Descartes, in his own handwriting, has been discovered in the library of Haverford College, a small liberal arts college in Pennsylvania. The four-page letter of 27th May 1641 from Descartes to his friend Marin Mersenne throws important light on the composition of Descartes' Meditations on First Philosophy.
A Dutch scholar, Dr Erik-Jan Bos, had noticed a mention of the letter while Googling a collection of autograph letters at the library of Haverford College. He contacted John Anderies, head of special collections at the library, and together they established that it was an authentic, previously-unknown letter by the philosopher. The letter was one of thousands stolen in the 19th century by Count Guglielmo Libri, secretary of the committee for the general catalogue of manuscripts in French public libraries. [Hence the term ex libri? Ed.]. By the time Libri was sentenced in absentia for the thefts he had sold the documents to collectors in England. Eventually the letter was acquired by autograph collector Charles Roberts. After his death his collection was donated to Haverford College. Following the discovery Haverford president Stephen Emerson immediately offered to return the letter to the Institut de France, from where it had been stolen. The Institut's chancellor accepted with the words "The gesture honours you and exemplifies the depth of moral values that you instil in your students."
Crisis in philosophy teaching
As the crunch hits government spending, philosophy teaching in Britain faces a crisis; the first effect are already being seen. At Birkbeck College in London, the much-praised adult education courses in philosophy are being cut to a bare minimum, and most tutors laid off. Down the road, King's College London announced sizeable cuts to its highly rated Philosophy department with several professors facing redundancy. In one case, a philosopher was told that his job would cease to exist because the college was "divesting itself of computational linguistics", suggesting that the crisis is being used to shape the direction of philosophical research. The cuts have been put on ice for further consideration following international protests.
A group of academics and cultural figures warned in a letter to the Observer that subjects such as philosophy, literature, history, languages and arts face worrying times due to the funding cuts and a decision to ring-fence science spending. Rick Rylance, chief of the Arts and Humanities Research Council and a signatory to the letter, challenged those in the arts to "bang their drums" and "remind people how good the UK is at arts and humanities." Another signatory, Prof. Colin Riordan criticised the 'Impact Agenda' which now requires academics in all departments to demonstrate the short-term economic value of their work.
Quantum effects hit the big time
Quantum mechanical effects are weird and counter-intuitive, but generally only significant at a subatomic scale. The weirdness is shown by the Schr ödinger's Cat thought experiment, involving a box, a radioactive sample, a flask of poison and and a cat who is both alive and dead simultaneously as a result of quantum superposition. Nobody has ever tried to carry out that experiment for real but now a paper in Nature reports an equivalent experiment showing quantum effects on a macroscopic scale. The experiment involved a metal strip which both was, and wasn't caused to vibrate. The strip was tiny, but still big enough to be seen with the naked eye.
Buridan's Ass?
A study led by psychologist Prof. Hazel Rose Markus of Stanford University has concluded that too much choice cripples us with indecision. We like to believe that choice leads us to freedom and well-being but according to this research "excess of choice can lead to uncertainty, depression and selfishness." The researchers believe that given too much choice we become overly anxious about what the decision will say about us. Or maybe like Buridan's ass in medieval philosophy, caught between two succulent bales of hay, we simply can't decide which way to turn?
Philosophy Football
Soccer fans are eagerly awaiting what promises to be the most thought-provoking match of the year: Socrates Wanderers versus Nietzsche Albion, at Wingate & Finchley's Harry Abrahams stadium in North London on Sunday 9th May. The football match is being organised by special educational providers the Philosophy Shop, and is inspired by the classic Monty Python 'philosophers' football world cup' sketch from 1972 in which Greek and German philosophers ambled around the pitch trying to work out what to do with the ball. In this re-run, the team managers will be the former England Manager Graham Taylor (Socrates Wanderers) and the philosopher A.C. Grayling (Nietzsche Albion). Players will include both comedians and philosophers; one of the captains will be Dr Mark Textor, of King's College London, who organises regular matches between philosophy department teams. Philosophy Now editor Rick Lewis will be on the substitutes' bench, and his team are hoping fervently that he stays there. Footballing legend Gary Lineker will be thronging the touchline, possibly with others too. Tickets are available in advance for just £10 plus postage and packing (as opposed to £20 on the gate) and are only £1 for under 14s. The aim of the match is to highlight the importance of teaching thinking skills in schools, and profits will be used for the Philosophy Shop's 'Four Rs Campaign', the four Rs being Reading, (W)riting, (A)rithmetic and Reasoning.