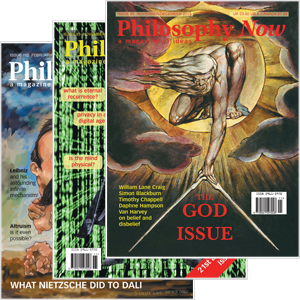 Your complimentary articles
You've read one of your four complimentary articles for this month.
You can read four articles free per month. To have complete access to the thousands of philosophy articles on this site, please
News
News: October/November 2010
Philippa Foot dies at 90 • French journal of analytic philosophy • Witch report • Tehran conference protests — News reports by Sue Roberts
Philippa Foot
We are sad to report that the remarkable moral philosopher Professor Philippa Foot passed away on October 3rd, which was her 90th birthday. There is a full obituary on here.
French Analytic Philosophy
A violent spinning sound was lately heard by visitors to the grave of Jean-Paul Sartre. It is believed that this could be due to the recent establishment of a French journal for analytic philosophy. The journal, RÉPHA has just triumphantly announced its second issue, a year and some days after the appearance of the launch issue, and, as the editors remark, "après moultes aventures".
The Dignity of Dead Animals
The competitive spirit is strong at Colyton School, in North Island, New Zealand but their students' behaviour was criticised by the Royal New Zealand Society for the Prevention of Cruelty to Animals as "'unacceptable." A competition in which students swung the carcases of possums over their heads before hurling them across the playground led to some complaints. Danny Auger, an SPCA manager, said "While it is technically not illegal, it is morally wrong to throw dead animals about."
Witch-Hunt in Russia?
Russian MPs have backed a new bill to ban witches, wizards and faith-healers from advertising cures which give 'false hope' to cancer sufferers. The Orthodox Church claims there are as many as 800,000 practitioners of the occult in Russia. Cancer specialists report that many patients who come to them have already spent their savings and wasted time on trying to find a cure with witches. The new bill also makes it a requirement that anyone claiming to be able to cure health problems must be able to back this with evidence and would need a licence from the health ministry.
Howard's End?
The Philosophy Department at Howard University in Washington DC is under imminent threat of closure. The university's president Dr Sidney Ribeau plans to make the decision final on December 1. Howard University, a 'historically black college' founded in the immediate aftermath of America's Civil War, has played a distinguished part in the emancipation of black Americans. Its Philosophy Department was founded by Alain LeRoy Locke (1886-1954), the writer, educator and moral philosopher best known as the 'Father of the Harlem Renaissance'. Opponents of the closure plan have described it as "a strategic mistake in the struggle for Black equality."
Philosophy Day Boycott Looms
Every November, Unesco organises World Philosophy Day. Lectures and debates are held in its Paris headquarters and by groups around the world. One of the main events marking Philosophy Day this year will be a philosophy conference in Tehran. The Iranian-Canadian philosopher Prof. Ramin Jahanbegloo, who spent four months as a political prisoner in Tehran's Evin Jail in 2006, criticized the choice of venue, saying that "no free debate or critical thinking is possible" in Tehran at present. Otfried Höffe, who was due to deliver a keynote address, has pulled out and the Italian magazine Reset organised an open letter of protest to the Unesco Director General which was signed by Jürgen Habermas and fifty other philosophers. There are now plans for an alternative online conference called Philosophy4Freedom.
A Letter from Iran
(We have received this letter from a reader in Iran, who quite understandably wishes to remain anonymous.)
After last year's disputed election in Iran the supreme leader of the Islamic Republic blamed Philosophy as the root of the problem. Sadeq Larijani, the head of the judicial system of Iran, followed in his footsteps to blame western philosophy for corrupting the morale of the Muslim youth. Saeed Hajjarian, Iranian intellectual, journalist, university lecturer and reformist who was in jail for 3 months was brought on National TV to condemn, against his beliefs, philosophy, especially humanism, as corrupt. This show was particularly hard to watch since due to a failed assassination attempt 10 years ago Mr Hajjarian is unable to speak with a clear voice, is still using a wheelchair and is dependent on the constant care of doctors and family. This was enough for over 40,000 students and professors in philosophy departments of Iranian universities to worry for their future. Now many professors and students are in jail and the office of higher education has announced that the universities will stop accepting students in Humanities including Philosophy, Psychology, Sociology, Political Science, Social Science, Law and Arts. Kamran Daneshjoo, the Minister of Science, said that any university that goes against Islamic values should be demolished and his Secretary said that we do not need Humanities to be taught in universities anymore. It is also worth noting that the publication of many books, especially philosophy books, which grew noticeably during Mohammad Khatami's presidency, is now banned."