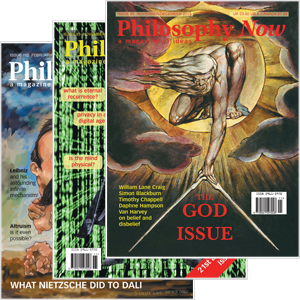 Your complimentary articles
You've read one of your four complimentary articles for this month.
You can read four articles free per month. To have complete access to the thousands of philosophy articles on this site, please
News
News: September/October 2011
Derek Parfit asks: What Matters? • Philosophy college launches in London • Leiter accuses rival of 'misconduct' — News reports by Sue Roberts.
On What Matters
A long-anticipated book by one of the world's leading moral philosophers has finally been published. Rough drafts of Professor Derek Parfit's book On What Matters have been circulating among academics for almost a decade, and have proven so influential that in 2009 a whole issue of the journal Ratio was devoted to responses to the ideas contained within it. Parfit argues that three major approaches to ethics have consequences which in practice are very similar, and he also puts forward his own value-based ethical system. Now the book itself has appeared, in two hardback volumes from Oxford University Press. Expectations are high with some claiming that it will permanently re-shape the way philosophers see some aspects of ethics. We hope to review it in Issue 87.
Radio Philosophy
A new series of the Philosophy Now Radio Show will run for 16 weeks every Tuesday from 6th Sept on Resonance FM. Hosted by Grant Bartley, guests will include Philosophy Now editors and contributors such as Anja Steinbauer, Terri Murray, Mark Vernon and Piers Benn. The show can be heard worldwide via the radio station's website (resonancefm.com).
BBC Radio 4 has launched a new series called The Philosopher's Arms, consisting of philosophical debates recorded in pubs. The first two shows were recorded in the Exmouth Arms, the London pub which also hosts Philosophy For All's regular monthly meetings (pfalondon.org).
London School of Philosophy
London's first adult education college devoted entirely to philosophy officially launches in October, after a year of trial runs. The London School of Philosophy will now be permanently based at Bloomsbury's historic 1920s art deco Conway Hall. The LSP has been formed by seven former Birkbeck College lecturers who decided to go it alone after funding cutbacks saw their philosophy classes more than halved while fees doubled.
Courses at the new college cover such topics as 'Philosophy and Theatre', 'Philosophy of Love'; 'Existentialism'; and 'Philosophy and Biology' alongside others on ethics, aesthetics and the history of philosophy.
"Philosophy has never been more relevant," says political philosopher Sam Fremantle. "Some 140 years ago, John Stuart Mill argued that unlimited freedom of expression was the only way forward for civilised society. Yet today, in the wake of the riots that swept the nation, the government is looking into powers to censor social network sites like Twitter and Facebook. What would Mill say to that?" LSP feminist philosopher (and Philosophy Now editor) Anja Steinbauer, remarks: "We are delighted to be working with Conway Hall. It's a beautiful building and, with its tradition of promoting free speech, the ideal environment for me to be engaging others in vibrant debate. It's the perfect environment for the London School of Philosophy." The LSP's full programme can be found at: londonschoolofphilosophy.org.
Leiter Tells Rival to Blogger Off
A venomous row has broken out in the blogosphere between rival sites providing rankings of US university philosophy courses. In one corner is Prof. Brian Leiter, creator of the controversial but widely consulted Philosophical Gourmet Report (philosophicalgourmet.com). In the other corner is a new initiative called The Pluralist's Guide (pluralistsguide.org) which ranks US philosophy departments according to their strengths in certain specialist sub-fields: American Philosophy, Continental Philosophy, Critical Philosophy of Race and Ethnicity, Feminist Philosophy, and GLBT Studies. One of the creators of the new site is Prof. Linda Alcoff, a specialist in theory of knowledge and feminist philosophy who is also Vice President of the American Philosophy Association's Eastern Division, and therefore set to become that division's next president. Leiter fiercely criticised The Pluralist's Guide for its methodology, particularly in regard to a section assessing which departments could be seen as women-friendly, arguing that certain departments were given a good ranking despite having outstanding complaints against them by women academics or students. Leiter invited readers of his blog (leiterreports.typepad.com) to vote on this question: "Given Linda Alcoff's involvement in and defense of the 'Climate for Women' section of the so-called 'Pluralist Guide' to philosophy programs, is it appropriate for her to serve as President-Elect of the Eastern Division of the APA?" Leiter removed the poll after a few days, saying that people on all sides were mobilising votes, but commented "I continue to be surprised by the willingness of philosophers to excuse professional misconduct by a quasi-elected officer of the APA, but clearly there are strong differences of opinion among philosophers on this subject."
Margaret Whitford
Margaret Whitford, Professor of French at Queen Mary College, University of London, has died at the age of 64. Colleagues say her vision and energy were pivotal in developing the new field of feminist philosophy and she was a founder member of the UK branch of the Society for Women in Philosophy. Late in her career she also became a practising psychotherapist.
---
Philosophy Now 20th Anniversary Celebration!
A whole day of philosophical events, debates, talks, philosophy fun, an award ceremony (see Announcing…) and a party. All readers and past contributors to Philosophy Now are invited, and it's free!
Sunday 18th December, 10 am until evening. Conway Hall, 25 Red Lion Square, Holborn, London WC1. More details in our next issue and online soon.