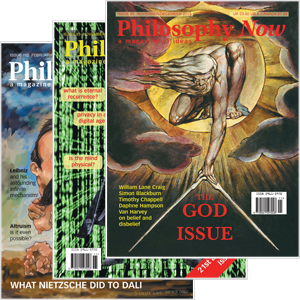 Your complimentary articles
You've read one of your four complimentary articles for this month.
You can read four articles free per month. To have complete access to the thousands of philosophy articles on this site, please
News
News: November/December 2011
Why So Few Women Philosophers? • Procrastinationist wins Ig-Nobel Prize • Internet will eat your brain shock claim — News reports by Sue Roberts
Women in Philosophy
At the British Postgraduate Philosophy Association conference in September, Professors Helen Beebee and Jennifer Saul presented a report on the status of women in academic philosophy in Britain. They found that although 46% of philosophy undergraduates are women, the percentage drops rapidly as philosophers progress through their academic careers, so that only 24% of permanent teaching staff are women. This is similar to figures previously reported for the USA and Continental Europe. It is a much lower proportion than in arts disciplines such as English Literature, being more like the percentages seen in Physics and Mathematics.
Beebee and Saul considered why this sharp imbalance exists. One factor they highlighted was implicit bias, in which even people with egalitarian views tend to apply unconscious stereotypes; they cited research which found that CVs (resumes) with a male name at the top were assessed more favourably than identical ones carrying a female name. Other factors were stereotype threat (people tend to underperform tasks and even show medical symptoms of anxiety if aware of a perception that members of their group aren't good at that kind of task) and sexual harassment. Their report, which includes practical recommendations, can be downloaded at: www.bpa.ac.uk/policies.
Procrastinate Tomorrow!
John Perry, emeritus professor of philosophy, who co-hosts the Stanford-based radio show Philosophy Talk along with philosophy professor Ken Taylor, has been awarded an Ig-Nobel prize in the Literature category. The journal Annals of Improbable Research, which administers the awards, describes its criteria thus: "The Ig-Nobel Prizes honor achievements that first make people laugh and then make them think. The prizes are intended to celebrate the unusual, honor the imaginative – and spur people's interest in science, medicine and technology." John Perry's award was for an essay entitled 'Structured Procrastination' in which he outlines his method for a procrastinator to become a 'useful citizen'. He proposes that "The procrastinator can be motivated to do difficult, timely and important tasks as long as these tasks are a way of not doing something more important." He therefore suggests "filling one's lists of commitments to use procrastination as a tool to achieve more." Perry writes "Structured procrastination requires a certain amount of self-deception, since one is, in effect, constantly perpetrating a pyramid scheme on oneself… and virtually all procrastinators also have excellent skills at self-deception – so what could be more noble than using one character flaw to offset the effects of another?" He first published his theory in 1996 in the Chronicle of Higher Education as an essay entitled 'How to Procrastinate and Still Get Things Done'.
Perils and Joys of Ye Interweb
Baroness Greenfield, professor of synaptic pharmacology at Lincoln College, Oxford, has voiced her concern over growing evidence of a link between spending long periods staring at a computer screen and physical changes in the brain that lead to attention and behavioural problems. Oh look, a spider.
A recent study by Wei Qin and Kai Yuan from Xidian University, China found brain structure abnormalities in adolescents with internet addiction disorder. Susan Greenfield says that while one study hardly proves a link it does give cause for concern. She believes that many people have observed a change in the way that children of today empathise with others. Studies among American college students have found a trend of decreasing empathy during the time that social networking has risen to prominence. However, in the journal Proceedings of the Royal Society B, Ryota Kanai and colleagues at University College London reported using MRI scans to study the brains of 125 students, all of them active Facebook users, and cross-checking their findings in scans of 40 students not using the site. They claim to have found a strong correlation between the number of Facebook friends and the size of the amygdala, the right superior temporal sulcus, the left middle temporal gyrus and the right entorhinal cortex – areas of the brian linked to emotional responses, memory and social interactions. It is not clear from the study whether having Facebook friends causes brain development or whether students well-endowed in those brain areas are simply drawn to having lots of Facebook friends. Kanai said it would be exciting to see if these brain structures changed over time.
Philosophy Course Faces Axe
The University of Northampton has announced that this year's intake of philosophy students will be their last. Philosophy lecturer David Wall sent the university's vice-chancellor a letter protesting against the decision, observing that "As well as the training that philosophy provides for a broad range of careers, something frequently acknowledged by employers in fields such as journalism, business marketing, analysis and consultancy, civil service and education, it reflects the fact that attending university is about more than merely gaining vocational training." A Facebook group created by students to fight the closure has already attracted a large number of members.
Peter Goldie
The energetic and original Professor Peter Goldie died in October after a short illness. Goldie had a high-flying career in finance – becoming CEO of a major public company – before deciding in his early forties to study for a degree in philosophy. He went on to earn a doctorate in Oxford, supervised by Bernard Williams, before becoming a lecturer at King's College London. His book The Emotions made him well known. He later became a Professor of Philosophy in Manchester. Goldie published mainly on ethics and aesthetics.