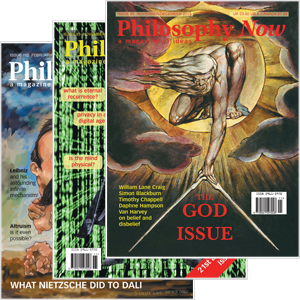 Your complimentary articles
You've read one of your four complimentary articles for this month.
You can read four articles free per month. To have complete access to the thousands of philosophy articles on this site, please
Books
The Isabel Dalhousie novels of Alexander McCall Smith
Patricia Cleveland-Peck detects philosophy in the books of Alexander McCall Smith.
It is not often that a novelist casts a philosopher as the chief protagonist. However, Alexander McCall Smith has done just that in his series of novels about the Edinburgh philosopher Isabel Dalhousie – the eighth volume of which, The Forgotten Affairs of Youth, is just published.
Isabel is an extremely likeable character, just the sort of person most of us would value as a friend. This is because she practises what she preaches as a philosopher. She is editor of the Review of Applied Ethics, and many of the incidents in this book series arise from her applying her ethical judgements to peoples' problems. Running parallel with this are the decisions she has to make in her own life.
Isabel is wealthy but "generous beyond measure." She owns, as well as edits, the Review. She lives comfortably in a large house in Merchiston, an up-market district of Edinburgh. She collects expensive paintings and has a housekeeper, Grace. Most of her circle are charming, well-mannered Edinburgh people. The most unpleasant individuals to regularly impinge on her life are the scheming academic philosophers Professor Lettuce and his sidekick Christopher Dove, with whom she crosses swords on matters relating to the Review.
So far so conventional; but some readers were surprised when, in The Right Attitude to Rain, Isabel, who had been scarred by her early marriage to the faithless Irishman John Liamor, falls in love with bassoonist Jamie. He is not only fourteen years her junior, but is also her niece Cat's ex-boyfriend. Worse is to come. In The Careful Use of Compliments she has his baby, Charlie. McCall Smith admitted this was not his own idea, but was suggested to him by a friend he shares with Isabel, Peter Stevenson, to prevent Isabel's seeming too stuffy. Peter is a real person, for Alexander McCall Smith often uses real people alongside the fictional ones as characters in his books. He does the same with locations; the cafes, art galleries and restaurants are real, and can be found in Edinburgh. Charlie's arrival did render Isabel more human – although with Grace on call she is more fortunate than most single mothers. Nevertheless readers are happy when she, Jamie and baby Charlie set up home together.
Isabel is not really a sleuth, although she is sometimes referred to as the No. 2 Detective – a bow to Precious Ramotswe, the No. 1 Lady Detective who investigates somewhat similar problems in the author's popular series set in Botswana. Nor is Isabel exactly an agony aunt – it is just that, confronted with someone else's problem, as a philosopher she cannot "help but follow a challenging train of thought once it has been mooted" – or as others see it, she cannot help poking her nose in things which are none of her business.
Isabel does admit to enjoying "the business of intermeddling," but her intentions are always good and she does not expect any concrete reward. She would not, I think, be tempted to enter the ranks of the paid philosophical consultants and existential therapists such as Gerd Aschenbach, Louis Marinoff and Tim Lebon, who combine philosophy with psychology to advise on such matters as decision-making, self-esteem and mid-life crises – although, as an amateur, she deals with many similar problems.
In earlier volumes these problems are varied and include a young man plunging to his death in a theatre; a man with a heart transplant who is plagued by irrational memories; a painter's mysterious death on the Isle of Jura; a doctor whose career has been ruined, and poison pen letters about applicants for a teaching job. In The Forgotten Affairs of Youth, Isabel is asked by an Australian woman, Jane, to help trace her birth father. Jane is also a philosopher and has come to Edinburgh to work on 'Moral Sentiments in the Scottish Philosophers.' However, although central, this is just one thread in the novel. We also have Isabel's fear that her fiancé Jamie may be unfaithful to her; her worries that Charlie, now at playgroup, has begun to swear; her concern over Cat's unfortunate taste in men; her wondering, when poisoned by a mushroom bought at Cat's delicatessen, whether to report it to the authorities; her having to deal with Professor Lettuce when he tries to pass off a paper submitted to the Review as his nephew's when it is really his own; her ongoing curiosity about Eddie, Cat's assistant, who has suffered some sort of trauma in the past, and her dilemma about a financial tip which she hears of via Grace's spiritualist meeting, as it brought her profit on a large investment but for Grace, who acted too slowly, resulted in the loss of her tiny nest-egg.
Most of the ethical questions raised are simple matters of right or wrong, with which anyone can identify. However, in Forgotten Affairs, there are conversations between the two women philosophers, so we do gain something of an insight into Isabel's position regarding other aspects of philosophy, such as the existence of God. She meets Jane for lunch at Glass & Thompson's in Dundas Street, and in discussing religion says, "I feel there is something there – some force or truth perhaps – to put it at its most general… Maybe that is God. But I find it difficult to accept any statement as to his identity." She goes on to say that even so, we need religious belief "because otherwise we live in a world in which there is no real answer to evil." To this Jane replies, "So a belief in God is just a tune we whistle to keep our spirits up in the face of something nasty?" At that point however, the waiter arrives to take their order for lunch and the subject is put aside.
This neat segue is typical of the way Alexander McCall Smith weaves such diverse strands as ontology, self-doubt, cheese and sausages together in order to create these pleasing and satisfying novels.
© Patricia Cleveland-Peck 2011
Patricia Cleveland-Peck is an author, playwright and freelance journalist.
• The Forgotten Affairs of Youth by Alexander McCall Smith, published by Little Brown, ISBN 9781408703397, £17.99.