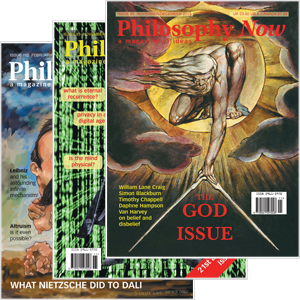 Your complimentary articles
You've read one of your four complimentary articles for this month.
You can read four articles free per month. To have complete access to the thousands of philosophy articles on this site, please
Editorial
Sustainability
by Tim Delaney
In recent years there has been a growing concern over the topic of sustainability. And yet it is not always entirely clear just what the word 'sustainability' means, nor why it should be of such prime concern for all of us. In fact, there are many different usages of the word, and it can be connected with areas such as culture, economics, social realities, and political systems. This issue of Philosophy Now will examine the meaning of 'environmental sustainability' and its relevance to philosophy.
When discussing environmental sustainability it is necessary to explain the two terms 'environment' and 'sustainability'. 'The environment' refers to the totality of social and physical conditions as they affect nature (land, water, air, plants, and animals) and humanity, with particular reference to their influence on the growth, development, and survival of organisms, either across a limited area or for the Earth as a whole. 'Sustainability' refers to the ability of an ecosystem to hold, endure, or bear the weight of a wide variety of social and natural forces which could compromise its healthy operation. The articles in this issue will consider the Earth's ability to sustain its environment under pressure from such forces. The question can take various forms. We might be asking: Can the Earth sustain its current human population, or the population which, on current projections, could be expected in 50, 100, or 200 years' time? Could it sustain a good proportion of the other animal species currently inhabiting it, or are we beginning to see a mass extinction like the one at the end of the Cretaceous? Can it sustain our expanding industrial civilisation without undergoing catastrophic further climate change? If not, is there anything we can still do to avert disaster?
Along with Tim Madigan (Philosophy Now columnist and Editorial Board member), I gave a presentation at the Seventh International Conference on Environmental, Cultural, Economic and Social Sustainability, which was held in January 2011 at the University of Waikato in Hamilton, New Zealand. Hundreds of dedicated individuals from throughout the world gathered together to share their perspectives and debate strategies for furthering the cause of sustainability. It was a rich cultural experience, enhanced by the natural beauty of the surroundings – and since it was the dead of winter where I live, I appreciated the warm summer weather 'down under' as well. As neither of us had been to New Zealand before, Madigan and I took the opportunity to rent a car and see as much of the North Island as we could. (Luckily we had another colleague with us who was willing to do all the driving!) While swapping ideas about sustainability with colleagues from across the globe was very important, it would have been tragic not to have actually seen the glories of that beautiful island and some of the wonders of the natural world we hope to preserve. It was an amazing experience, and we decided to become more involved with the sustainability movement. If nothing else, by working on this issue of Philosophy Now and through our efforts to further concern for environmental sustainability, we hope to pay off some of the carbon footprints generated by flying clear across the world to a sustainability conference. It is also our goal to look at ways in which the environment can be sustained without necessarily depriving people of the benefits of travel and cross-cultural interactions.
In the following themed articles (most by participants at the Waikato conference), this issue of Philosophy Now will examine: various threats to the environment, including the so-called 'Five Horrorists'; ethical concepts which give us a framework for being concerned about the role of human beings in the eco-system, and ongoing efforts that are being made to support environmental sustainability, among other ideas. What is needed today is a change of consciousness – and we feel that such a change can be bolstered by a better understanding of the meaning and relevance of sustainability.
© Tim Delaney 2012
Tim Delaney is chair of the Department of Sociology at the State University of New York at Oswego. He is the co-author with Tim Madigan of the new book Environmental Sustainability – information on this can be found on his website, booksbytimdelaney.com.