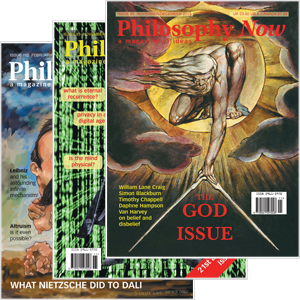 Your complimentary articles
You've read one of your four complimentary articles for this month.
You can read four articles free per month. To have complete access to the thousands of philosophy articles on this site, please
News
News: September/October 2012
Free Will: New Lab Results Change Picture • Italian Town Appoints Municipal Philosopher • Philos and Scientists to Seek Immortality — News reports by Sue Roberts & Tim Wilkinson
My Brain Didn't Make Me Do It
Free will: In August, neuroscientist Aaron Schurger published some interesting results in the Proceedings of the National Academy of Sciences, casting new light on famous experiments performed thirty years ago by Benjamin Libet. Libet showed that an electroencephalograph (EEG) could reliably identify a 'readiness potential' in his subjects' brains about half a second before they reported being conscious of wanting to make a voluntary movement. Some concluded that Libet's results were evidence against free will. Others – Philosophy Now's Raymond Tallis prominent among them – have argued that Libet's work has no such implications.
Schurger still saw the readiness potential in his experiments, but after combining EEG measurements with random stimuli and measuring response times, he told New Scientist that "…what looks like a pre-conscious decision process may not in fact reflect a decision at all … If we are correct, then the Libet experiment does not count as evidence against the possibility of conscious will." After more than two millennia, the debate over free will is still going strong.
Town Picks Municipal Philosopher
A little Italian town has made a stir by appointing a municipal philosopher. Corigliano d'Otranto, nestling in the heel of Italy, with a population of under 6,000 souls, has as its Mayor a philosophy teacher, Ada Fiore. Under her leadership the town council has put up plaques with quotes from famous philosophers; distributed free postcards asking existential questions ("Why were you born?") in shops and bars to stimulate discussion; and invited distinguished foreign philosophers to local seminars. Corigliano d'Otranto now likes to describe itself as Italy's most philosophical town.
However the recent council resolution appointing Graziella Lupo as 'municipal philosopher', to hold weekly philosophical consultation sessions, provoked outrage from at least one local psychotherapist. A severely critical letter arrived from Dr Guiseppe Luigi Palma, the secretary of the psychologists' professional body for the region of Puglia, of which Corigliano forms part. Palma (himself an aspiring local politician who stood in regional elections in Puglia in 2010) thundered that the use of a consulting philosopher was "not only misleading and confusing, but utterly perilous." He implied that people with psychiatric problems, needing professional diagnosis and help, might instead be treated by untrained individuals, and he threatened that his organisation was ready to take "all the most appropriate actions to combat any offence that may be identified."
Fiore dismissed the criticism as being down to a lack of understanding on Dr Palma's part as to the role of a municipal philosopher. Lupo engages clients in Socratic dialogue, not "dwelling on their past but their present and their perspectives on the future." In the last few months Graziella Lupo has seen about 500 people at the Town Hall either in groups or as individuals. Since there is a small charge of around £12 per consultation, the Mayor pointed out there was no additional cost to the taxpayer.
Cuts Close Philosophy Archive
In Naples, a prestigious European archive of philosophical books has been forced to close as a result of Italy's budget cuts. The 300,000 volumes of the Italian Institute for Philosophical Studies have been put into storage as the organisation can no longer afford the rent. The Institute's co-founder, philosopher Gerardo Marotta, described the collection as comparable with that of the Warburg Institute in London. He said that the volumes, collected over a period of 40 years, are currently being held in 14 separate offices in Naples. Financing by the higher education ministry of around 3.8 million euros a year was withdrawn suddenly in 2010.
The Immortality Project
Belief in an immortal soul has perhaps declined among philosophers (and the general public) over the last few centuries, but the John Templeton Foundation, a Christian organisation which attempts to draw together science and religion, now aims to find out whether $5 million of research funding might enable philosophers and scientists to discover an afterlife after all. The Templeton Foundation's Immortality Project is being managed by Professor John Martin Fischer, a philosopher at the University of California at Riverside particularly known for his writings on free will and determinism. The three-year venture will include research projects involving philosophers, scientists and theologians, plus conferences and a website. It will examine everything from near-death experiences, to scientific approaches to life extension and the coherence of various religious views of immortality. Judging by his past writings, Fischer is a sceptic about the existence of an afterlife, but thinks personal immortality would be a good thing, if it could be achieved.
Philosophy Now Vlog ('Video Blog')
Philosophy Now has branched out into a new medium by launching a series of short videos on different philosophical themes. The series is called Philosophy Now, Please, the producer is Nikki Dekker, and there is a cast of, well … several. Two videos (on 'The Olympics' and on 'Philosophy and Holidays') have already been placed on YouTube and on the Philosophy Now website. Others are in production at the moment.
---
Announcing… The 2012 Philosophy Now award for Contributions in the Fight Against Stupidity!
Please send your nominations for the 2012 award with supporting arguments to rick.lewis@philosophynow.org. Nominees can be philosophers, authors, scientists or anyone else you think has made an outstanding contribution to promoting knowledge, reason or public understanding.
The winner will be announced and the prize (a £10 book token!) will be awarded in London later this year – please watch our website for details!
The 2011 award was given to Dr Mary Midgley.