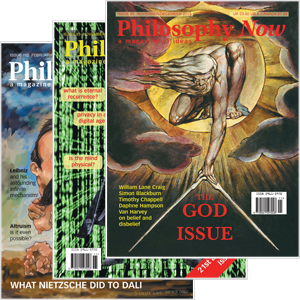 Your complimentary articles
You've read one of your four complimentary articles for this month.
You can read four articles free per month. To have complete access to the thousands of philosophy articles on this site, please
News
News: January/February 2013
Ben Goldacre wins Against Stupidity Award • A Theory of Justice: The Musical! • Philosophy helps schoolchildren to shine — News reports by Sue Roberts
Against Stupidity Award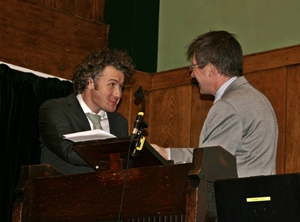 On November 13th, Philosophy Now's 2012 Award for Contributions in the Fight Against Stupidity was presented to Dr Ben Goldacre in front of an enthusiastic audience at Conway Hall in central London. Goldacre is the author of a book, blog and long-running newspaper column called Bad Science and a new book called Bad Pharma. He gave an acceptance speech on the nature of stupidity with particular reference to the pharmaceutical industry, discoursing eloquently on the importance of making all drug trial data available to doctors, describing the vital contribution of meta-analysis to saving lives, and raising a few laughs at the expense of homeopathy. Dr Goldacre had an extensive red stain on the front of his white shirt, which he explained as being due to an eminent academic throwing a trifle at him at a conference in Brussels earlier in the day. Afterwards he stayed for a question and answer session, and dialogued with a contingent of pharmaceutical industry executives who were in the audience. The event also included Philosophy For All's 2nd Annual George Ross Memorial Lecture, which this year was given by author Lesley Chamberlain on 'A Goethean in Postmodern London'.
Rawls, Justice and Music
John Rawls' classic of political philosophy A Theory of Justice has now been turned into a musical, which will be playing at the Keble O'Reilly Theatre in Oxford for four nights from 30th January. The website suggests a fairly free adaptation of the original text: "In order to draw inspiration for his magnum opus, John Rawls travels back through time to converse (in song) with a selection of political philosophers, including Plato, Locke, Rousseau and Mill. But the journey is not as smooth as he hoped: for as he pursues his love interest, the beautiful student Fairness, through history, he must escape the evil designs of his libertarian arch-nemesis, Robert Nozick, and his objectivist lover, Ayn Rand. Will he achieve his goal of defining Justice as Fairness?"
The musical is written and produced by Oxford students Eylon Aslan-Levy, Ramin Sabi and Tommy Peto. Find out more at demproductions.org (click ATOJTM).
Philosophy boosts primary school
Philosophy lessons at a London primary school have been credited for the school recording the best SATs (Standard Assessment Tests) scores in England for the second year running. Headmistress Rekha Bhakoo of Newton Farm School explained that philosophy lessons start as soon as the children begin nursery (kindergarten) and believes that they help children to improve their listening and speaking skills. The children choose the topic to talk about, perhaps from a recently read book. "Engaging them in Socratic dialogue has been a real lift" says Mrs Bhakoo. "You have got to have memorable experiences in the curriculum, because that's how children learn." She was keen to stress that the classes are part of a wider approach which includes clear rules on behaviour and a policy of making sure no child slips through the net.
Judith Jarvis Thomson Wins Quinn
The American Philosophical Association (APA) has awarded this year's Quinn Prize to Judith Jarvis Thomson, Professor Emerita at MIT, in recognition of her lifelong contributions to philosophy. The award was bestowed at the APA's Eastern Division meeting in Atlanta on 28th December. A fellow philosopher at MIT, Professor Sally Haslanger, noted that Thomson "entered the field when only a tiny number of women even considered a career in philosophy and proved beyond doubt that a woman could meet the highest standards of philosophical excellence." She described Thomson as a powerful intellectual force in the profession, ready and able to address topics across a full range of subfields, from metaphysics to ethics. Thomson has produced many books in metaphysics, theory of action and ethics, her most recent being Normativity in 2008. Her name is perhaps best known internationally for her ingenious thought experiments. She extended Philippa Foot's famous 'trolley problem' by proposing a scenario where a fat man could be thown onto the track to stop a runaway truck from crushing five other people. Her 'violinist' thought experiment, which relates to the abortion debate, is discussed by Simon Smith in his article in this issue. Her thought experiments, while often sounding bizarre, help us to analyse serious questions in moral philosophy, particularly concerning the ethical theory known as consequentialism.
Abdel Ghaffar Mekkawi
Abdel Ghaffar Mekkawi, professor of modern and contemporary philosophy at Cairo University, died in December aged 82. A philosopher, poet, playwright and translator, he was widely admired in Egypt for his rare ability to combine philosophy with literature. Mekkawi said that his poetry and translations were closer to his heart than his philosophical works but that he didn't consider them to be rivals to each other. His translations made many of the classics of German philosophy available to Arabic-speaking students; even his versions of texts by Immanuel Kant and Martin Heidegger were marked by a clear and flowing style. He translated Bertholt Brecht's play The Exception and the Rule and his own play The Night and the Mountain has been performed in several countries.