News
News: May/June 2013
Sartre's Gaze Foils Bike Thieves! • Philosophy and the Culture Wars • MOOC Spooks Sages in San Jose — News reports by Sue Roberts
Sartre's Gaze in Action?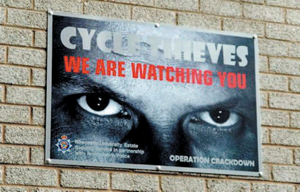 Jean-Paul Sartre argued in his masterwork Being and Nothingness that we, as human beings, can become aware of ourselves only when confronted with the gaze of another. Not until we are aware of being watched do we become aware of our own presence. Professor Daniel Nettle must have had Sartre's words in mind when devising a two-year experiment at Newcastle University which found that cycle racks with posters of eyes pasted above them had 62 per cent fewer thefts than previously. During the same period those racks without eyes saw a 63 per cent increase in theft.
…
This article is available to subscribers only.
If you are a subscriber please Log In to your account.
To buy or renew a subscription please visit the Shop.
If you are a subscriber you can contact us to create an account.